Update 12/16/19: A round of emails has gone out today letting people know that they have officially been shut down. The email indicates that their American Airlines AAdvantage account (and any others under their control) has been closed, miles forfeited, award tickets cancelled, and that they are banned from future participation in the program. If you have cause to concern about upcoming award travel, you may want to think about backup travel options. (H/T: Doctor of Credit).
Update 12/12/19: Reports are coming in of a second wave of shutdowns. If you were unaffected in wave 1 but concerned — and especially if that's you and you also have upcoming travel booked — you may want to monitor discussion in this reddit thread and have a backup plan for short-term travel. (H/T: Doctor of Credit)
This news broke a few days ago, but I know that it may affect some readers here that may not have heard: American Airlines has been suspending / shutting down some accounts for abusing credit card rewards. That's surely a concerning development for some and at least somewhat surprising to see coming from the co-brand program.
Shut down progression
As reported by Doctor of Credit, it seems that the general progression is being unable to log in to one's American Airlines AAdvantage account, then being told they would be contacted by the Corporate Security program. Corporate Security then follows up with their questions / request for additional information. You can read more about it in this Flyertalk thread.
Are you at risk of shut down?
If you have to ask this question, my guess is that the answer is no. I think the people affected by this probably know who they are. Essentially, some folks earned more welcome bonus miles within two years than American intended. If that wasn't you, this particular shut down isn't likely an issue for you.
If you are affected by the shut down and you are contacted by Corporate Security, I think honesty is likely your best policy. My guess is that the people with the lowest chance of reinstatement will be those who sold miles to brokers. We do see airlines occasionally crack down on those they suspect are selling miles to brokers, a practice that the airlines particularly dislike. I've personally never tried to sell miles via a broker as I know that does tend to draw the ire of loyalty programs.
I have occasionally heard stories of people who were suspected to be selling to brokers who were able to demonstrate that they were not selling miles and their accounts were reinstated, which is why I suggest that honesty is likely the best policy. I don't know that AA will reinstate any of the accounts they suspect of abuse, but if you were using the miles for personal / friends & family use, you probably have a better shot.
On the other hand, this may be a case of having found the limit and accepting the loss for some.
Bottom line
We've seen issuers become more aggressive in terms of going after those they view to be undesirable customers by either clawing back points or creating rules to slow down those who earn a lot of points from new customer bonuses. This is the first time I've read of multiple reports of people shut down by the co-branded loyalty program for credit card activity. That said, I don't think it is particularly surprising in this case — the grAAvy train was going to come to an end at some point. It seems that point may be now. If you are concerned about whether you may be affected but have not been shut down yet, I'm not sure what you should do. Burning the miles rapidly through redemptions may just draw attention and who knows what will happen to ticketed awards if you're shut down? I think my recommendation would be to wait and see what happens — but take that recommendation with a grain of salt.
H/T: Doctor of Credit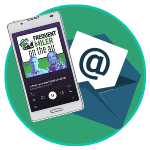 Want to learn more about miles and points?
Subscribe to email updates
 or check out 
our podcast
 on your favorite podcast platform.