Marriott.com is offering 20% off on Marriott eGift Cards for the next week. This could potentially be a good opportunity to lock in a discount on future travel given that Marriott gift cards are accepted worldwide except at Bulgari and Design Hotels and The Ritz-Carlton Residences and Homes and Villas by Marriott International. It's a bit of a risky proposition tying up cash in gift cards, but if you are confident that you'll eventually stay at Marriott properties again this could nonetheless be a very good deal.
The Deal
Marriott.com is offering 20% off on eGift Cards from May 11-17, 2020 issued in the following denominations:

Buy a $50 gift card for $40
Buy a $100 gift card for $80
Buy a $250 gift card for $200
Buy a $500 gift card for $400
Buy a $1,000 gift card for $800
Key Terms
Valid on eGift cards purchased via Marriott.com only (not at properties)
Valid May 11-17, 2020
Gift cards do not expire and can be used worldwide except at Bulgari and Design Hotels and The Ritz-Carlton Residences and Homes and Villas by Marriott International
Gift cards can't be used to pay for advance purchase rates
Max purchase of $5,000 worth of gift cards per person per credit card per day
Quick Thoughts
Locking in a future discount might make sense for some folks, especially since you'll be able to stack these gift cards with future promotions. I like being able to stack discounted gift cards with portal rewards and hotel promotions – the combination of which is often better than the discount for advance purchase rates (which can't be paid with gift cards). Note of course that right now Marriott is gone from most shopping portals. I think it is reasonable to expect that when travel returns to normal, that will change again. Personally, I almost never book advance purchase rates since I prefer flexibility unless the discount is substantial (and I often find that stacking a portal + AAA rate + discounted gift card to be a better deal). That said, it's worth taking a look at prepaid rates to decide whether or not this deal makes sense since Marriott's current COVID-19 cancellation policy allows guests to cancel reservations they make before June 30 up to 24 hours prior to arrival including pre-paid stays.
Note that as these gift cards are sold directly by Marriott, I expect you'll earn 6x Marriott Bonvoy points on the purchase if using a Bonvoy credit card. Using a card like the Bonvoy Brilliant might be a good idea (I've successfully gotten the $300 in Marriott hotel credits from that card by purchasing gift cards from Marriott.com in the past even though it "shouldn't" work).
I'm somewhat tempted by this because I have previously redeemed Capital One "miles" for Marriott gift cards, but Marriott is not currently available through Capital One. Since Marriott runs these purchases directly, I expect that I could probably pay with my Capital One card and then redeem "miles" to erase the purchase if I wanted to do so (which would yield a slightly lesser value than my special grandfathered rate via Capital One).
It's worth mentioning that when Marriott and Starwood initially merged, you couldn't use Marriott gift cards at legacy Starwood properties. However, that changed at some point. I used US-issued Marriott gift cards (in US dollars) to pay for my room changes (food) at the St. Regis Bora Bora last fall. I have often found that front desk agents get confused about how to apply gift cards to my folio, so I usually go to the desk early in the morning on check-out day. At the St. Regis Bora Bora, I had to leave the gift cards with the front desk for an hour or two for them to figure out how to apply them, but they got it done. I mention that so you prepare and hit the desk ahead of check out time if you're looking to use gift cards.
Obviously gift cards carry some risk. If Marriott went bankrupt, your gift card could become worthless. Is the discount worth the risk? Personally, I doubt Marriott will go out of business entirely and I know that I'll stay somewhere when I eventually travel again (and given that my Titanium status is locked up until February 2022, there's a good chance I'll travel to a Marriott property). Like I said, I'm tempted and may well buy some in gift cards here, though I likely won't go nuts. Given the uncertain state of the economy in general, it doesn't make sense to me to tie up a huge amount of capital in an unnecessary expense, but neither do I want to pay more than necessary for future stays. I'll find the middle ground.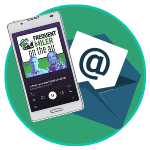 Want to learn more about miles and points?
Subscribe to email updates
 or check out 
our podcast
 on your favorite podcast platform.