Welcome, class of 2020, to Reyes University, which brings you today's travel-themed life hack with Nick. Ever found yourself walking through an unfamiliar city and wondered about your safety? Have you had to walk alone at night and wondered how you would defend yourself if attacked? While I've found most of the world to be quite safe, years of martial arts study when I was younger often have me considering what I'd do if the unexpected happened.
In this video, I teach you how to make a self-defense weapon in just a few seconds out of something readily available. Hopefully, you'll never need to use it — but if you do, it could give you the second of surprise you need to run and scream. You probably won't believe me that this works even after seeing it in action — but I promise that when you inevitably try it out today, you're likely going to be surprised at how effective it is.
All that said, the best defense is avoiding trouble altogether. Thankfully, I've never been in the situation to need a technique like this though I both studied and taught self defense for years. Nothing stops a speeding bullet, so don't take this tip in place of common sense: in a simple mugging situation, I'd probably give up my wallet. But in a situation where someone grabbed me, my wife, or my son, this would at least give me a tool to get that moment of surprise that you're looking for to try to break free.
See the video above for today's travel-themed life hack, brought to you by Reyes University. If you're wondering where that is, push play above. Don't forget to click through to Youtube (either click the title of the video above or click here) to give it a thumbs up if you like it and subscribe to our Youtube channel.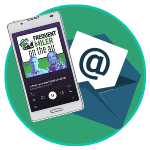 Want to learn more about miles and points?
Subscribe to email updates
 or check out 
our podcast
 on your favorite podcast platform.