Welcome to 2016!
Yesterday I proved that my odd-numbered-year predictions are not so good, but we know that I'm really good with even-numbered-year predictions.  In other words, my 2014 predictions were mostly right whereas my 2015 predictions were mostly wrong.  So, obviously, my 2016 predictions will be spot-on.  You can practically take these to the bank…
Citi will add American Airlines as a new ThankYou Rewards transfer partner
I agree with Lucky on this one.  Over the past two years, Citi has aggressively stepped up the value of their ThankYou Rewards program.  The one thing they still lack, though, is a mainstream US airline transfer partner.  Chase has United.  Amex has Delta.  Citi offers AA credit cards, but hasn't yet allowed transfers of ThankYou points to AA miles.  It's time for Citi and AA to make it happen.  That said, look for it to happen sometime after the AA award chart devaluation kicks in on March 1.
50K will (once again) be the standard signup bonus for Chase's Sapphire Preferred card
The Sapphire Preferred signup bonus was recently bumped up to 50K.  I think it will stay at 50K for the rest of the year rather than dropping back down to 40K.
The Sapphire Preferred card was revolutionary when it came out.  No other card at that time offered nearly the same combination of accessible category bonuses (travel and dining) and great transfer partners.  Chase used to even throw in an extra 7% point bonus at the end of each year.  Since then, the 7% annual dividend faded away; they lost Amtrak as a transfer partner; United became a less valuable transfer partner; Chase dropped the standard signup bonus to 40K; and competitors (primarily Citibank with their Premier and Prestige cards) became increasingly competitive.
It appears that Chase has been mostly satisfied with resting on its laurels here (as an aside, I have no idea what "laurels" are or whether they're comfortable to rest on).  The Sapphire Preferred is still an excellent card, so Chase can probably get away with keeping the product as-is.  But, I think that Chase recognizes that they need to keep the standard signup bonus at 50K to make the card appear as attractive as Citibank's cards.
US Bank will increase the FlexPerks Travel Rewards card's signup bonus
The US Bank FlexPerks card has offered a mere 20,000 points as its standard signup bonus for quite a while.  Every couple of years they've offered an increased bonus tied to the Olympic games, but have otherwise held the bonus flat.  Suddenly, US Bank has shown some signs of life around the card.  They quietly introduced a terrific new benefit for a relatively low-cost card: 12 free Gogo in-air wifi passes per year.  My guess is that they're preparing to challenge the other big card issuers for the coveted frequent traveller market share.  New benefits, like the Gogo passes, will get them part of the way there, but to really compete they'll need a compelling signup bonus.  My guess is that they'll offer a bonus in the 30K to 40K range.  Considering that 40,000 points can be used to buy up to $800 worth of flights, I doubt we'll see more than a 40K offer.
I imagine, too, that US Bank will have to increase the card's annual fee at some point, but my guess is that they'll wait until after acquiring new customers to spring any major price hikes.
Wyndham will surprise us again
Wyndham surprised us all this year by introducing their new flat rewards structure: every room everywhere now costs just 15,000 points per night.  And, we know that they're planning more.  They've promised that, in 2016, "Wyndham Rewards will become even more rewarding, as we develop some exciting new benefits and perks."
Wyndham doesn't have much of an elite program today, so it seems obvious that their plan is to introduce one.  The safe thing to do would be to introduce a tiered program like everyone else: Gold status offers some good benefits; and Diamond or Platinum offers even more. They might do that.  Where I think we'll be surprised is with the types of benefits offered.  My guess is that Wyndham will find a way to offer elite benefits that we haven't yet seen in any other major chain. I have no idea what these benefits will be (Sporting event access? Disney World tickets? Gifts, such as free luggage?).  I really don't know.  That's the point — I just think that we'll be surprised.
Rite Aid will move to cash only for prepaid reloads
All good things come to an end.  I'm predicting that Rite Aid will stop allowing debit reloads some time in 2016.  Hey, I had to throw in at least one negative prediction, right?
Caution
Even though my track record for making even year predictions is really good (based on one data point), there is a chance that I'm completely off base here.  You might not want to take these predictions to the bank just yet…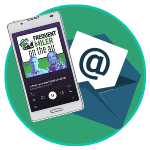 Want to learn more about miles and points?
Subscribe to email updates
 or check out 
our podcast
 on your favorite podcast platform.