It's been a long time since I've paid for a night at an IHG property. For years I've read about opportunities to stack promo codes together to earn a huge number of points per stay, but I've never had the opportunity to try it. Finally, last week, purely out of curiosity, I decided to book a night at a nearby IHG hotel. I wanted to see how many points I could get.
I began by signing up for every promo code I could find. I first tried the codes listed on this travel.Bart.LA post. Then I went to the third post on this Flyertalk thread and attempted to register for every code listed. The IHG online registration form can be found here. With many of the codes I was told that I was ineligible, but 15 of the codes registered successfully.
After finding a reasonably low rate at Candlewood Suites ($90.99), I found that the uPromise cash back portal was offering 6% cash back. I clicked through from the portal and booked a night. Then, I checked in. I went to my room, took some pictures, used the bathroom, answered a few emails, and then left. On my way out I pocketed my complimentary bag of popcorn:
I used my IHG Visa to pay for the room. While this is one of my favorite cards thanks to its annual free night at any IHG property in the world, I don't usually use it for day to day spend. I get much more value from other cards. At an IHG property, though, the IHG Visa card gets 5 points per dollar which makes it a reasonably good option.
Results
It took almost a week for my stay points to post. The total room charge came to $101 after taxes. And, yesterday, uPromise sent confirmation of $5.46 cash back. So, my total out of pocket expenses came to $95.54. In exchange for that, I got a bag of popcorn, 505 points from my credit card, and 21,682 points from my stay. If we ignore the value of the bag of popcorn, that comes to a total of 22,187 points at a cost of .43 cents per point. That's not the most amazing deal ever, but it's not bad. Here's the breakdown of the points earned for my stay:
Discussion
I don't recommend checking into an IHG property just for the points like I did. There are better opportunities out there. However, if you plan to pay for a stay somewhere anyway, this is a fantastic way to get a huge bonanza of points in return. Note that your results will differ from mine. Some will get more points, some will get fewer. It all depends upon which promotions you qualify for. And, different promotions have different requirements for fulfillment.
I've thought about using this one stay as a springboard towards trying to maximize earnings in IHG's Big Win promotion. My targeted Big Win offer, though, was fairly lackluster. I would have to complete at least 3 more stays to earn a total of 34,000 "Big Win" points. I'm not sure it's worth it. And, unfortunately, most of the promo codes I used were one time only bonuses. So, I can't count on windfalls like this on future stays.
This experiment didn't break any new ground — many other bloggers have written about these opportunities in the past. But, 'm glad I did it. It was fun and I walked away 22,000 points richer. And, my family enjoyed the popcorn very much. Thanks IHG!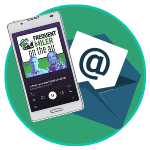 Want to learn more about miles and points?
Subscribe to email updates
 or check out 
our podcast
 on your favorite podcast platform.