There are currently a number of stackable offers which can make for a rewarding purchase when ordering pre-prepared meals from Sunbasket.
This could be particularly useful if you're looking to earn status with American Airlines due to a boosted rate through their shopping portal, but other portals will be a better option if you're not seeking status.
The Deals
Earn 3,700 American Airlines AAdvantage miles when ordering from Sunbasket after clicking through from the American Airlines shopping portal.
Key Terms
Eligible for new customers' first order only.
Not eligible on any free products, trials, services, memberships, subscriptions and retailer marketing subscriptions.
Not eligible on purchases made with coupon or discount codes that are not found on this site.
Not eligible on gift cards, gift certificates or any other similar cash equivalents. Purchases made with a gift card may be ineligible.
Quick Thoughts
If you're not familiar with Sunbasket, it's a meal subscription service. It's different to services like Home Chef and HelloFresh because rather than you being sent the ingredients for you to make the meals yourself, the meals come pre-prepared and so all you need to do is heat them up.
My wife and I tried it out last summer when Swagbucks was offering $75 cashback on your first order and there was an Amex Offer. The meals were fine seeing as they were free based on the cashback and statement credit, but I wouldn't subscribe to them regularly as they were fairly pricey for what they are.
The American Airlines shopping portal normally offers 3,000 bonus miles on your first Sunbasket order, so the current offer is almost 25% more miles than normal. That could be of particular interest if you're trying to earn as many American Airlines Loyalty Points as possible in order to earn elite status seeing as this offer means you'd also earn 3,700 Loyalty Points on top of the redeemable miles.
You'd have to value AAdvantage miles and Loyalty Points highly enough to make this worthwhile though because the MyPoints shopping portal is currently offering 12,000 points on your first Sunbasket order. Those points can be redeemed for ~$75 of third party gift cards, so 3,700 miles + 3,700 Loyalty Points will need to be worth slightly more than an average of one cent per mile / Loyalty Point to you.
This offer is stackable in a number of different ways. The best savings come from a targeted Sunbasket Amex Offer giving $25 back on $50 spend up to three times. Note that there's a different version of the Amex Offer giving $12 back when spending $65, so that's obviously not as good. I was targeted for the latter version, but my wife has the former offer on her cards.
Collinson-backed shopping portals have a card-linked Sunbasket offer. Seeing as that's a card-linked offer on a different tracking network, it'll stack with the American Airlines (or MyPoints) shopping portal as well as the Amex Offer. You can check the latest rates here on Cashback Monitor, but at the time of writing this post you can pick one of the following:
Caesars Rewards Marketplace – 1,080 points
Choice Privileges Online Mall – 780 points
Emirates Skywards – 540 miles
JetBlue TrueBlue Shopping – 540 points
There's another minor stack, but it won't earn you much. The Bitmo app has a card-linked element to it and they offer one Perk Point per dollar spent with a linked card at Sunbasket. That's only worth 0.1% back towards a future gift card purchase, so if your first order cost $50 (in order to hit the Amex Offer spending threshold), you'd earn a whole 5c. That's obviously not worth the hassle purely for this deal, but if you buy Visa or Mastercard gift cards from Staples or Office Depot/OfficeMax, having your cards linked for those transactions can rack up the Perk Points over time.
Update: garretg has commented below to share that there's a SimplyMiles offer for 1,000 miles when spending $65 as well as a Citi Merchant Offer for Sunbasket giving $20 back when spending $65. The SimplyMiles offer will stack with the Citi Offer, but not with the Amex Offer because SimplyMiles only works with Mastercards.
If you're targeted for both the Citi Offer and Amex Offer, the better option will depend on if you'd rather spend $50 and get $25 back from the Amex Offer or spend $65 and get $20 back from the Citi Offer as well as 1,000 AAdvantage miles and 1,000 Loyalty Points from SimplyMiles.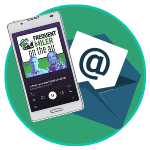 Want to learn more about miles and points?
Subscribe to email updates
 or check out 
our podcast
 on your favorite podcast platform.