Chase has shaken things up this morning with an unexpected move: on September 15th, they are introducing a brand new card called the Chase Freedom Flex and they are also seriously enhancing benefits on the Chase Freedom Unlimited. Given the enhancements on these cards – both will offer 3x dining and 3x drugstores – I speculate that we'll also see some type of enhancements on the Chase Sapphire Reserve and Chase Sapphire Preferred in the coming weeks to keep those cards relevant.
New Chase Freedom Flex
Chase announced today that beginning on September 15th, they will be offering a new card called the Chase Freedom Flex. Here will be key details:
Welcome bonus: $200 back (20K Ultimate Rewards points) after spending $500 in the first 3 months
Fixed bonus categories: 5x travel booked through Chase Ultimate Rewards ⚬ 3x dining ⚬ 3x drugstores
Rotating bonus categories: 5x on up to $1500 per quarter in rotating categories
First year grocery bonus: 5x at grocery stores (excluding Target and Walmart) on up to $12K in purchases in the first year
No annual fee
Note: According to CNN Underscored, it isn't yet confirmed that points from the Chase Freedom Flex will be combinable with points from other Chase Ultimate Rewards card, but we expect they will be. Chase confirmed to CNN Underscored that points will be combinable with other Ultimate Rewards cards.
Like the current Chase Freedom card, the Chase Freedom Flex will offer rotating 5x categories on up to $1500 in spend each quarter. However, the card will additionally offer 3x dining & 3x drugstores and 1x everywhere else.
Interestingly, this card will be a World Mastercard, making it one of the very few Mastercards offered by Chase. With that come some nice benefits:
Cell phone protection: Up to $800 per claim and $1K per year against theft or damage with a $50 deductible when you pay your monthly bill with the card (max of 2 claims per year)
Lyft credits: Get a $10 credit for every 5 Lyft rides you take in a calendar month
Boxed Rewards: 5% back in Boxed rewards for future purchases
Free Shoprunner Shipping
Fandango points: Double VIP+ points for movie tickets purchased via the Fandango app or at Fandango.com
All of that adds up to a pretty compelling package in my opinion. It's kind of surprising to see this announcement come on the heels of an increased welcome bonus on the current Freedom (Visa) card. Folks who have recently opened that card for the 5x first year grocery bonus come out losers here since they missed the chance to also earn 3x dining and drugstores long-term. It's kind of surprising that Chase would increase the bonus on that card only to replace the card so fast. Note that while I didn't see this in the announcement, I have heard that Chase will stop accepting applications on the current Freedom card on September 15th. CNN Underscored says that this is not true. We'll see.
While Chase has historically been good about allowing product changes within the same product family, we don't yet know if that will also be the case when wishing to change from a Visa card (all of the other current Ultimate Rewards cards are Visas) to this new Mastercard. I expect we'll still be able to product change — so those who recently opened a Freedom card will likely be able to change to a Freedom Flex down the road — but we won't know for sure for a couple more weeks at least. Update: Chase has confirmed that current Freedom cardholders (and therefore presumably those with other consumer Ultimate Rewards cards) will be able to call in and convert to the new Freedom Flex after the card launches in a couple of weeks.
Enhancements to the Chase Freedom Unlimited
The new Freedom Flex isn't the only news of the morning: Chase is also adding 5x travel booked through Chase Ultimate Rewards, 3x dining and 3x drugstores to the Chase Freedom Unlimited. That change also begins on September 15th, including for current cardholders. That's an awesome deal for those with a Freedom Unlimited. The card already earns a respectable 1.5x everywhere and now adds two really nice 3x categories and 5x travel booked through Ultimate Rewards.
The Freedom Unlimited will continue to be a Visa, so no Mastercard benefits like cell phone protection and Lyft credits will apply.
Enhancements coming to the Chase Sapphire Preferred and Chase Sapphire Reserve?
When I saw this announcement, my first thoughts went to the Chase Sapphire Preferred and Reserve: do the Freedom cards make them almost totally irrelevant now?
Giving that the Freedom Unlimited and Freedom Flex will both offer 3x dining and 5x on travel booked through Chase Ultimate Rewards with no annual fee, it would look to be pretty hard to justify the Sapphire Reserve's $550 annual fee. Paradoxically, the Sapphire Preferred is almost harder to justify at $95 for bonus categories that won't add up to much comparatively.
Sure, the Sapphire Reserve will maintain the ability to use points at a value of 1.5c toward travel booked through Chase and likely toward other types of purchases with the Pay Yourself Back feature. And the Sapphire Preferred and Reserve offer bonuses on all travel, not just travel booked through Chase. The fact that each of those Sapphire cards carry no foreign transaction fees will make a difference for those who spend a lot of money abroad. Further, you will still need a premium Chase card to transfer to travel partners, so having one Sapphire Preferred, Sapphire Reserve, or Chase Ink Business Preferred in your household will still be a necessity for those looking to transfer.
But I have to think that Chase will need to do something to enhance the Sapphire Preferred and Reserve to maintain interest in those cards among the masses. Greg thinks that at the minimum those cards are likely to match the 5x on travel booked through the Chase Ultimate Rewards portal. I don't disagree and further wouldn't be surprised to see 5x added to the travel bonus category on those cards to make for 7x or 8x on travel booked through Chase Ultimate Rewards — but note that this is total speculation on my part. I definitely think those cards will need to add something and I think that if Chase is feeling generous enough to add 3x dining and 3x drugstores on the no-fee cards, we might be in for a good surprise on the premium / ultra-premium front. I certainly hope so.
Bottom line
I am surprised to see a new card launched, though I think that it makes sense from the standpoint of branding and clarity for consumers: we frequently get questions from readers wondering if they are eligible to have or get a welcome bonus on both the Freedom and Freedom Unlimited cards at least in part because of the almost-identical names. Having two different card names — the Freedom Flex and Freedom Unlimited should help obviate some of that confusion and make it clearer to consumers that these are separate products. (Update: CNN Underscored tells us that Chase does not intend to end applications for the Freedom card after all, so this may not help eliminate confusion at all but rather add to it. Weird.)
I further think it is exciting to see 3x dining and 3x drugstores added on cards with no annual fee. Both are generous return that will no doubt draw the interest of many points enthusiasts. Given the generosity here, I think it is reasonable to expect something to be added to the premium Chase cards in the coming weeks or months, though we have no news on that yet.
Overall, I see all positives here and look forward to seeing what else Chase has in store.
H/T: Award Wallet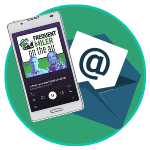 Want to learn more about miles and points?
Subscribe to email updates
 or check out 
our podcast
 on your favorite podcast platform.