My wife and I just returned from our second vacation since COVID-19 seemingly made travel a thing of the past.  On our first vacation, in June, we stayed in our home state of Michigan.  You can read about that trip here.  This new trip, though, included our first post-COVID flight.  We flew round-trip from Detroit, Michigan to Hartford, Connecticut.  In Connecticut we spent three nights at the Madison Beach Hotel (a Hilton Curio Collection property), then we spent three nights in Newport, Rhode Island at a fantastic B&B.
Below you'll find my observations from the trip, particularly with regards to traveling during COVID-19…
Travel Suggestions / Recommendations
During COVID-19, travel is different than before.  Here are some suggestions for keeping your travel safe and enjoyable:
Choose a good-weather destination.  Many indoor attractions are closed.  Plus, eating outdoors is safer than indoors (even with distancing).  If the weather forecast looks grim, consider rescheduling your trip.
Check for travel restrictions that may impact you.  Many states and cities have rules about who can travel freely and who needs to quarantine upon arrival.  For example, we cancelled our plans to visit Massachusetts because Massachusetts requires all visitors (except those from a handful of states) to quarantine for 14 days or provide a negative COVID test within 72 hours.  This NBC News page provides a great map and overview of the state-by-state rules.  That said, I recommend also checking your destination state's website for up-to-date information.
Don't forget to check your own state's rules.  You may have to quarantine upon return.
Re-check travel restrictions right before traveling.  Restrictions change frequently, so you may have to make alternate plans last-minute.
Bring multiple re-usable masks.  Use your hotel sink to wash your mask at night and hang it to dry.  Those clips attached to many hotel hangers provide a good way to hang up a couple of masks.
Carry hand-sanitizer with you at all times.  It's a good idea to apply it after touching surfaces that others have come into contact with, and before eating.
Mask Wearing
During COVID times, wearing a mask is the new normal.  My wife and I were careful to wear our masks at all times when indoors (except when eating or when in our own hotel room) and outdoors when close to others.
On this trip, we traveled from southeast Michigan to Connecticut and Rhode Island.  We found that mask-wearing compliance was mostly very good.  Some notable exceptions:
Airport employees were often seen wearing masks under their nose.  This is something I've noticed at many businesses, but it seemed more common in the airport (or maybe I was just more aware of it).
While most followed the rules, I noticed at least two different B&B guests walking around without masks indoors. In their defense, I found it really easy to forget to put on a mask, and often had to return to my table or room to get it.  In one case where a guest was mask-less, I saw a staff member gently remind them.  That guest then quickly put on a mask.
In crowded outdoor settings, we saw lots of people without masks.
Despite the mask compliance lapses noted above, I never felt unsafe during this trip.  If we saw someone without a mask on, we simply made sure not to get too close.
Dining
Eating is one thing you can't do while wearing a face mask.  So, we prefer to eat outdoors when in public since that's the safest option.
Most of our dining during this trip was outside.  For example:
Whenever possible, we asked for outside tables at restaurants
In Connecticut, we sometimes brought food back to our hotel to eat outside on our room's balcony
At the B&B in Newport, we ate outside in their courtyard except when it rained
We did eat inside a few times:
At the B&B, when it rained we ate breakfast and had afternoon tea service inside.  The B&B did a great job of providing indoor eating spaces that were far separated from each other.  Even better, each time we were able to snag a corner table with windows wide open along two walls.  This was very much like being outside.
The owner of the B&B made us dinner reservations at a place called Jo's American Bistro.  We forgot to tell him that we only wanted outside seating and there was none available when we arrived, so we ended up inside.  Fortunately, Jo's seated guests far apart and had windows wide open for good air circulation.
At the Bradley International Airport (BDL) on our return trip, we found an unused gate where we could sit far from any other passengers in order to eat our lunch.
COVID-19 Travel Restrictions by State
Many states and some cities have COVID-19 travel restrictions.  This NBC News page provides a great map and overview of the state-by-state rules.
Airport Experience
Parking
At the Detroit Metro Airport (DTW), we parked off-site at US Park.  Off-site parking is much cheaper than parking directly at the airport, and US Park offers a AAA discount as well.  The experience of parking here was pretty much the same as ever before, but with one big difference: we rode an empty shuttle bus to the airport on our way out and from the airport on the return.  I can't promise that will be the same for you, but it sure was nice!  For times when there are more people on board, the van had seats blocked to enforce social distancing.  Even then it would be hard to sit 6 feet away from others, though, since the van is fairly small.
TSA Security
At the Detroit airport (DTW) on Sunday morning (Aug 23), lines were non-existent.  With no one in line, my wife and I skipped CLEAR and went through TSA PreCheck. On our return from Bradley International Airport (BDL), we also went through TSA PreCheck.  I don't think they have CLEAR there (or it's not currently open).
One big difference from the before times was that instead of handing over our drivers licenses to prove our identities, we slipped each license into a scanner much like a mini ATM machine (but no money came out).  Also, we didn't have to show or scan boarding passes until actually boarding each flight.  Presumably the ID scanner matches up names with registered passengers.  At DTW my wife was asked her flight number, but I wasn't.  So maybe the matching process isn't perfect or maybe they were just doing a secondary confirmation.
At the Detroit airport we never had to remove our masks to go through security.  At BDL, though, we were asked to briefly lower our mask during the ID check process.  We were then each given a sheet of paper to show that we were eligible for PreCheck when going through the x-ray.
Delta SkyClub
At the Detroit airport (DTW), only the main central SkyClub is currently open (there are 4 SkyClubs altogether at DTW).  Despite this, there was plenty of room to spread out.  We were there on a Sunday morning, though.  I wouldn't be surprised to find more crowds on a weekday.  Here are the differences I found in visiting the SkyClub during COVID:
Less crowded
Masks required except when eating
More hand sanitizer stations than before
Food was pre-packaged
The bar is no longer self-serve. Now there's a bartender to serve drinks
Personally, I love that the food is pre-wrapped.  This means that one could pop in before a long flight and grab sandwiches to eat on board.  Or, when returning from a flight around mealtime, one could grab food for the road.


Escape Lounge (BDL Airport — Near Hartford CT)
In my experience, Escape Lounges tend to have excellent food and a nice atmosphere.  Anyone with a Platinum Card from American Express can access these lounges for free (see our Amex Platinum Complete Guide).
Unfortunately, the Escape Lounge at Bradley International Airport in Connecticut is currently closed.  The sign behind the door states "Goodbye for Now. Not Forever."  Note that the LoungeBuddy app incorrectly states that the lounge still offers take-away food.  They do not.  At least, they did not offer it on the weekends when we were there (we flew in on Sunday August 23 and flew out Saturday August 29).
Flying Delta

Delta blocks middle seats (except for passengers traveling together) in order to enforce some separation between passengers.  Delta also requires face masks on board and has been known to ban passengers who refuse.
Aside from the distancing and masks, there were a few other things different from the olden day (pre-COVID) travel experience:
Passengers board back to front (except for first class passengers who can board anytime)
Every passenger was handed a sanitizing wipe as they boarded
Snacks, including bottled water, were handed out in zip lock bags
No soda or mixed drinks were available
The only alcohol available was beer or wine
First class passengers were not offered any extra snacks (in the past, even on a short flight like this one, we would be offered snacks from a snack basket)
National Rental Car
We rented from National and so, as usual, we picked the car we wanted from the appropriate aisle.  There really wasn't anything notably different in the car rental experience between then and now.  The only major difference was in the shuttle bus ride between the car rental agency and the airport.  Shuttle riders must wear masks.  And seats were blocked for social distancing.  We had the bus to ourselves when we arrived in Connecticut on Sunday, but we shared the bus with others when we departed on Saturday.
Hotel
I wrote a bit about our hotel experience here: Madison Beach Hotel, Curio Collection by Hilton. Bottom Line Review.  The most notable differences between our stay during COVID and normal times were:
Masks are required in all common areas.
Upon check-in, a sticker on our door proved that the room hadn't been entered since it was cleaned.
The hotel restaurant was not open for breakfast.  Instead, they brought us an inadequate (in my opinion) breakfast basket each morning.
Housekeeping services were not automatic.  You had to call to request service.
Other than disliking how they handled breakfast, we enjoyed our stay at the Madison Beach Hotel.  Every room has a large ocean-facing balcony.  We spent a lot of time enjoying that balcony!  Plus, once we were out on the beach, we were able to forget about COVID since the beach wasn't crowded.
Bed & Breakfast
In Newport, Rhode Island, we stayed at the Francis Malbone House B&B.  Everything about the inn was fantastic, including the courtyard shown above.
Masks are required indoors except in your own room.  The inn continued to provide daily housekeeping and turndown service, but we had the option to decline it (we didn't).  Breakfast mains were served directly to our table, but drinks were self-service.  They also had a buffet for extra breakfast items and for afternoon snacks.  The buffet apparently used to be self-serve, but now it is behind glass where a staff member serves whatever you want.
Bottom Line
There's no doubt that traveling and vacationing during COVID is different.  Very different.  But in my experience, as long as you're lucky with the weather, it's still possible to stay safe and have a great time.  We thoroughly enjoyed our trip to Connecticut and Rhode Island.  Yes, it was a little annoying having to wear masks so often, but we got used to it.  I thought it was a very small price to pay for a very enjoyable vacation.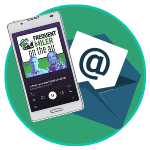 Want to learn more about miles and points?
Subscribe to email updates
 or check out 
our podcast
 on your favorite podcast platform.