Probably the greatest value in the IHG Rewards program is the PointBreaks list. The hotels on the PointBreaks list, which will be released here later this morning for bookings and stays between April 24th, and July 31st, 2017, can be reserved for just 5,000 IHG points per night. Considering the fact that points can often be purchased for about a half a cent each (or in large quantity via Daily Getaways for a bit more), you could buy your way into a PointBreaks hotel for between $25-$30 a night. The purpose of the promotion is obviously to get heads in beds in lower-demand hotels, but there are always a few intriguing options — and if your travels take you to a place with a hotel on the list, you can certainly save some money.
The Deal
Book select IHG hotels for just 5,000 points per night
Key Terms
For bookings and stays from April 24, 2017 to July 31, 2017
The list is not yet live, but will be here when it is.
Each member is limited to making 2 reservations per hotel (though each stay can be as long as you like providing there is availability)
Rooms are subject to standard cancellation policy (check the rules before reserving — most are cancellable unless there is a special event during your dates)
More information
Yesterday, IHG released a preview of just a few of the hotels that will be on the list (the full list will include 100 hotels worldwide):
Two locations that stuck out on that list from my own travels were the Holiday Inn Express in Brisbane and the Crowne Plaza Vilnius.
The Holiday Inn Express in Brisbane seemed notable simply because hotels in Australia can be expensive. This quarter will be heading into Australian winter — but even so, I just looked up several dates and found rates around $115/night at that property. The ability to book it for $25-$30/night in points could be a nice savings if your travels take you to Brisbane.
The Crowne Plaza Vilnius popped out at me for two reasons. First of all, I find that many Crowne Plazas outside of the US tend to be fairly nice compared to the hit-or-miss quality in the US. Secondly, I had the chance to visit Vilnius several years ago and am glad I took that opportunity. I found the Museum of Genocide Victims (more colloquially known as the KGB Museum) to provide a fascinating look at the history of a country I hadn't known much about and I just enjoyed strolling around what is a very beautiful and pedestrian-friendly capital city. One thing to keep in mind: as per the Flyertalk thread, it sounds like the Vilnius airport will be closing for renovations this summer. However, you could fly into Kaunus — and Rome2Rio.com tells me that there are a number of options to get to from Kaunus to Vilnius in about an hour. Or stay in Kaunus for a day or two — Ric at Loyalty Traveler just reviewed the Club Carlson Category 1 Park Inn there and it sounds like he had a good stay.
As noted in the key terms above, each member is limited to making 2 reservations maximum per property. This is meant to prevent a few people from taking all of the rooms by making a ton of separate reservations. Standard cancellation policy applies to each room. This varies by hotel and date, but most reservations can be cancelled without penalty. Check the rules before you reserve.
Dan, at Points with a Crew, always makes a handy map with the PointBreaks locations that is very useful if you like to visualize your options. While the latest list is not yet out, you'll want to check back here when it is to see the full map.
There is no set time when PointBreaks go live, but in the past the list has become available for booking sometime between 9am and noon. Keep an eye on the last page in this Flyertalk thread for word as to when the list goes live and we will also be sure to Tweet it — follow us @FrequentMiler.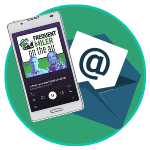 Want to learn more about miles and points?
Subscribe to email updates
 or check out 
our podcast
 on your favorite podcast platform.