Frequent Miler is part of an affiliate sales network and receives compensation for sending traffic to partner sites, such as CardRatings.com, but we always show the best public offer even when we don't earn a commission . This site does not include all financial companies or all available financial offers. For additional details, see our Advertiser Disclosure.
Card Details and Application Link
American Airlines AAdvantage MileUp Card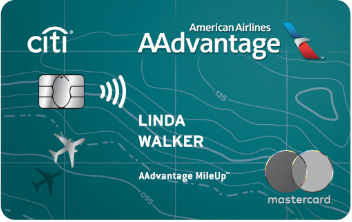 FM Mini Review: Not bad for grocery spend if you highly value AA miles

---
Card Type: Mastercard World Elite
<!–– qBaseq -->
<!–– qGroceryq -->
<!–– qBrandq -->
Earning rate: 2X grocery ⚬ 2X AA ⚬ 1X everywhere else
Noteworthy perks: Save 25% on inflight food and beverage purchases
Overview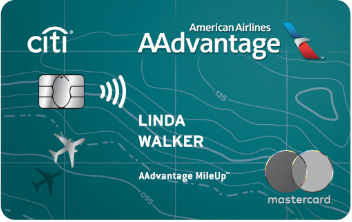 The fee-free MileUp card is a good choice for anyone looking for a way to earn AA miles and Loyalty Points from spend, especially if you don't mind that the card doesn't offer any significant perks.
Perks
The AAdvantage MileUp Mastercard doesn't have many perks at all.  Here's what you get:
No annual fee
25% inflight food and beverage discount
Unlike most other AAdvantage credit cards, this one does charge a foreign transaction fee (so, don't use it outside of the United States!) and it does not offer free checked bags, priority boarding, or anything like that.
Earn Miles and Loyalty Points
The best feature of this card is that it offers 2 redeemable miles per dollar at grocery stores and for American Airlines spend.  Regardless of the category of spend, the card earns just 1 Loyalty Point per dollar.
Card Info Name and Earning Rate (no offer)
About AAdvantage Elite Status
This card earns both redeemable miles and Loyalty Points through spend.  You'll earn just one Loyalty Point per dollar spent even if the card offers extra redeemable miles.  For example, if you spend $300 on an American Airlines flight where this card offers 2x miles, you'll earn 600 redeemable miles and 300 Loyalty Points.
Below you'll find a summary of the benefits you can earn from Loyalty Points.  Loyalty Points are earned from March through February each year.
AAdvantage elite status
Gold
Platinum
Platinum Pro
Executive Platinum
Loyalty Points Required
40K
75K
125K
200K
Mileage Bonus
40%
60%
80%
120%
Preferred Seating
Y
Y
Y
Y
Main Cabin Extra Seating
Upgrade at Check In
Y
Y
Y
Domestic First Class Upgrade
24 hour window
48 hour window
72 hour window
100 hour window
Upgrade on Alaska Airlines
N
N
Y
Y
Free checked bags
1
2
3
3
OneWorld Status
Ruby: Access to biz class check-in, preferred seating
Sapphire: Access to OneWorld Business Class lounges
Emerald: Access to OneWorld First and Business Class lounges
In addition to earning elite status from Loyalty Points, the following benefits can be earned at various spend-tiers:
| Loyalty Points Earned | Loyalty Point Rewards |
| --- | --- |
| 15K | Automatic Benefit: Group 5 Boarding Choose 1: • Priority privileges & Group 4 boarding for a trip • 5 Preferred seat coupons |
| 40K | Automatic Benefit: AAdvantage Gold Status |
| 60K | Automatic Benefits: • 20% Loyalty Point Bonus (AA Vacations, SimplyMiles, AAdvantage eShopping, AAdvantage Dining, and AA Hotels) • Avis Preferred Plus |
| 75K | Automatic Benefit: AAdvantage Platinum Status |
| 100K | Automatic Benefits: • 30% Loyalty Point Bonus (AA Vacations, SimplyMiles, AAdvantage eShopping, AAdvantage Dining, and AA Hotels) • Avis President's Club |
| 125K | Automatic Benefit: AAdvantage Platinum Pro Status |
| 175K | Choose 1: • 2 systemwide upgrades • 20K bonus AA miles (25K w/ AA credit card) • 6 Admirals Club One-Day Passes • $200 Trip Credit ($250 w/ AA credit card) • Carbon offset • $250 donation to select nonprofit organization • 15% award rebate • 2 gifts of AAdvantage Gold status • 35K AA miles towards a Mastercard Priceless Experience |
| 200K | Automatic Benefit: AAdvantage Executive Platinum Status |
| 250K | Choose 2: • 2 systemwide upgrades • 20K bonus AA miles (30K w/ AA credit card) • 6 Admirals Club One-Day Passes • $200 Trip Credit ($250 w/ AA credit card) • Carbon offset • $250 donation to select nonprofit organization • 2 gifts of AAdvantage Gold status • Bang & Olufsen product (requires 2 choices) • 1 Flagship lounge single visit pass (2 passes w/ AA credit card) • 35K AA miles towards a Mastercard Priceless Experience |
| 400K | Choose 2: • 1 systemwide upgrade • 25K bonus AA miles • Admirals Club membership (requires 2 choices) • $200 Trip Credit ($250 w/ AA credit card) • Carbon offset • Gift of AAdvantage Platinum status • Bang & Olufsen product (requires 2 choices) • 1 Flagship First Dining pass • 40K AA miles towards a Mastercard Priceless Experience |
| 550K | Choose 2: • 1 systemwide upgrade • 25K bonus AA miles • Admirals Club membership (requires 2 choices) • $200 Trip Credit ($250 w/ AA credit card) • Carbon offset • Gift of AAdvantage Platinum status • Bang & Olufsen product (requires 2 choices) • 2 Flagship lounge single visit passes • 1 Flagship First Dining pass • 40K AA miles towards a Mastercard Priceless Experience |
| 750K | Choose 2: • 1 systemwide upgrade • 25K bonus AA miles • Admirals Club membership (requires 2 choices) • $200 Trip Credit ($250 w/ AA credit card) • Carbon offset • Gift of AAdvantage Platinum status • Bang & Olufsen product (requires 2 choices) • 2 Flagship lounge single visit passes • 1 Flagship First Dining pass • 40K AA miles towards a Mastercard Priceless Experience |
| 1M | Choose 1: • 4 systemwide upgrades • Carbon offset • Gift of AAdvantage Platinum Pro status • Up to 100K miles back on award redemptions • 150K AA miles towards a Mastercard Priceless Experience |
| 3M | Choose 1: • 6 systemwide upgrades • Carbon offset • Gift of AAdvantage Executive Platinum status • Up to 300K miles back on award redemptions • 350K AA miles towards a Mastercard Priceless Experience |
| 5M | Choose 1: • 10 systemwide upgrades • Carbon offset • Gift of AAdvantage Executive Platinum status • Up to 500K miles back on award redemptions • 550K AA miles towards a Mastercard Priceless Experience |
AAdvantage Credit Card Comparison
There are seven different American Airlines AAdvantage credit cards available in the United States
which are worth considering
(
there are also a few additional uninteresting options available only via product changes
).  All seven share some standard features and perks:
The
Citi AAdvantage MileUp Card
is unlike the other cards in that it has no annual fee, but does charge foreign transaction fees.  The rest of the interesting AA cards offer these additional
standard perks
:
No foreign transaction fees
Free first checked bag and preferred boarding for you plus multiple companions on the same ticket
This table summarizes additional features of each card beyond those described above:
| Card | Annual Fee | Bonus Categories | Additional Perks |
| --- | --- | --- | --- |
| Citi AAdvantage MileUp Card | $0 | 2X AA, Grocery | None |
| Citi AAdvantage Platinum Select | $99 | 2X AA, Gas, Dining | $125 AA Flight Discount with $20K membership year spend |
| Barclays AAdvantage Aviator Red | $99 | 2X AA | $99 + tax domestic companion certificate after $20K membership year spend; $25 annual inflight Wifi Credit; |
| Barclays AAdvantage Aviator Silver | $195 | 3X AA, 2X Hotel, Car rental | $25 per day inflight food and beverage credit; $50 annual inflight Wifi credit; Companion certificate good for 2 guests at $99 each (plus taxes and fees) after $20K membership year spend. Up to 15K bonus Loyalty Points: 5K at $20K spend, 5K at $40K spend, and 5K at $50K spend during the status qualification period; $100 Global Entry application fee credit |
| Citi® / AAdvantage® Executive | $450 | 2X AA | Admirals Club membership; 10K Loyalty Points after $40K spend during the status qualification period; $100 Global Entry application fee credit |
| CitiBusiness AAdvantage Platinum Select | $99 | 2X AA, Gas, Telecom, Car rental | $99 plus taxes domestic companion certificate after $30K membership year spend |
| Barclays AAdvantage Aviator Business | $95 | 2X AA, Office supply, Telecom, Car rental | $99 plus taxes domestic companion certificate after $30K membership year spend.  Earn 5% AAdvantage mileage bonus each anniversary. |