While updating our Coronavirus / COVID-19 cancellation policies post (which also includes everything you need to know about elite status and free night extensions and that sort of thing), I noted that in some cases, travel providers are offering vouchers worth more than the amount originally paid to encourage people to accept a voucher rather than asking for a refund. We received a report in Frequent Miler Insiders yesterday (and have seen other data points since) indicating that in some cases American Airlines is offering vouchers worth 20% more than the paid amount in lieu of a refund on flights they are cancelling (the member in our Facebook group got the pop-up shown below when in the process of requesting a refund for an AA-canceled flight online, but I've since seen reports of similar offers over the phone). Whether or not a 20% bonus is enough to get you to accept a voucher is up to you, but it's worth knowing your full options up front.
I'm not certain whether this is now a blanket policy / offer on all canceled / severely impacted flights or it's something AA is testing in select markets, but it's worth knowing that you may receive this offer so you can consider whether or not you want to accept it.
The offer here is interesting in that it acknowledges that the customer is entitled to a refund if they so choose (something the DOT finally took a stand on a few days ago) and recognizes that a voucher is a lesser outcome than cash by offering extra value. I think that's a positive step.
As to whether or not you should take the voucher, that's a personal decision. I could envision a scenario where a frequent flyer who knows that they will fly AA after this is all over figures that this saves them a few bucks on future trips. I wouldn't fault someone for accepting it.
On the other hand, I don't think this would be enough for me. Some folks will say that there's a chance the airline will go out of business and your voucher will be worthless. That is of course possible. Personally, I think it is extremely unlikely to the point where that scenario isn't the one that would prevent me from accepting the voucher.
However, what would prevent me from taking this offer would be any one or combination of the following things:
We don't know how long this situation will last. More importantly, I don't know how long it will be after the COVID-19 pandemic is "over" before I feel comfortable flying. Maybe I'll be in the sky again this summer, maybe this fall, maybe not until a year from now. I don't know, so I wouldn't be in a hurry to accept a voucher that's only good for a year.
We don't know what schedules will be like when things return to "normal". I imagine that many routes will see capacity reductions for quite a while as demand for flights is likely to trickle back slowly. In my case, AA only serves a couple of cities from my home airport and I don't know that those frequencies are going to line up with the connections I'd need (nor do I know what the frequency of those connections will look like). In short, it's very hard for me to know if I'll want to fly AA in the short-term.
We occasionally see AA gift cards available at discounts, whether through second-hand sites like Raise (when stacked with a coupon or portal promo) or because of an Amex Offer to a place where you can buy them or something of that sort. I'm pretty sure I could get 5-10% off pretty regularly. The discount AA is offering (essentially $20 off of every $120) is only marginally better at 16.7% off. In a situation where I want to buy a flight, that might be a decent enough discount. In a situation where they need to sell me on the idea of locking up my money with them for a year when I likely can't fly anywhere for at least a month or two and likely several more than that, their offer isn't good enough.
Point #3 is really the one that locks it up for me. I'm lucky to still have a job right now when many people I know do not and I still wouldn't be in a hurry to let them keep my money rather than getting a full refund. Cash allows me to decide which airline I want to fly and when – or that something else is of greater need than a flight. Surely there have been times when I've booked a flight that was a little more expensive than my cheapest option so that I could have the option that worked best for me and/or times when I haven't booked a flight because I was spending money on something else. By turning down a voucher in this case, you're essentially coming to the same conclusion: you'll give up the best/cheapest deal in favor of the best deal for you.
All that said, I do think AA is making the right move here in offering something better to let them keep your money. I further want AA and the other airlines to survive and for the people who work there to stay employed. I think this is a good idea to work in that direction, I just think it's not enough. Since I'm not terribly worried about AA going out of business, I think a 2-year voucher with something like a 25% or 30% bonus would probably make me more apt to accept. I wouldn't be surprised if AA (and other airlines) look at the data on this over the coming weeks and adjust their approach based on the choices people have made. I wouldn't hold my breath on vouchers becoming larger, but neither would I be surprised if they find that they need to offer more.
In any case, I do not have any AA flights booked, so I won't be facing these decisions on any canceled flights in the near future. For those who are, know that you may need to do the math and decide which works best for you.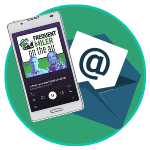 Want to learn more about miles and points?
Subscribe to email updates
 or check out 
our podcast
 on your favorite podcast platform.