Monkey Miles stumbled on a really interesting find in AA's unannounced SAAver award specials: flights from 5K one-way between Philadelphia and Los Angeles. While that's somewhat concerning in what it means for the future of AA Saver awards (will they abandon the award chart altogether in favor of dynamic pricing?), in the meantime it means you can get between the coasts crazy cheap in terms of miles.
The Deal
American Airlines SAAver award availability from just 5K miles one-way between Philadelphia and Los Angeles (search availability at AA.com)
Key Details
Pricing is variable. The most desirable prices typically have the least desirable layovers
Quick Thoughts
As shown in the picture above, pricing is kind of all over the map. Even on an individual day it varies significantly. Here is April 24th:
As you can see, the one-way price varies from 5K to 11.5K in that screen shot, but that was just one of a couple of pages of results.
On the one hand, it's awesome to be able to land a transcon flight for just 5K miles. On the other hand, it feels like an ominous sign of things to come. Delta has obviously abolished its award chart and United is heading in the same direction (having already gotten rid of the PDF chart that used to display their pricing).
In this specific instance, flights are available via Google Flights from $99, though the 5K flights shown above actually aren't the cheapest. In that sense, the value per mile is still decent, but it's frustrating not knowing how much saver tickets are going to cost in terms of points. It's further unclear to me whether all flights under 12.5K one-way will be available to partners or if it'll turn into a Delta-esque free-for-all where you never know what's going to be available for partner booking.
In the meantime, if you're in LA or Philadelphia, enjoy a great use of AA miles while you can.
H/T: Monkey Miles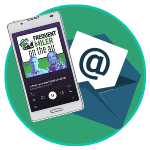 Want to learn more about miles and points?
Subscribe to email updates
 or check out 
our podcast
 on your favorite podcast platform.