Welcome to this week in review here at Frequent Miler. This week, we looked at a few great deals — both advertised and unadvertised — and shared some methods of maximization (whether it be spending more or getting a first class ticket for less than the economy class price. Read on for more!
Greg considers whether the math on a recent popular quick deal works out for him. It turned out the deal got even a bit better than we initially though. Thanks to a reader comment, I later posted that this membership is available in a handful of states for just $25 a month. Several readers with members have commented in that subsequent post to share their positive experiences with memberships. I continue to think that this deal is very interesting and could be very good for those who travel frequently to larger US cities.
---
Both Greg and I have stumbled on some great offers while testing links on our Best Offers page. While many of these offers are targeted and won't apply to everyone, it might be worth taking a second to see if any of these offers are targeted to you.
---
If you've opened a lot of accounts over the past few years, you may have lost track of your 5/24 status. Thankfully, there's an app for that :-). I personally keep a spreadsheet with account opening dates (as well as dates of any credit limit increases or decreases), with separate sections for business and personal cards. But if you haven't maintained a record like that, this app is a very easy and fast way to check your status.
---
The easiest ways to earn more rewards — whether cash back, flights, hotel stays, elite status, etc — involve spending more money on your credit cards. Wouldn't it be nice if you could spend more and get your money back? Of course it would. Here, Greg provides a monthly update on methods that still work in this endeavor.
---
Morgan Stanley has a couple of Amex cards on offer that can be intriguing for a number of reasons. The catch on those is that the terms state you must have an investment portfolio with Morgan Stanley in order to apply for these cards. But is that a requirement, or more of a general guideline? In this post, Greg covers the answer and asks for some reader input.
---
If you could book two first class tickets for less than the price of one economy class ticket, would you do it? Of course you would. Greg would, too. Read this post to find out how you, too, can travel up front for less than the cost of coach.
---
The sign up bonus on the Hyatt Credit Card is changing on Thursday. If you're interested in the offer for 2 free nights anywhere in the world, you should get your application in before June 29th, when the sign up bonus will change to 40K points. This post briefly explains some of the pros and cons between each of the offers and readers have weighed in on the comments with their perspectives.
---
Did you know you could stack portal cash back with a point sale to get a nice discount on purchased points? If not, check this post out for the details on how to do it. While buying points speculatively rarely makes sense, you might be wise to consider it if you're within striking distance of a big award and looking to top off your account.
---
To jog your memory, Greg has a friend who has studied up but is just jumping into the world of miles and points. Ben is a great test case on building a portfolio of cards as his wallet is a blank canvas ready to become a masterpiece with our combined efforts and advice. Find out his final decisions for round 1 and the results of his applications. If nothing else, those of us over 5/24 can live vicariously through Ben's journey. I think he's gotten out of the gates strong and I look forward to seeing him round the first bend.
---
On the surface it sounds great: $1 for a year of unlimited service. But under the hood I found a mixed bag. I think there is a segment of customers to whom this deal will appeal, but I'm probably not in that group. Read on for my thoughts as to why this deal doesn't appeal to me and to determine whether or not it may appeal to you.
---
It's true: in addition to the 2D profile photos of me and Greg that you see here each day, there exists a three-dimensional version of each of us. And we're social guys – we enjoy writing about the topics we cover here each day and equally enjoy talking tips and tricks in person. We had a great time in Minneapolis meeting readers and leading discussions and we look forward to the chance to meet more of you in the coming months. I personally haven't been to Ann Arbor since late 1998 (winter), so I'm excited to enjoy Ann Arbor in the summertime and check out Greg's neck of the woods. And Chicago is my favorite US city that isn't named New York. Events like these are always a great way to fine-tune your knowledge base and connect and share with others. See this post for information on some great upcoming events and come on out and say hello.
---
That's it for this week at Frequent Miler. Check back soon for our week in review around the web and a month-ending version of Last Chance Deals with a number of popular deals ending this week.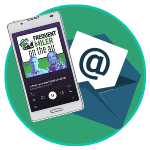 Want to learn more about miles and points?
Subscribe to email updates
 or check out 
our podcast
 on your favorite podcast platform.