Air France / KLM Flying Blue released their May 2023 Promo Rewards overnight and the list includes many major US cities, with discounts available in economy, premium economy, and business class on some routes and dates.
These deals could heat up with the new 25% transfer bonus to Flying Blue from Amex and the 25% transfer bonus from Chase which started last month.
Flying Blue Promo Rewards May 2023
The following city pairs are on sale for bookings made between May 1-30, 2023 for travel through October 31, 2023.
25% off Economy awards between the following cities and Europe (prices from 11,250 miles one-way)
Boston (BOS)
Chicago (ORD)
Washington-Dulles (IAD)
Miami (MIA)
Dallas (DFW)
Houston (IAH)
Atlanta (ATL)
Austin (AUS)
Los Angeles (LAX) 
25% off Premium Economy awards between the following cities and Europe (prices from 22,500 miles one-way)
Houston (IAH)
Washington-Dulles (IAD)
Newark (EWR)
25% off Business Class awards between the following cities and Europe (prices from 41,250 miles one-way)
Newark (EWR)  
Houston (IAH)
Washington-Dulles (IAD)
Atlanta (ATL)
Dallas (DFW)
Examples
This is the best list of city pairs that we have seen in years. We ordinarily see one or two US cities on the list, but this month we see a total of nine US cities represented across the various cabins.
I don't ordinarily get excited about redeeming miles for economy class, but with the 100% transfer bonus from Bilt (now ended) or maybe even with the 25% transfer bonuses from Amex Membership Rewards and Chase Ultimate Rewards, there are some solid potential deals.
For instance, here is Washington Dulles to Prague, Czech Republic or to Zagreb, Croatia for 12,750 miles one way.
If you were to take advantage of the 25% transfer bonuses, that would effectively be 10,200 Amex or Chase points each way (plus ~84 EUR departing the US). That's fewer points than many domestic US tickets.
The best deals in business class have been a bit harder to come by, but not impossible to find. If you've been eyeing a KLM Delft Blue House, I found some fall dates from Houston with business class for up to 4 passengers for 48,750 miles one way.
At effectively 39,000 Chase or Amex points one-way, that would be a solid deal for business class to Europe (Iberia and Avianca LifeMiles have previously had offers for business class around 25K miles one-way a couple of times, but those instances are extremely rare).
But I think the sweet spot here in terms of price and availability has got to be Premium Economy.
For example, here's a look at Rome to Washington DC during the first week of September. At 22,500 miles and $231 one-way, that's a nice deal even without a transfer bonus.
When you figure in a 25% transfer bonus from Amex, that's 18,000 Membership Rewards points each way. Transferred from Bilt, it would've effectively been 11,250 points each way per passenger.
Air France has moderate surcharges at around $220 each way, but in this case the mileage savings probably makes these worth considering even with a couple hundred bucks in fees each way in most cases.
I'm always kind of lukewarm on economy class awards between the northeast and Europe because we have previously seen great deals in economy class, but at these prices for economy and premium economy, I could see there being wide appeal — particularly for those based in cities like Dallas, Austin, Atlanta, and Los Angeles, where prices in economy class likely tend to be higher.
Speaking of price trends, remember that Flying Blue has no award chart, so the "from" prices are always flexible. You may find better deals.
For instance, Flying Blue is advertising economy class prices between Los Angeles and Europe starting "from 20,250 miles" one way. But you'll find better in some markets. One example is Los Angeles to Athens at 15,000 miles and $83.40 one-way.
An effective 12,000 Amex or Chase points one-way for economy class to Europe from Los Angeles is likely a terrific deal.
Athens wasn't the only city pricing at less than advertised — I also saw LA to Barcelona, Copenhagen, Prague, and other cities for 18,000 Flying Blue miles. I'm sure there are plenty more. Again, if you're taking advantage of a transfer bonus and paying an effective 14,400 Amex or Chase points or just 9,000 Bilt ones for a one-way economy class ticket to any of those cities, that's awfully reasonable. And it makes it easy to fly your whole family if you've just been earning points on rent and the 5 transactions per month you have to do with the Bilt card or if you've been taking advantage of the multitude of good Amex card offers. If you've gotten a single referral on an Amex card, you might now be able to fly two people to Europe in economy class, which is pretty wild. You'll obviously still pay the ~$85 in fees departing the US (and varying amounts when departing Europe depending on where you start), but that's still solid.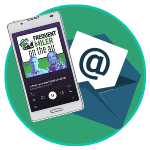 Want to learn more about miles and points?
Subscribe to email updates
 or check out 
our podcast
 on your favorite podcast platform.