I recently had the chance to fly American Airlines both to and from Europe. My flight to Europe was in American's Flagship First Class on the New York (JFK) to London (LHR) route. On the way home, I flew American's Flagship business class from Milan (MXP) to New York (JFK). While the Flagship First JFK lounge experience featured terrific dining and the first class seat was certainly a bit more spacious, I probably wouldn't splurge for Flagship First again if Flagship Business were available on the same flight. Rather than review each experience in full and separate detail, this post will offer a few pictures and comparison points between the two experiences.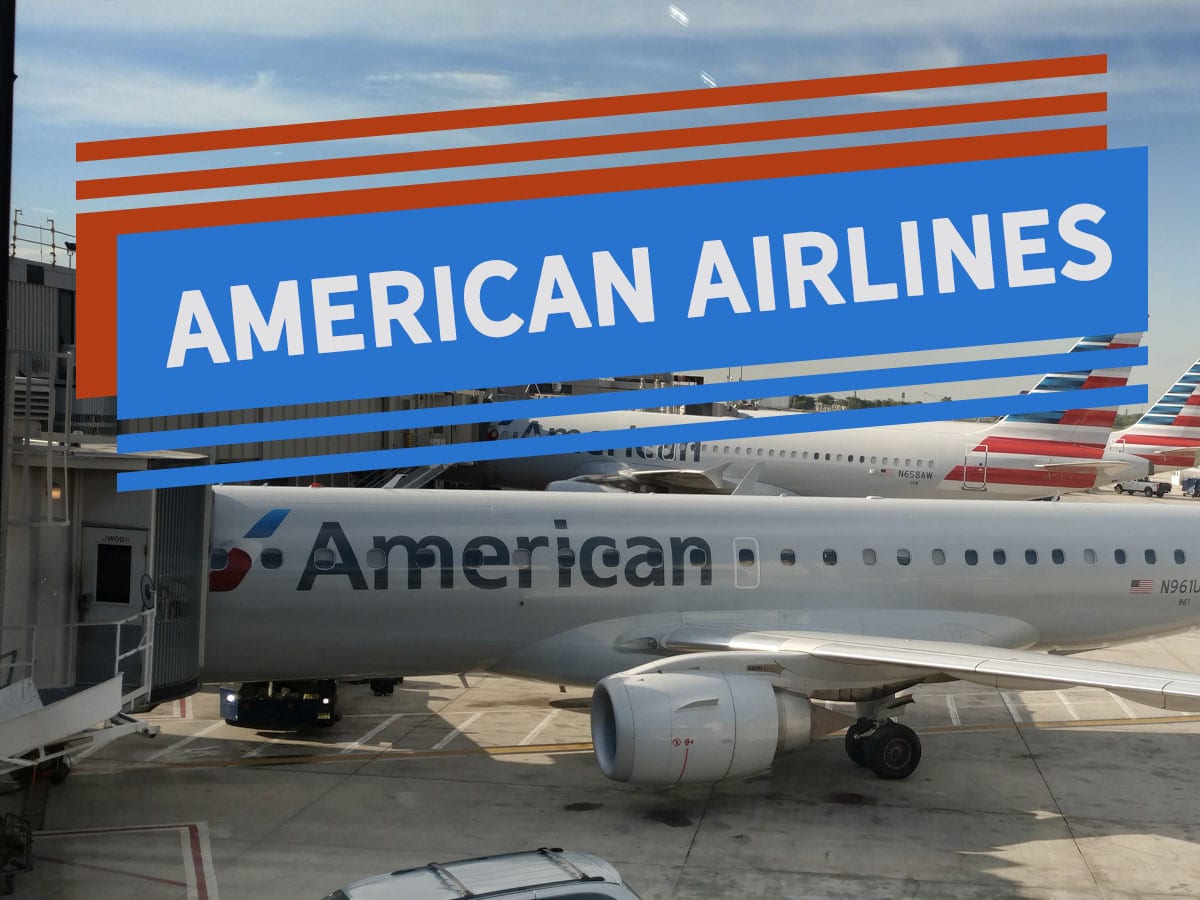 American Airlines Flagship First (JFK-LHR)
I redeemed 92,000 miles per passenger plus $5.60 each to fly from New York (JFK) to London (LHR) in American Airlines Flagship First. I booked 3 seats (one for myself and one for my wife and one for my 4yr old son. My not-quite-2yr old son was a lap infant. I had expected to pay 10% of the adult revenue fare for him, but it cost me just $72.40. I was surprised when a phone agent quoted me that price, but I was happy to pay that. While the mileage cost was on the spendy side, I was fine with the cost. Thanks to that SimplyMiles deal for Conservation International last year, the 92K miles per passenger cost me about $377.20 each. With the $5.60 in taxes, that meant I essentially paid just over $380 per passenger for Flagship First from New York to London (plus the $72.40 for my lap infant). That was obviously a great deal.
The AA Flagship first experience starts at the airport, with a separate check-in area for Flagship First customers at New York's JFK airport. That area was under construction during my recent visit, but the signs are still easy enough to follow.
After check-in and security, the highlight of the show is really the American Airlines Flagship lounge — not for the lounge itself but for the separate Flagship First Dining area, which is small and not widely accessible. The view kept my kids entertained while we were there.
That was great because the a la carte dining was really, really good. Here was the menu.
My son ordered the burger, my wife the pancetta-wrapped mahi, and though I initially requested a burger, the server talked me into the lamb shank and I am glad she did. It was without question restaurant-quality. I don't generally love lamb, but I would 100% order that lamb shank dish again. The crostini trio was also notably excellent. If we had more time, we may have ordered another serving of it. Pics:
On-board, the seat was plenty spacious. While we traveled pretty extensively with our first son before the pandemic, this was our first international trip with two kids and I really appreciated all of the extra space on this flight.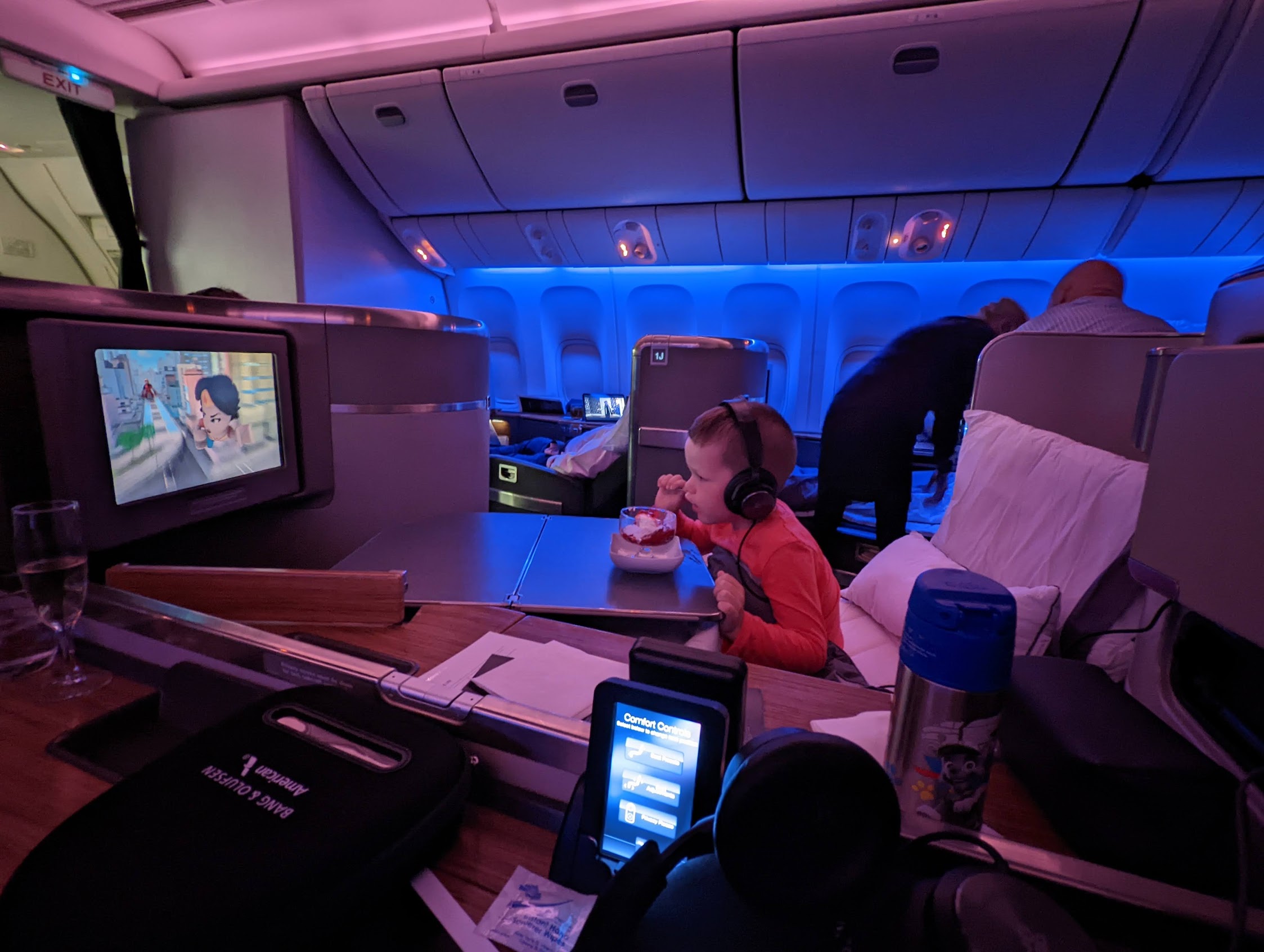 That said, I didn't love the way the footwell was angled off to the side. The seat swivels — in fact, it swivels all the way to the side to face the side table as a desk (so that someone with a window seat could presumably work at the desk while facing the window). After take-off, you can turn the seat to face the entertainment screen and have your feet line up with the ottoman, it just felt a little awkward initially. That really wasn't a problem, it's just an oddity compared to other first class seat layouts I've experienced.  But there was plenty of space for two people and there was a seatbelt on the ottoman, so a partner could join you at mealtime if you wished, and with this much space it is hard to complain about the way the seat faces for a few minutes before take-off.
The service on this flight was excellent. Unfortunately, I didn't write down the name of the flight attendant in our cabin. I overheard her mention a couple of times that she had been with American Airlines for 39 years and it was clear that she loved her job. She was cheerful, friendly, and happy to help when needed. That made the flight far more pleasant. It was notably different than most American Airlines flights I've taken in that regard.
Unfortunately, even above-average service couldn't make my Thai sweet potato cakes very tasty. They were dry.
It probably wasn't the best dish to order off of this menu:
I chose it because I was trying to order something that I thought my young son would eat. Surprisingly, I had reached out to American Airlines in advance about ordering a meal for a lap infant and they told me that they don't do that. I was surprised since many airlines offer a baby meal in business class.
Anyway, we had eaten in the lounge, so it was no big deal. We soon drifted off to sleep.
I wish I had realized that I could put that arm wrest down as it dug into my back all night, but otherwise the seat was good for sleeping. The Casper seat topper and blanket / pillow was comfortable enough. It won't get me to rush out and buy a Casper mattress, but it was decent.
One thing worth mentioning is that because of the way the seat swivels, it leaves a large gap under where you see the cords hanging in the picture. I could see it being really easy to drop something down there in your sleep and then not realize it was there. That space was great for storing the blankets and pillows before take-off and landing, but it could also be a great collection point for lost trinkets.
Overall, the in-flight experience was fine. Service was better than I expected and the seat certainly was a bit more spacious than business class, but I wouldn't go out of my way to fly Flagship First again.
Flagship First Pros
JFK lounge dining was fantastic. The lamb shank was incredible, burger was as delicious as Gary at View from the Wing has described it, and both the appetizers and wine were scrumptious as well. The dining area is quite small, but there weren't many other passengers there while we were there.
In-flight service was the best I've had on American Airlines. The flight attendant was incredibly friendly and helpful throughout the flight.
Seats are spacious. The seat swivels to face the desk area, which is cool.
They have pajamas and an amenity kit.
Flagship first cons
In-air catering was not good.
No ability to order a baby meal for a lap infant in advance (admittedly not an issue for most people, it just seemed surprising to me)
Pajamas were poor quality. My wife's pajamas, which fit comfortably, ripped during the flight. They definitely weren't on par with pajamas I've gotten in Emirates and Singapore first class in the past.
The amenity kit was kind of an awkward shape and there wasn't much in there that you wouldn't find in a business class amenity kit. I've found first class amenity kits on other airlines to often include a fragrance or other larger-size items. The Shinola Detroit kit included on American Airlines just included standard amenity kit stuff.
American Airlines Flagship business
On the way home, we flew AA's Flagship Business Class from Milan (MXP) to New York (JFK). We booked this as a "cash" ticket — it's the first part of a round trip booked as a British Airways ticket (which I booked through Amex Travel in order to use the Business Platinum card's pay-with-points rebate). I had quite a fiasco at check-in, so I didn't get any time at all to experience the lounge (if there is one in Milan?). The short version of the story is that I had booked the ticket as a British Airways ticket and British Airways made a mistake in adding my lap infant that caused a long headache at the airport. We ended up sprinting through the airport with strollers and carry-ons and got to the gate as they were pulling the nylon strap across the close boarding. It was a close call, but we made it.
The flight itself was fine. You can clearly see the difference in spaciousness of the seat — it is still quite spacious, but obviously less so than Flagship First.
The in-flight menu included enough options to keep most people satisfied. I had the pasta dish and I found the port wine sauce to be surprisingly flavorful.
Unfortunately, when it came time for the light meal, they ran out of the orzo pasta salad. Fortunately, the toasted BBQ sandwich was pretty good.
I also really liked that they had in-flight snacks set up in the galley. There were bags of chips and chocolate-covered crisps as well as sandwiches and vegetable or fruit platters. The pesto and sundried tomato sandwich was actually really yummy.
Service on this flight was hit or miss. Dave, the flight attendant on my side of the cabin, was excellent. He came by to see if I needed anything plenty of times and was very cheerful and happy to help. I interrupted his cup of coffee in the galley at some point to ask for a drink and I told him it was no hurry and to enjoy his coffee first and he was quick to hop up and put the coffee aside to grab me what I needed. It wasn't necessary in that case, but he was obviously focused on customer service.
The flight attendant on my wife's side of the cabin was less warm. My wife tried to order the chicken dish for my 4yr old son and the flight attendant suggested it would be better to get him something "more age-appropriate" from the economy class menu. He was pretty focused on whatever he was watching and he didn't end up finishing any of the courses throughout the the flight (other than the ice cream sundae of course) and at some point she commented on how this was the third or fourth thing that he didn't finish. I thought that seemed pretty rude given that we had paid the cash fare on this flight and he had his own seat. I don't want to be wasteful, but at the same time we paid for the food that comes with the seat and at the end of the day I didn't finish the parts of the meals that I didn't like, either. To be clear, I don't think the flight attendant was trying to be rude, it was just a different experience than flying almost any foreign carrier in business class from that perspective.
I did find the seat padding to be particularly comfortable on this flight though and despite the fact that food and service weren't better than other carriers, the seat is the most important part of the experience and it was as good as most flying between Europe and the US (and more comfortable than many). I wouldn't go out of my way to fly American Airlines Flagship business class again, but neither would I avoid it — and I'd be happy to fly it if it were serving a route I wanted to fly nonstop. In fact, in terms of the seat, I'd prefer it over most European airlines across the pond (for instance, I found it more comfortable than Lufthansa, Swiss, Iberia, or TAP Air Portugal's seats — though I do prefer the layout of all forward-facing seats that you get on Iberia and TAP).
All that said, if I were looking at a flight with both Flagship Business and Flagship first, assuming the usual gap in price between those experiences, I probably wouldn't spring for Flagship First again. It's probably worth doing one time for the great Flagship First dining experience at JFK, but otherwise I didn't find the Flagship First experience to be enough better than Flagship Business to make it worth the additional miles or money — and in fact I preferred the Flagship Business seat in terms of padding and layout despite less space.
American Airlines Flagship business pros
Generally much cheaper than Flagship First when both are available (note that Flagship First is only available on a select number of routes and was not available on my flight from Milan).
The AA Flagship Business seat was arguably more comfortable than the first class seat in that the padding felt better and the seat faced the ottoman.
The catering was (in my opinion and based on what I ordered) as good in business class as it had been in first (or better in some cases)
American Airlines Flagship business cons
Service is hit or miss (in fairness, this is probably true in first as well)
Headphones were collected with an hour and 20 minutes to go in the flight. We had our own that we could plug into the entertainment system, but that would have left a sizable gap without entertainment otherwise (I don't usually watch a lot of in-flight entertainment, so this was a non-issue for me but could have been for my wife).
Blankets and small pillows were provided, but not the mattress pad in first class, so in bed mode the seat was slightly less comfortable than in first (but only slightly in my opinion)
Bottom line
At the end of the day, both first and business class had comfortable seats, but apart from Flagship First dining at JFK, first class didn't add enough to the experience to make it worth pursuing. I didn't expect American's first class product to be on par with airlines like Emirates or Singapore, but I think American could use an upgrade in its catering or amenities or both in order to better differentiate first class. The dining experience in the lounge is certainly a large step in the right direction, but the first class experience on American overall still lags behind the business class experience on many of their partners.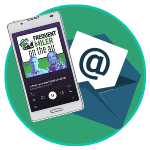 Want to learn more about miles and points?
Subscribe to email updates
 or check out 
our podcast
 on your favorite podcast platform.