This morning, Charlie at Running with Miles reported a great (but highly targeted) Amex Offer for $75 back on $200 or more at Bloomingdale's. That's a great offer if you've got it, but it might get even better than that.
The (initial) Offer
Get a 1-time $75 statement credit on a purchase of $200 or more at bloomingdales.com
Initial Thoughts
Nice deal!  That's a great discount if you're buying stuff at Bloomingdale's. Right now, Ebates has 15% cash back at Bloomingdale's as part of the birthday week cash back bonanza.
If you bought $200 worth of "stuff", you'd get $30 back plus $75 back — a total of $105 back on $200. That's pretty solid — a savings of more than 50%.
Alternatively, it's plenty to earn a profit if you're just going to buy and sell Bloomingdale's gift cards:
The downside was that the offer is targeted.  I didn't get it on any of my Amex cards. However, my wife got it on two of hers (including one that is an AU on one of my cards). We synced the offer, and my wife bought a $200 gift card with Amex #1. And that's when it got more interesting…..
Congrats! You've used your Amex Offer
You know the email — every time you use an Amex Offer, you get an email congratulating you on using it. If you've had a few Amex cards for any amount of time, you've probably seen them a bajillion times and these days you just look to see if you got the email. You don't actually click on it, right?  Lucky for us, my wife is the type who does click on that email. In this case, it caught her eye because the subject line was a little different than usual…
Unlocked another?  The body of the email was vague, but said she had unlocked another offer by using the first offer.
Clicking on "Learn More" brings up the details — the additional offer is another $30 back on $150 in-store at Bloomingdale's:
For those wondering, this second offer does not show up in her synced offers in her online account. She proceeded to place a second order with Amex #2 (to which the $75 back on $200 offer was also synced) — and she received the same email that this $30 back on $150 in-store offer had been automatically added.
Final Thoughts
The initial offer is very good — that's 37.5% back on $200 and enough to make an easy $30 per offer reselling gift cards. It's even better if you're buying merchandise and earning 15% cash back as you'll save more than 50% (the Frequent Miler Laboratory has mixed results, but indicates that portals probably won't pay out on gift card purchases). Getting an additional $30 back on $150 or more sweetens the pot. I have never noticed a similar email from any of the Amex Offers I have used (Greg hasn't either). It's possible that my wife was just individually targeted for this, but the fact that she got the same email after using both offers makes me think that anyone using this offer will probably get that "unlocked" email. One thing's for sure: I'm going to take a closer look at the "Congrats" emails going forward.
Have you ever used an Amex Offer that unlocked another offer? Let us know in the comments.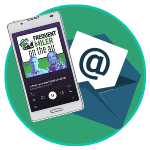 Want to learn more about miles and points?
Subscribe to email updates
 or check out 
our podcast
 on your favorite podcast platform.