We wrote a couple of months ago about the fact that Capital One is selling fantastic (exclusive) seats for Major League Baseball games for 5,000 miles per seat. While they also sell tickets at poor value, the Capital One Exclusives seats, when available, are often in a section that ordinarily costs $200-$300 a ticket in many stadiums. I sent friends to see a Yankees game this past weekend and thought I'd share some pictures and thoughts from the game to give those curious an idea of what the experience is like. To read more about the deal itself and how to know the difference between the exclusive seats and the poor-value seats, see this post: Baseball fans: Capital One has great seats for 5,000 miles each. Note that most games through the end of July are likely gone at this point, but when we first wrote about this in April they only had April and May games and then last month they extended the availability schedule to include June and July, so I'm hopeful that maybe they will add August games in the near future.
Yankee Stadium Capital One Exclusive tickets: An amazing deal
The section Capital One has at Yankee stadium is 121B and the seats are in Row 2. To give you an idea as to how close to the field that is, see this screen shot of the seating chart from StubHub.
And to put the pricing in perspective, Capital One offered tickets in that section for 5,000 miles per ticket. Here were prices through StubHub for the same game the day I bought those seats through Capital One.
Keep in mind that the prices above are somewhat deceiving. StubHub adds service fees. Those $200 tickets come to $499 for a pair. Getting two seats in Row 2 in that section for 10,000 points total was a great way to get a nice gift for friends we love (who are huge Yankees fans).
They went to the game this past weekend. I asked them to send me some pictures and their thoughts about the seats / experience. I told them that I'd be particularly interested in any downsides because I feel like there is a lot of value in knowing what you might not like about the experience before you spend your miles. Here's the message they sent me, edited just a bit for brevity.
First of all, we loved how close we were, AND the seats were cushioned. So much more comfortable than higher up level seats.

The view was just awesome. We were up close enough and able to see the batters on deck from the visiting team pretty easily. By sitting closer to the visitors dugout I did like being able to see IN to the Yankees dugout; the Zoom on my phone camera let me stalk them a bit lol.

Another perk of sitting so close to the legends suite is that there was a supervisor/security guard walking around and he gave away at least 4 game balls to kids in our section throughout the game.

While it didn't bother us, there were a lot of people coming down into our section to take pics/selfies of them closer to the field, since it is the closest you can get without having to show your ticket before the legends suite section. Most people were respectful and it didn't block the view but quite a few asked surrounding people to take their pictures.

It was a scorcher of a day and this section is not a covered section and we were sitting in direct sun but we got up and walked in the stadium to cool down and get some food. The nosebleed sections naturally had shade sooner than we did, but where we sat, the stadium started blocking the sun about 3 or 330ish(which was 2-2.5hrs in from the 1pm game). Again not a big deal for us because we love baseball and that's the weather you get! I don't think the kiddos would have lasted too long though if we brought them. Besides that, great location, great game, great time and great weather!!! 2 thumbs up!
I should note that it was ninety degrees in New York on Saturday, so "a scorcher" is 100% accurate. One of the reasons I chose to get Mets tickets for myself rather than Yankees tickets (for a game later this season) is because I believe the Citi Field (Mets stadium) tickets come with access to the Delta Club lounge. It doesn't have free food and drinks, but I believe it has air conditioning and areas to sit inside. Keep in mind that these Capital One exclusives are available in every MLB ballpark. We've had readers share pictures from games around the country in Frequent Miler Insiders.
Here are a few of the pictures my friends sent that show the view from the seats. This is definitely a very cool Capital One redemption. Keep in mind that the exclusive seats are limited — there are only 4 for each game. If you're seeing tickets available in more than one section / more than 4 seats, those aren't the exclusives. See this post for more detail.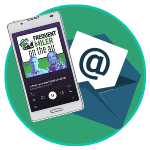 Want to learn more about miles and points?
Subscribe to email updates
 or check out 
our podcast
 on your favorite podcast platform.