UPDATE (2/13/2015): I've added two more options for extending expiration dates as suggested by Frequent Miler readers.
================================
Recently I've been exploring different ways to keep miles from expiring, and earlier this week I wrote an article for U.S. News and World Report about the various methods you can employ to reset those annoying expiration dates. You can check it out here at the U.S. News travel website if you'd like more details.
Any activity in a mileage account restarts the expiration clock, so there are plenty of ways to keep miles alive. But even with all these options, what's the absolute minimum number of miles we can transfer to keep miles alive? Most of us know we can transfer 1,000 points to do it. But can we transfer just 200 points? Or even 1?
Transfer partners with low minimums
The most obvious way to keep miles alive is to transfer points from either Chase Ultimate Rewards or American Express Membership Rewards. The transfers are usually instant so it's a good solution even if we only have a few days left before our miles expire.
The downside is that the minimum transfer for both those programs is typically 1,000 points. That might not be the end of the world if we're sitting on hundreds of thousands of points, but it's still more points than I like to spend just to keep other miles going.
But when we dig a little deeper into Amex's program, we find a couple exceptions to that 1,000 mile minimum rule. For instance, Virgin America allows transfers of as little as 200 Amex MR points, which will extend your Virgin America expiration dates another 18 months. That's personally been very useful to me in the past. (By the way, if you haven't already heard, there's currently a 35% transfer bonus underway when transferring Amex points to Virgin America — the ratio is normally 2 to 1.)
You can also transfer just 200 points to JetBlue, but that's not useful to us for the purposes of this discussion since JetBlue points no longer expire. Nice work, JetBlue. Seriously.
Also, while Chase has clamped down on UR point transfers to third parties, Amex still allows you to transfer points to anyone with an authorized user card on a Membership Rewards-based account. So for instance, if you order a free authorized user card on your Amex Everyday card, you can transfer your MR points to any loyalty account in that person's name and keep their mileage balances alive as well.
Starwood Preferred Guest
It turns out there's an even better option for a 1-mile transfer. It comes from Frequent Miler reader Mark O, who sent along a tip that SPG Platinum members can transfer just a single point to any of Starwood's partners. As we know, Starwood has an impressive list of travel partners, so that gives us a lot of transfer possibilities…
Mark also notes that SPG allows transfers for people in the same household, which means you can actually rescue points for anyone who lives with you (or if you've been neglecting your own expiration dates, they can rescue you). As Mark wrote to us…
I just helped save 100,000 United miles from expiring for my Dad by transferring all of 2 Starwood points into 1 United mile… Clearly this also works for people with Amex MR or Chase UR but I like the satisfaction of only having to transfer 1 mile and also SPG has a much longer transfer partner list.
Keep in mind that you do need to be Platinum level for 1 point SPG transfers. SPG Gold members have a 1,500 mile minimum and regular SPG members have a 2,500 point minimum. You can make these transfers by having any points in your Starwood account, meaning you do not have to carry a Amex SPG credit card.
One warning — unfortunately SPG transfers are not instant. For domestic airlines, they usually take 1 to 3 days to post. So if your miles are expiring tomorrow, this trick probably won't work and you should instead look to an instant transfer option such as Chase or Amex.
A non-transfer option
If you don't have points in any of the major flexible points programs, then your best backup option is a shopping portal. Greg has written a great deal about shopping portals, so you can find much more detail about them all by reading this site (start here if you're just getting going with shopping portals). If you're using portals regularly, then your expiration dates are constantly resetting and you don't need to ever worry about them.
But what if you're getting close to the expiration date and don't have anything you need to buy? An easy solution is to buy a gift card at a store that you know you'll shop at again in the future. Stores vary in their minimum gift card purchase, but $10 isn't unusual. However, it's important when using this option to be sure that particular store gives portal credit for gift cards. The Frequent Miler Laboratory is regularly updated with this data, so check it before buying.
You can also take advantage of the fact that almost every major airline shopping portal has iTunes as a partner.
Apple sells iTunes e-gift cards for as little as $5 and those gift cards can be used to buy iPhone apps as well as songs. Buy the $5 e-gift card, add it to your own iTunes account, and it'll be automatically applied the next time you make a purchase. Or if you want to get even cheaper, you can buy a 99 cent iTunes song through a portal and the 1 mile from the purchase will extend the expiration date on all your miles for that portal partner.  That's about as cheap as it gets to keep your miles alive for another 18 months, though it does potentially require having Justin Bieber on your iPhone whether you want to or not.
Reader suggestions (added 2/13/15)
There have been a number of great suggestions from readers since this was first posted, but I thought two in particular were worth adding here…
Thanks to Grover's Bathtub for reminding us that you can make a low-point transfer from one program to another using points.com to keep miles from expiring. The transfer ratios are terrible, but of course that doesn't matter when you only need to exchange a few points to extend an expiration deadline. This transfer also has the advantage of extending the expiration dates on both the incoming loyalty program and the outgoing loyalty program, since both will have activity from the transfer.
Also, Commenter Douglas mentioned that you can use the new United MileagePlusX app to buy anything for $1 and the miles show in your United account almost immediately. A number of bloggers have been experimenting with the MileagePlusX app, so check out the reviews at Travel with Grant and elsewhere.
If you have other ideas on how to keep miles from expiring with a minimum of cost and effort, feel free to pass them along in the comments, and thanks to everyone for their tips!

Loading ...
Other Recent Posts From The "Bet You Didn't Know" Series:
Access the US Airways upgrade list by app and web
How to setup credit fraud alerts by text or email
Maximizing Marriott's 5th Night Free on longer stays
Find all the "Bet You Didn't Know" posts here.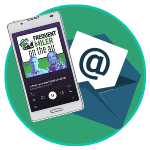 Want to learn more about miles and points?
Subscribe to email updates
 or check out 
our podcast
 on your favorite podcast platform.