One of the things I love about writing both this series and my Devil's Advocate column over at Travel Codex is how often people are willing to selflessly contribute ideas and tips to share with the community. It's great to have such resources since I can't possibly know about everything that exists out there.
For instance, yesterday saw the release of the new "Star Wars" trailer. I don't get too worked up about "Star Wars" but there are people who obsess over every last detail. Which is good, because then I have someone to turn to when I wonder how the lightsaber that Anakin Skywalker had first, but which Obi Wan then gave to Luke, except Luke lost it when Darth Vader cut off his hand during their fight in "Empire Strikes Back" but now here is clearly the same lightsaber being given to someone else in the new trailer, so how the heck did Luke get it back, huh??? Someone tell me that!
Where was I? Oh, yes. Today's "Bet You Didn't Know" tip is a great example of contributions to the community, as it was generously shared with me for this post by none other than the Doctor of Credit himself, William Charles. Doctor of Credit is a blog with terrific coverage of credit card and checking account deals and is on my personal must read list every day (along with Frequent Miler and Travel Codex, of course). You'll definitely want to check it out and add it to your blogroll if you haven't already.
An Amex credit pull surprise.
Through his research, William has discovered some interesting and potentially useful info about how Amex pulls credit reports when you apply for an American Express card. Specifically, if you are already an American Express cardholder (which I'm guessing applies to most folks here) and apply for another Amex card, Amex first uses whatever soft pull info they already have on file internally for you to determine if you qualify. Only after they've determined that you're approved for a new card do they pull your actual credit profile to confirm that there haven't been any major changes.
So what does this mean for our purposes? Simple. If you're an existing Amex cardholder and get rejected for an additional Amex card, there is no hard pull for the application on your credit report.
That knowledge makes the calculation for applying for American Express cards a lot easier. If you know you won't be wasting a hard pull on a possible Amex denial, you can be a lot more aggressive about going after Amex signup offers. Since Amex tends to use Experian like many other banks, it also means you won't have any useless Amex hard pulls cluttering your most used credit report.
Remember that Amex currently only allows one bonus per personal product per lifetime, so while you can be aggressive about multiple products, you don't want to use up that one-time bonus on a lesser offer. Wait for the better offers to come along before you pull the trigger. If you're applying for Amex business cards, you can still get multiple bonuses (FM edit: make sure to wait at least 12 months after cancelling the previous card!), so in that case you can signup for cards based on the application terms and conditions.
Again, this only applies if you're already an Amex cardholder. New Amex customers will get a hard pull regardless of whether their application is approved or denied.
(UPDATE: As of 6/12/2015, Will at Doctor of Credit has done further research and has discovered that Barclaycard has a similar policy on soft pulls when denying a current Barclaycard customer. You can check out his updated list of issuers that offer this feature here).
Offersbot shutdown and update.
As first noted by Doctor of Credit as well, Offersbot has been permanently suspended by Twitter. If you'll recall, I wrote about Offersbot when it first appeared on the scene as an awesome utility to automate Amex Sync offers (see "Bet You Didn't Know: Never miss an Amex Sync deal with Offersbot").
After reading about the suspension, I reached out to Kevin Rose, one of the co-creators of Offersbot to ask about their status. Kevin reports that Twitter has been somewhat aloof in communicating with them regarding their decision to terminate Offersbot's API access, but they're reviewing the situation and their options and hope to do something more with Offersbot. He promises he'll keep us informed when they've decided on their future plans.
In the meantime, there are still options for automated (or partially automated) syncing of Amex Offers. Seth at Wandering Aramean continues to offer SyncAssist as part of his suite of Travel Tools, and he's made some significant improvements since the last time I wrote about this subject. SyncAssist is free for one Amex/Twitter sync account, but you can join Seth's First Class program for just $15 per year and get SyncAssist on unlimited accounts (not to mention extra benefits on several of his other tools). If SyncAssist gets you just one extra $15 sync offer it'll pay for itself, so I'd consider it money well spent.
The other option is to use TweetDeck to create a semi-automated sync bot. Greg the Frequent Miler has written about this in the past, so you can check out his post to learn the details (see "Create an Amex Sync Machine"). The one problem with this method is it still requires you to manually create a Tweet for each Amex offer, which means you might not get to an offer before it reaches the maximum number of enrollees. Especially if you're like me and you've slept in super late because you spent all night explaining to those other internet dolts that Han and Chewie are obviously coming home to the Millennium Falcon itself! I mean, where else would be home for them?! Come on, people! Look at the background! It's the Falcon! Home is the Falcon!
It occurs to me the biggest issue with fully automated methods is the chance that Twitter will object in some way down the line. I'm thinking if someone was industrious and created an RSS feed with Amex Sync Offer info, we could use the techniques we learned a few weeks ago while chasing mistake fares to create an IFTTT recipe and use that info to tweet Amex Offers ourselves, thereby eliminating any chance that Twitter would get distressed by a large number of automated Tweets from one API account.
Of course, there's also the possibility that IFTTT would shut that down, but I imagine there might be ways to daisy chain things so that it wouldn't become an issue. For instance, IFTTT could be set up to send a text or notification when a new Sync offer appeared, and then the user could create another IFTTT recipe to have the option to Tweet only selected offers so that they weren't signing up for every single offer.
Any Frequent Miler readers want to take on this challenge? I would, but I'm too angry about the apparent lack of Lobot. How can they do a "Star Wars" movie without Lobot? Lobot is Star Wars! Helloooooooooo, J.J. Abrams?! Jeez, am I the only sane one here???

A giveaway of United Club passes!
If you didn't happen to see my Devil's Advocate column yesterday, I'm celebrating my 1-year anniversary by giving away a pair of United Club day passes. All you have to do to enter is follow me on Twitter @dvlsadvcate and you'll have a chance to win. If you're already following me on Twitter, you're already entered as I'll choose a winner next Wednesday, April 22nd at 5pm Eastern from my entire list of followers. So make sure you're following me before then.
Also, as I noted at Travel Codex yesterday, I've had a few new writing projects piled onto my plate in the last few weeks, so for the next couple of months I'll be moving to an every other week schedule for "Bet You Didn't Know" as well as "Devil's Advocate." Or to put it in loyalty program terminology, there's an upcoming "enhancement" of my writing work that will allow me to better serve our readers and give them the quality and benefits they've come to expect and appreciate. Wow, that does sound better, doesn't it?
Now, if you'll excuse me, I have to finish my manifesto on how Greedo clearly shot first. As if it wasn't obvious…

Loading ...
Other Recent Posts From The "Bet You Didn't Know" Series:
Manipulating the Citi ThankYou Flight Search Engine
The (only) two useful features of Google Hotels
Mistake Fares Exclusively For Your City or Airline
Find all the "Bet You Didn't Know" posts here.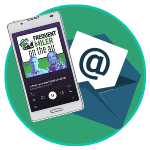 Want to learn more about miles and points?
Subscribe to email updates
 or check out 
our podcast
 on your favorite podcast platform.