The end of November means two things. First, I'm stuffed full of roasted turkey, potatoes with gravy, and dinner rolls. Mmmmmm, is there anything better than dinner rolls? It's as if the food industry has managed to take 685% of your recommended daily allowance of carbohydrates and roll them up into one little delicious processed ball of dough.
And second, it's time for another update to the last several months of "Bet You Didn't Know" posts. In creating this archive, I'm endeavoring to keep things current and update old posts when new info arrives or things change.
Automating Amex Offers with Twitterfeed
When Offersbot was shut down by Twitter several months ago, I wrote a pair of posts to describe several methods of creating your own Amex Offers Twitterbot to automatically sync Amex cards as new offers appear on Twitter (see "Automatically Register for Only the Amex Offers You Want" and "3 ways to automate multiple Twitter accounts for Amex Offers").
Given the number of terrific Amex Offers that have shown up recently and the immense demand for them (not to mention the fact that offers often appear overnight), it's more important than ever to have a system to sync the offers as quickly as possible.
I personally use the combination of IFTTT and Twitterfeed to auto-sync all my Amex cards, but when Amex started putting out multiple offers all at once, I noticed that sometimes Twitterfeed would only catch the first offer that appeared and wouldn't retweet the rest. At first I couldn't quite figure out what was wrong, but fortunately I'm a regular reader of the blog Frequent Miler, which has some very smart and clever commenters. One of them, Todd, discovered the solution.
When I set up my Twitterfeed, I neglected to change the setting for "Update Frequency" to more than 1 update at a time. Therefore, whenever there was more than one new Amex Offer within 30 minutes, Twitterfeed would only retweet the first one for me and would ignore the others.
Thankfully, the solution to this is simple — just sign into Twitterfeed, edit your feed, and reset the number of updates to 5.
Twitterfeed doesn't allow you to set the update frequency higher than 5 posts, so if there's more than 5 new Amex Offers within 30 minutes, you'll miss out on the extra ones. But in almost all cases, 5 new offers within 30 minutes should be adequate, and thanks again to Todd for figuring out the problem!
The Virgin America Shopping Cart Trick
In May I wrote about a trick you could use to not only make a special offer for a $50 statement credit appear for the Virgin America Visa (along with the regular bonus points), but also how in some cases applying for the card via this method would avoid a hard pull on your credit report.
The phenomenon is known as the "shopping cart trick" and even back when I wrote the original post, I explained that even though I personally had avoided a hard pull when getting my Virgin America Visa, it was a YMMV situation and there were no guarantees that a hard pull could always be avoided.
However, starting around July, reports both on the web and in person at events like FTU noted that while the shopping cart trick still works for a number of store branded cards (such as the Victoria's Secret card or the Overstock card), it is now officially dead when it comes to Visa cards issued by Comenity Bank (which is the bank behind the Virgin America card).
You might still be able to get the special Virgin America offer to appear using the method outlined in the original post (though that is also not guaranteed), but if you apply that way, you will almost certainly get a hard pull just as you would when applying for any credit card. So be forewarned.
24 Hour Award Cancellations
Finally, two weeks ago I created a directory of all the major airlines that offer no-fee cancellations of award tickets within 24 hours of booking. Thanks to comments from Avi and Stannis, I've updated the chart in that post to clarify the information on British Airways (a maximum of $55 in taxes are lost when canceling after 24 hours) and added data for Air Canada/Aeroplan (who do not allow award cancellations at all within the first 24 hours without a fee).
That Aeroplan policy is an important one since Aeroplan is a popular way to book Star Alliance award tickets. While Aeroplan does charge fuel surcharges and is about to devalue their award chart in a few weeks, they still offer good value on a number of routes and have the added benefit of not charging for close in bookings. That means you can use Aeroplan miles to book United tickets within 21 days of departure without paying the annoying $75 fee. But keep in mind if you cancel those tickets at any time — including within 24 hours of booking — you'll be stuck paying a $90 cancellation fee.
I'll continue to keep the 24 hour award cancellation chart updated as well as my recent post on Online Credit Card Application Status For All Banks. Hopefully both of these posts will serve as useful resources for the foreseeable future.
And the others…
If there's any new info we should know about other recent "Bet You Didn't Know" posts, such as the ones listed below or others from the past, please let us know in the comments below, and thanks to everyone for reading and keeping us informed on the latest. Have a great holiday weekend!
"How to NOT Break the Walmart MoneyCenter Express"
(55% of poll respondents learned a new tip)
"Amex Business Card Apps Without a 12 Month Wait"
(84% of poll respondents learned a new tip)
"Avoid Getting Suckered by International ATM's"
(72% of poll respondents learned a new tip)
"Citibank's New Online Bonus Spend Tracker"
(84% of poll respondents learned a new tip)
"Amex Offers via the Amex Mobile App"
(64% of poll respondents learned a new tip)
"The Citibank ThankYou Business Card"
(93% of poll respondents learned a new tip)
"Doubling the Citi Dividend 5% 4th Quarter Bonus Categories"
(84% of poll respondents learned a new tip)
"Airfare Price Predictions and More with Hopper"
(81% of poll respondents learned a new tip)
Find all the "Bet You Didn't Know" posts here.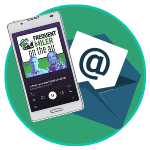 Want to learn more about miles and points?
Subscribe to email updates
 or check out 
our podcast
 on your favorite podcast platform.