It always feels like a bait-and switch. You're searching for premium award space on united.com and suddenly your heart soars. United's award calendar is showing business class availability for a date that would work perfectly with your schedule.
But when you click on that date and scroll down the list of flights, you come crashing back down to earth. Because you've just realized United is toying with your emotions. Yes, there's a flight with one leg in business… but the other leg is in economy. And depending on the routing, sometimes the leg in economy is nearly as long as the leg in business.
This is a phenomenon United refers to as "Mixed Cabin" and that I refer to as "getting only half of what you're paying for."
When you're confronted with this situation, you usually have two options. Either you can search for another date or routing with available premium space for the entire trip, or you can book the mixed cabin space and minimize the economy leg as much as possible. For instance, I won't pay business prices for a trip from Los Angeles to Europe if I have to travel from L.A. to the East Coast in economy, but I might consider it if my connection is somewhere closer, like Houston or San Francisco. Hey, I can put up with the ham n' eggers for a little while. Well, a very little while.
The Little-Known Third Option
But as it turns out, United does offer another alternative. It's not well publicized and it's not guaranteed to work every time, but it costs absolutely nothing extra. So if you're stuck with a mixed cabin routing, it's worth taking a shot at it.
First, you'll need to book the mixed cabin routing as you normally would, which means you'll pay the premium class price in miles (either Saver Business or Saver First depending on what you want). It doesn't matter if some of the flights on your itinerary are partner flights (though you'll pay United's higher partner miles price if they are), but the economy leg that you're trying to upgrade will need to be specifically on United metal for this trick to work.
Then, after you've booked the mixed cabin redemption, call United and ask to be waitlisted for first or business class on the economy leg. Sometimes it takes calling back once or twice in order to find a United agent who will understand what you're asking for, but don't give up. Keep trying and eventually someone will realize what you want to do and will know how to do it.
After your phone call, if the agent has waitlisted you correctly, you should see something like this when you look up your reservation on united.com (with thanks to my friend Omer who captured his screenshots when I helped him with this trick on a recent reservation):
What United has done is put you on a waitlist, and they will automatically upgrade you if the premium class award space opens up at some point down the line. Since you've already paid the full premium class price in miles, there's no extra miles to collect and there's no fee for the upgrade.
If premium space opens up…
Assuming you luck out and the premium class space does open up, you'll receive an e-mail from United like this one…
If you get this e-mail, you should immediately double check your reservation on united.com to be sure it shows the upgraded leg. Assuming it does, congratulations! You're all set.
Now, while this usually works properly, on occasion United doesn't put the upgrade through correctly. So if you get the e-mail but it doesn't show as upgraded on your reservation, call United immediately. Tell them you received the e-mail and ask them to put the upgrade through. You don't want to wait to call because the space could close back up or get snagged by someone else, so check immediately that the upgrade has been completed.
Also, while I'm waiting for space to open, I check on space manually every so often just to be sure United isn't missing anything.  Yeah, it's United, so better safe than sorry.
If premium space never opens…
Obviously there's the possibility that the premium class space never opens up, and the waitlist will expire 24 hours before your flight departure. But don't panic — you're not out of luck just yet.
United's rules specifically state the following…
"If the waitlist does not clear, you will automatically be added to the airport standby list upon check-in."
Now, while this all sounds well and good, I'm sure you will be shocked to learn that when it comes to United, "automatically" doesn't necessarily mean "without doing it yourself." So when you check in, confirm that you've been added to the standby upgrade list. Again, not every agent will know what you're talking about, so you may have to find the right agent to get it done properly.
When I've waitlisted for upgrades or educated others on how to do it, I've been fortunate enough to always have the upgrade clear before check in. So I've never personally gone through the process of getting on the right list at check in. But Dan over at Dan's Deals has written extensively about "Plan B" which is an even more advanced form of the upgrade waitlist trick discussed here. In his posts you can find more information about the process of upgrading on the day-of-departure, so I'd recommend checking them out.
Dan says only airport agents can add you to the correct upgrade list at check in, but other reports on FlyerTalk indicate it can be done by phone with the right phone agent. So I say cross your fingers and give both a shot!

Loading ...
Other Recent Posts From The "Bet You Didn't Know" Series:
Using Hipmunk to book ITA Matrix flights
Original routing credit (and a little extra)
Updates on US Airways MC, 1 point transfers and more
Find all the "Bet You Didn't Know" posts here.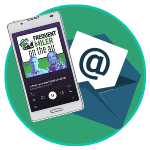 Want to learn more about miles and points?
Subscribe to email updates
 or check out 
our podcast
 on your favorite podcast platform.