Sorry IHG. I know you tried super-hard to win the award for "We'll wait until after the last minute to extend your travel voucher", but you added new certificates a couple of weeks before their expiry and so you're not eligible for the award due to not being after the last minute.
Delta though. Delta wins the award by a mile thanks to them extending Delta Vacations travel vouchers which seemingly expired 8 months ago. I guess that's great news for people who thought they'd gone to waste, but wow – procrastinate much?!
In normal times Delta Vacations might be a bit of a niche site to be booking through, but they've run a couple of good deals in the past couple of years which could mean that an above average number of you are holding one of their travel vouchers:
If you bought one of those packages but hadn't used it yet, I'm assuming you've already received an email from them today. Just in case you hadn't (or deleted it without realizing there was good news contained inside), here's what they're advising:
Still hoping to get away? Great news, you now have more time to use your Delta Vacations travel voucher. Due to recent travel restrictions, we have extended the expiration date to allow additional flexibility in making travel plans.

Vouchers that were issued prior to COVID-19 and were set to expire April 1, 2020 through December 30, 2021 have all now been extended through December 31, 2021. Rest assured the value of your voucher is secure, and will be redeemable for future use.

For more information, visit our Travel Advisory Waiver Policy.
If your voucher was due to expire on April 1, 2020, getting an extension through December 31, 2021 is excellent news as it means you get an extra 20 months to use it. Well, an extra 12 months seeing as you presumably assumed before today that it had expired. If your certificate was due to expire on December 30, 2021, then congratulations – you get a whole extra day to redeem it which could make a significant difference in your ability to not let your voucher go to waste 😉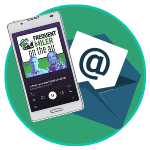 Want to learn more about miles and points?
Subscribe to email updates
 or check out 
our podcast
 on your favorite podcast platform.