Blue Apron has an increased offer on the Swagbucks Shopping Portal of 7500 SB (equal to $75) and on MyPoints for 14000 points (~$90) when signing-up for meal kit deliveries.  There are also stackable Citi/Amex offers that gives $25 back on a $50 purchase.  After the the offer, the total cost for two weeks should ~$35 for 12 meals with $75 Swagbucks or $90 in MyPoints. If using a Mastercard, you can do a triple stack with SimplyMiles for an additional 1200 AAdvantages miles/points.
The Deals
Earn 7500 Swagbucks ($75) when ordering from Blue Apron after clicking through from the Swagbucks portal.
Earn 140000 Swagbucks ($90) when ordering from Blue Apron after clicking through from the Swagbucks portal.
Stack with targeted Citi/Amex offer for $25 off $50 spend (Must be one purchase for Citi)
By using a Citi Mastercard, stack with a targeted SimplyMiles promotion for an additional 1200 miles on $50 spend.
Key Terms (Citi Offer)
Valid for purchase of $50 or more, including taxes and after any discounts, at Blue Apron (blueapron.com/pricing).
Excludes gift card purchases, corporate transactions, and purchases made through third party websites and retailers.
Not available in AK, HI, Puerto Rico or U.S. Virgin Islands; cannot ship to any location outside of the contiguous United States.
Key Terms (Swagbucks Offer)
Award will Pend for 65 days. Allow up to 5 days for award to appear as Pending.
Offer only available to new Blue Apron customers.
If you cancel your subscription within 30 days, your SB will be revoked.
If if subscription is cancelled before second delivery, Swagbucks will be revoked
If your SB do not appear as Pending, please be sure to provide a picture of BOTH your 1st box and shipping label (contact information must be visible on label). If either piece of information is missing, you will not be eligible for credit.
If you are not credited within 32 days of offer completion, you have 14 days to contact the Swagbucks Help Center for further investigation. Help Center tickets submitted after the 14 day grace period are not eligible for further investigation and SB.
Quick Thoughts
I've done this three times now, with multipe e-mails. Both Swagbucks and MyPoints make this a nice little profit-maker…with meal deliveries included. This offer is stackable with a targeted Citi/Amex Offer for $25 back on $50 in a Blue Apron purchase. Note, the Citi Offer does not specify that the purchase can be made in more than one transaction.  In the past, that has been the case, but there's no gaurantee it will hold this time.  However, it's easy to get around this.
Going through the Swagbucks or MyPoints portal will give you a discount of $130 off on your first five deliveries.  The discount is split like this:
1st delivery – $45 (and free shipping)
2nd delivery – $30
3rd-5th delivery – $18
You have to receive two deliveries to be eligible for the discount, so it's beneficial to make the first delivery as close to $45 as possible (to get an almost free box) and the next delivery as close to $77 as you can, so that the cost after the $27 discount stays above $50.
I signed-up for the 4 meals/2 persons plan, but then changed the first box to only have two meals instead of 4.  This brought the total for the box (with free shipping) to ~$5.  For the second box, I went back up to four meals, which made my pre-discount cost ~$81 with shipping.  After the $27 2nd delivery discount, my total was $54, just enough to trigger the Citi offer.  Perfect!
The total cost with shipping was ~$60 for the first two boxes. Once the Citi offer applies, that will go down to $35 out of pocket.  Assuming everything tracks, I'll end up with $55 ($90 in MyPoints – $35 OOP), 1200 AA Miles/Points AND 12 meals.  That's a pretty solid deal.  Make sure that you activate both the Citi offer and SimplyMiles before the first charge and that you have the Mastercard that you use for the charge registered to your SimplyMiles account.
There is a $25 off of $50 Amex offer as well (that I wrote about earlier in conjunction with the AA Shopping Portal) with varying expiration dates depending on when you were targeted.
You can easily skip as many deliveries as you'd like through the online portal, but note that there are two different qualifiers for the whole thing to work: you must receive two deliveries AND have your subscription be active for 30 days.  If you only want the first two deliveries, I'd just skip everything after that for two months and leave the subscription open until the Swagbucks/MyPoints are credited.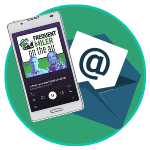 Want to learn more about miles and points?
Subscribe to email updates
 or check out 
our podcast
 on your favorite podcast platform.