Note: On January 8, 2016 American Express sent out a notice to a large number of Bluebird & Serve cardholders informing them that loading capabilities on their accounts had been terminated. For more information, see: Amex kills Bluebird and Serve for manufactured spend
UPDATE 2: Updated information can be found at The complete guide to Bluebird, REDcard, Serve, and SoftServe.
UPDATE: Walmart is now going to be allowing Serve swipe reloads fee free just like Bluebird.
American Express offers a number of reloadable prepaid cards.  Two of the best are Bluebird and Serve.  Each person is allowed to have only one: one Bluebird or one Serve card.  You cannot have one of each.  Both have pros and cons.  Which is best?
I've written about this dilemma several times before:
In my latest post on the subject I mentioned that I was thinking of switching to Serve because Serve cards qualify for Amex Sync promotions (Bluebird now qualifies as well), and because it was possible to reload Serve cards for free at CVS.  So, in March, I switched to Serve (after fully loading and unloading my Bluebird account).
That was all fine and good until CVS went cash-only.  Now its no longer possible to pay with a credit card at CVS for Vanilla Reload cards (to reload Serve or Bluebird from home) or swipe reloads at the register.  So, with one of the main benefits of Serve gone, which is now best?
Serve Advantages
Serve still has two significant advantages over Bluebird:
Online credit card loads: Serve allows you to load the card with a credit card online.  Limits are $200 per day and $1000 per month.  You can setup automated credit card deposits so that you do not need to log in every day to do this.  According to the Wiki on this FlyerTalk thread, the credit card you use must be primary (e.g. not an authorized user card) and must be in the same name as your Serve card.  The Wiki also says that credit cards from American Express do not earn points whereas cards from the following banks do: Citi, Chase, Capital One, Barclaycard, and FIA.
American Express offers:  Unlike all other prepaid American Express cards, Serve cards can be registered with American Express offers (such as $10 off $50 at Lowe's that I wrote about recently).  If you take frequent advantage of these offers, the discounts can add up to quite a bit over time. (Note: Bluebird can now be registered with Amex Offers.)
ATM (very minor advantage): With Serve, ATM withdrawals are free at MoneyPass ATMs.  With Bluebird, MoneyPass ATMs are only free if you've direct deposited money to your Bluebird account in the past 30 days.  Both cards charge $2 for withdrawals at non MoneyPass ATMs.
Bluebird Advantages
Bluebird has several advantages over Serve:
Walmart swipe reloads: At Walmart, you can load Bluebird with a debit card for free.  Limits are: up to $1K per day, and up to $5K per month.  At most Walmart stores, it is possible to use Visa or MasterCard gift cards as debit cards for this purpose (just make sure to tell the cashier that your are paying with a debit card).
No foreign transaction fees: Serve charges 2.7% foreign transaction fees.  Bluebird has no fees.  If you don't have a no-foreign-transaction-fee debit card for withdrawing money when traveling internationally, then your Bluebird card might be a great alternative.  I used mine once in London and once in Bangkok to withdraw money.  In both cases I was charged the $2 Bluebird ATM fee (as expected) but was not charged fees by the ATM owners (the latter was a surprise to me. I believe that I was just lucky).
Paper checks: Unlike Serve, Bluebird allows you to write your own paper checks to draw against your Bluebird account.  This could be handy when you need to pay someone in person rather than sending them a check via the online bill pay feature.  Personally, I've never used this feature, but I guess its good to have around just in case.
No monthly fee: Bluebird has no monthly fees.  Serve charges $1 per month unless you've loaded $500 or more to your account the previous month.  Granted, loading $500 or more to Serve is not hard (since Serve allows online credit card loads), but its also not a card that you can stick in a drawer and forget about without repercussions.
Similarities
For completeness, I'll list a few areas where the cards are identical (as far as I know):
Online debit card loads: Both Serve and Bluebird can be loaded via debit card (but not via debit gift cards) up to $1000 per month, so neither card has an advantage here.
Limits: Both cards share almost all of the same limits
Bill pay: Both cards use the same online bill pay system.
Transfer to bank account: Both cards allow you to transfer money from your prepaid account to a regular linked bank account.  You must initiate this transfer from within your Bluebird or Serve account rather than from your external bank account.
Analysis
For those who manufacture spend in order to earn credit card or debit card miles, Bluebird now has a clear advantage if you live or work close enough to a Walmart store to visit often.  With Bluebird, it is possible to manufacture up to $5000 per month by reloading the card at Walmart with a mile-earning debit card or with Visa/MasterCard gift debit cards that were bought with credit cards.  Bluebird also has a slight edge for those who travel internationally and would like to use it for withdrawing money from local ATMs.
For those without easy access to Walmart or with no interest in spending much time in one, Serve has the advantage.  With Serve you can still earn credit card rewards when loading the card (limited to $1K per month in loads) and you can potentially save a lot of money through Amex Sync Offers.
Personally, I currently manage one Bluebird card (my wife's) and three Serve cards (thanks to my sister, my niece, and myself).  My plan is to keep my own Serve card but to change the other two to Bluebird cards.  That way, each trip to Walmart can result in up to $3000 in loads across three cards, and I can maintain my monthly online Serve loads to my own card.  Down the road I'll evaluate again whether keeping even one Serve card active is worth it.  How about you?  What is your plan with Bluebird vs. Serve?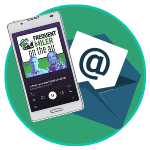 Want to learn more about miles and points?
Subscribe to email updates
 or check out 
our podcast
 on your favorite podcast platform.