It's the first day of the month (and of the quarter) and the news is coming in hot.
Frequent Miler is pleased to be the first to publicly announce American Airlines' new, unprecedented 24-hour arrival guarantee.
"Greg the Frequent Miler has been tough, but fair, in how he's held us to account over the years," said AA spokesperson Imma B. Late. "So we were thrilled to be able to share the news of our industry-leading 'You're Fairly Safe in Our Hands' arrival guarantee. We cherish our passengers and know that our flights carry them to family members, weddings, honeymoons and miles-and-points seminars. We want them to feel safe in the knowledge that they will always arrive within 24 hours of their scheduled time."
Details
Here's what's included in AA's "You're Fairly Safe in Our Hands" guarantee:
Every American Airlines passenger is now guaranteed to arrive no later than 24 hours after their scheduled arrival time.
In the unfortunate event that a flight is delayed longer than 24 hours, AA will give each passenger, regardless of elite status, a $10 voucher to the airport food court (alcohol not included) and a 10% off coupon for Cinnabon.
Platinum elites and higher will be able to trade 500-mile upgrade certificates for a package of mini pretzels or one biscotti.  Gold members will be allowed to use free airport wifi to look at unused 500-mile certificates accumulating in their accounts.
Direct Link to Official "You're Fairly Safe in Our Hands" Announcement Page
Key Terms and Conditions
Exclusions from the "You're Fairly Safe in Our Hands" guarantee include, but are not limited to: inclement weather, equipment failure, crew callouts, asteroids, bankruptcy, the pilot needing to catch-up on "Bridgerton," dental work, rain, snow, sleet, hail, sun, clouds and damage from Santa's Reindeer.
American Airlines is not responsible for any oral injuries resulting from the consumption of mini-pretzels.
Food court voucher is only valid at Sbarro's and Orange Julius.
10% Cinnabon coupon will expire 30 days from issue, unless extended by the purchase of miles or magazine subscriptions.
If American Airlines deems that any mileage accumulation from a delayed flight was due to "gaming," the American Airlines Shopping Portal will remove the miles from the members' account.
Quick Thoughts
Hear that? It's the sound of slow-clapping for American. While they may have a history of late flights, stranded passengers and disinterested customer service, this really sets a new bar for airline accountability and I applaud them.
Will this industry-leading customer care be enough to woo Greg the Frequent Miler back into the fold? I'd bet a package of free mini-pretzels the answer will be "yes."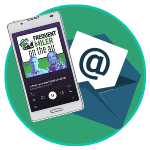 Want to learn more about miles and points?
Subscribe to email updates
 or check out 
our podcast
 on your favorite podcast platform.