Reader Ithaca Flyer pointed out last night that the JetBlue card-linked offer portal has significantly reduced payouts for in-store offers, in some cases by 90%. It isn't entirely clear to me exactly when payouts changed or how they are figuring the new amounts, but any way you slice it this is a big bummer, particularly for those who have been shopping at Lowe's lately.
Unfortunately, JetBlue's card-linked offers hub has gone from decent payouts like 1, 2, or 3 miles per dollar spent in-store to amounts like 5 points per $10 spent (Sam's Club) or 8 points per $10 spent (Macy's) — yielding payouts of just 0.5 mile per dollar or 0.8 miles per dollar.
The big standout hit this week is the Lowe's payout, which went from 3 miles per dollar spent a few days ago to just 0.3 miles per dollar spent (3 miles per $10). That's a big (and unfortunate) change.
It isn't entirely clear to me when the payouts changed. I have one transaction from 8/13 that has tracked at 3 miles per dollar spent and another from the same date that tracked with a strange amount (roughly 0.25 miles per dollar spent — I have no idea where they got the number from here).
While it is tempting to think that this change was in response to the current Lowe's deal, the fact that payouts seem to have changed across the board to rates based on each $10 spent suggests to me that the timing was more likely coincidental. Still, whether or not they are connected, the end result is pretty disappointing.
I really could have sworn that payouts still showed 3 miles per dollar over the weekend when I added a couple of new cards to my account. The reader who reported this last night mentioned seeing 30 miles per $10 over the weekend. I definitely didn't notice that, but it's possible that I missed it. Based on the fact that two transactions on 8/13 tracked at different rates in my account, my assumption is that this changed on Saturday and transactions from sometime on Saturday onward will likely track at the reduced rate. In the past, it took almost two months for tracked transactions to show up in my JetBlue account, but I do see those 8/13 transactions in my online account (though none since). We should have plenty of data points in the near future.
Anyway, keep this in mind when you're comparing card-linked offers. JetBlue still has some offers that may make for useful stacking opportunities and the miles here are really like gravy to me — that gravy just got a lot thinner with these changes.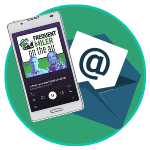 Want to learn more about miles and points?
Subscribe to email updates
 or check out 
our podcast
 on your favorite podcast platform.