We have written about past promotions to buy IHG points for less than half a penny each. It appears that a similar promotion is back, but it is targeted. A couple of days ago, reader Biggie F commented on a previous post to note that he had found a rate offering points as low as 0.46 cents per point. I proceeded to check that hotel for every single date in September and did not find the same rate (while also checking a number of other cities). However, this morning, Doctor of Credit is reporting the promotion as well for discounted cash copays on stays through 9/30/17. In the past, this promotion was targeted to Chase IHG credit card holders. However, neither Greg nor I are seeing these rates and we are both card holders — apparently, this one is more closely targeted than past promotions. But if you're in the market for IHG points, it's worth logging in to check for this offer as you can certainly get much more value out of the points with the right redemptions, such as IHG PointBreaks.
Review on buying points through cash & points
For those new to the method: IHG cash & points bookings are a way to buy IHG points cheaply. When you make a cash & points booking, IHG charges your card immediately for the cash copay. The terms shown when making your booking explicitly state that if plans change and you later cancel your booking, you will not be refunded in cash but rather in points (but make sure to check the cancellation policy for the hotel you choose).
This means that your cash copay is essentially buying points to make up the difference between the points you are using and the full points award cost. For example, in the image above, you can either pay 35,000 points for a free night or as few as 15,000 points + $92. If book cash & points and later cancel your reservation, IHG will refund you 35,000 points — meaning that you have effectively purchased 20,000 points for $92 (35K – 15K = 20K for $92, a rate of 0.46 cents per point). It's usually possible to find properties where you can buy points for less than 0.6 cents per point, but this rate matches the lowest we've seen.
Bottom line
If you have a redemption in mind, it can make sense to buy IHG points at this discounted rate. There are certainly times when IHG points provide a very poor value, as shown here:
However, there are also times when you could get over 1 cent per point. IHG PointBreaks hotels only cost 5,000 points per night — buying 20,000 points for $92 could get you 4 nights at a PointBreaks hotel (a net cost of $23 per night). While the PointBreaks list may not be full of the most glamorous vacation destination resorts, it's hard to beat $23 a night. Of course, points can also be useful for times when cash prices are high — events, last-minute bookings, etc. I wouldn't speculatively buy a massive stockpile of IHG points, but with a use in mind they can be a good buy at this rate. I don't believe we have seen a lower rate (though we did previously see a similar rate earlier this year).  We're still not sure how this one was targeted as it does not seem to be available to all IHG cardholders, but it only takes a few seconds to check.
Were you targeted for this sale? Did you get the same rates?
H/T: Doctor of Credit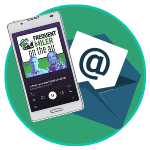 Want to learn more about miles and points?
Subscribe to email updates
 or check out 
our podcast
 on your favorite podcast platform.