Last week, we wrote about a terrific promotion from Upside for new travelers (See: Great deal: Flight + $250 in GCs + Uber credit for about $400 (depending on your itinerary). The gist of the promo was this: You had to sign up using someone's referral code and then spend $400 on a travel booking and you would get $250 back in gift cards at a variety of useful merchants. The deal is back. It looks like it provides slightly less return than before — but whereas the old terms required a package booking, the new terms do not have this requirement, which might actually sweeten the pot if your preferred itinerary is right on the mark with the purchase requirement. if you missed it the first time, new travelers can now get $200 back in gift cards on a $400 booking. If you have paid travel to book, that remains a great deal. Update: Note that it seems hotels can't be booked alone, only flights can be booked on their own.
The Deal
Get $200 back in gift cards on a booking of $400 or more
See the refer-a-friend chain in our Frequent Miler Insiders Facebook group.to use and post referrals (if you're a new member requesting to join, don't forget to answer the question prompted, this helps us keep spammers out) or feel free to use my referral link with my thanks.
Key Terms
Valid for new travelers only for bookings through 8/31/17
One promo code per transaction
Gift card can't exceed the cost of your trip
Quick Thoughts
For those unfamiliar, Upside is a company focused on helping business travelers get rewarded for choosing certain combinations of flights and hotels. They bill the service as a chance to get $100, $200, or even $300 in gift cards when you book travel with them — of course that normally depends on the flights and hotels you choose. As I understand it, they try to incentivize business travelers to choose a hotel where Upside presumably earns a better commission in exchange for gift cards in the traveler's pocket.
This promo takes out all of the guesswork in hunting for the right deal: all you need to do is be a new traveler and make a booking of $400 or more through Upside and you will get $200 in gift cards of your choice.
You can view hotels and flights without even creating an account to do some price comparison. In my experience, flights were exactly the same prices that I saw on Google Flights. Hotels varied somewhat, though the value of the gift card may make up for the difference. When you go to Upside, you choose which items to bundle. In my booking last week, I bundled a flight + Uber credit. However, any booking of $400 or more for a new traveler should qualify.
You can easily search by entering airports or a city. I found the same flight itineraries and prices on Upside that I found on Google flights for my selected trip to Chicago. Note that not all international destinations are available, and airlines like Southwest and other low-cost carriers may not be available either. You must book online to use the promotion, so if you don't see your chosen airline or hotel, you are out of luck. That said, most major providers are there. I then picked my flights:
And next bundled my flights with Uber credit. However, when you do that, you may lose some value: you can only buy Uber credit in the following increments: $50, $100, $200, and $300. And that's even a bit misleading: the Uber credit comes in the form of codes for "up to $25" for each ride. Really, it's more useful to think of it as "$50 for 2 Uber rides worth up to $25 each", "$100 for 4 Uber rides worth up to $25 each", etc. If you use your two rides on trips that are only worth $6 each, you don't get any change or additional credit. That could be useful for folks who are an Uber-trip away from the airport. However, you may not find this worthwhile at all depending on your situation.
The sweet spot
The sweet spot for this promo is finding a flight that costs $400. You'll spend $400 now and get your flight and$200 in gift cards later – that's a sweet savings. See the image at the top of this post for your gift card options. Your gift card credit will load to your account "within 72 hours after your trip". You can then divide it up and buy separate gift cards if you want more than one.
Hotels may also provide a good value if you find the right deal, though this is more challenging as prices vary a bit more and it seems that you must book Uber credit with your hotel. Last time, at least one reader commented on having booked a 5-star hotel in Banff for a 3-star price thanks to the gift card. Today, I did some searches to compare and I found the prices at upside to be slightly inflated for my dates / cities / preferred hotels. However, I imagine this will vary wildly, so it might still be worth checking for your destination and doing some comparison shopping.
Using a referral link
Rather than posting referrals in the comments here (our spam filter will block them from posting), head over to our Frequent Miler Insiders group to find and share referral links. When you click a referral link, the password field should automatically populate. For example, if you click my referral link, this is what you should see:
As you can see, in order to earn $200 in gift cards, you must make a purchase of $400 or more and you will receive your gift cards after travel is completed. If you happen to see a pop-up that does not have the code pre-filled, you can enter the code from the end of the link manually:
In my case, the link looks like this:
https://web.upside.com/promocode?promocode=v1nzp7  (the part after the = sign is the promo code)
So if you click a link and it does not automatically fill, you should be able to manually enter the code.
Do you have to purchase a bundle?
While the previous promotion stated that you had to make a booking for a "package of $400 or more", the new promotion terms do not require a package. I confirmed this with Upside. You certainly can bundle a package — this might be especially useful if your preferred flight or hotel comes to $300 or $350 and you want to bundle some Uber credit to get over the $400 mark.
Bottom line
This is still a great deal if you did not get in on the last promotion and you have upcoming paid travel to book. I think the strongest value is when booking a flight. There is very little variance in flight prices form one site to another these days, meaning that you are at least very likely to find the same price with Upside that you would find elsewhere. There may also be good deals with hotel bookings, but you'll have to do some further price comparison to make sure you are getting the deal you expect. Either way, if you missed the last one, this is definitely worth a look.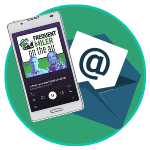 Want to learn more about miles and points?
Subscribe to email updates
 or check out 
our podcast
 on your favorite podcast platform.