In today's Frequent Miler Week in Review Around the Web, read about why you might consider buying Wyndham points, the new cap on IHG Points & Cash awards, some excellent values from Citi ThankYou points via LifeMiles, and more. Read on for the weekend recap.
Is it worth buying Wyndham points? Not necessarily…but don't sleep on Wyndham, either. The above picture is from the 4-bedroom 4.5-bathroom townhouse where I've spent the past couple of nights for 15K points per night — a far cry from your average Days Inn (note that the price of the pictured property has  increased to 30K). Loyalty Lobby gives you some other reasons to consider buying Wyndham points.
---
IHG Points & Cash can be a great way to pad your stash if and when you need to pick up some cheap points. However, there is now a speed limit of $280 in point purchases via P&C per day. Loyalty Lobby has the scoop.
---
This post from Lazy Traveler's Handbook shows why Citi ThankYou points are more valuable than they seem. Sure, LifeMiles sells the miles pretty cheaply — but if you value the Joy of Free, it doesn't get much better than some of the awards in the current LifeMiles sales when stacked with the current point transfer bonus. I wonder if there may even be some good mixed-cabin routings to bring some of these down further yet.
---
As someone who once worked in a service industry, I generally err on the side of tipping generously in restaurants and for services where a tip can be easily added to my credit card. However, this post from Prince of Travel covers areas where I always struggle to find a balance: staff at high-end hotels often provide exemplary service. Which ones do you tip and how much? Further, what do you do when you don't have cash? I frequently find myself in that last spot, where I simply don't have cash (or don't have change) on me. I've started trying to remember to go to the bank before a trip to get $20-$40 in small change to place in a pocket of the bag I always keep with me at check-in, but even then I don't always remember. What are your tipping habits?
This post from God Save the Points drives home the point as to why many people love AirBnB. I write about using miles and points, so you mostly hear from me here about the flights and hotels, but more of my favorite travel memories come from local neighborhoods and unmarked side streets than from five star hotels. I admittedly don't seek out this type of "local" experience every time I travel, but just reading this piece from Gilbert made me nostalgic for a time before I discovered the comforts of miles and points.

The title really says it all here. See this short post from Doctor of Credit if you've been a personal Platinum card holder this year, then hear my warning: Amex has been aggressive in clawing stuff back way down the line. I know that this type of credit is probably different, but I'm not sure it would be worth it to me here.
---
That's it for this week around the web. Check back soon for this week's last chance deals.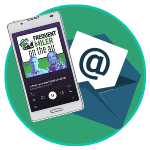 Want to learn more about miles and points?
Subscribe to email updates
 or check out 
our podcast
 on your favorite podcast platform.