Last night, we published a post about what we thought could be an awesome new way to get a Companion Pass (see the updated post: Update: Maybe you can't get a 2nd Southwest business card after all). We were (probably) wrong about it, and for that, we apologize. Here's a recap of what we thought, what we know, and what we don't yet have enough data about. The most interesting piece for us was the answer to the question, "Does Chase ever deny the welcome bonus after approval?". We previously thought that Chase would simply deny your application if you were not eligible for the welcome bonus. It turns out that's not true: Chase may approve your application and then deny the welcome bonus.
What we thought
Zac from Travel Freely posted what we thought was a very interesting data point in our Frequent Miler Insiders group as well as on the Travel Freely blog. The short version of the story is that he was approved for a second Southwest Airlines Rapid Rewards Premier Business card under a second business he owns. He (and we) thought that meant he would be able to earn a second welcome bonus on that card. That is significant because Chase instituted new rules this year that block applicants from earning the welcome bonus on a second Southwest personal credit card within 24 months. It has still been possible to open one personal card and one business card and earn both bonuses, but for those locked out of the personal bonuses by the 24-month rule, it has not been possible to open two Southwest credit cards (the traditionally easy path to the Southwest Companion Pass).
Zac also suggested that it would be possible for someone who owns a business and who is also a joint owner, officer, or partner in a second business to open one Southwest business card under each business and earn the bonus twice.
Why we thought this would work
To our knowledge regarding personal cards, when Chase approves an application it has meant that the welcome bonus would be approved. We were not aware of previous data points on personal credit cards regarding being denied for a bonus after an approved application.
On the business side, we have long known it is possible for someone who owns a second business to open an Ink card for the second bonus and earn a welcome bonus for that business as well. In fact, our newbie Ben had direct experience with this.
It logically followed to us that it would be possible to get a second Southwest bonus if it were possible to get approved for a second Southwest business card. We thought it was a great tip for readers looking to earn a Companion Pass, especially coming at this time of year, the traditionally ideal time to get started on a Companion Pass via credit cards (since earning the bonuses early in the year means you can earn a pass that's good for nearly two years — see our Complete Guide to the Southwest Companion Pass for more on the timing of that).
But there are contrary data points
Unfortunately, it turns out that there are some data points on the Internet about getting approved for a second co-branded Chase business card and not getting the associated welcome bonus. See a comment about the United business card on this post and this comment on the Marriott cards. We also had a commenter here at Frequent Miler indicating that this can not be done.
On the other hand, this Twitter conversation from 2016 includes a data point from someone who reports opening three Southwest business cards (they say three of each of the cards reported) under separate businesses and receiving all three bonuses, providing some hope that it may in fact be possible. That said, the data point is old; what was true in 2016 certainly may not be true today.
With the existence of negative data points on both the United and Marriott cards, it is certainly not the given that we thought it was that you would receive the bonus if approved — and for that reason, we wouldn't recommend that readers try for two Southwest business cards without more affirmative data points. We should hopefully have a data point from Travel Freely one way or the other within a month or two.
Our sincere apologies
If it isn't abundantly clear between the updates to last night's post and this retraction, let me be direct and say that we are sorry for publishing something that likely will not work. We apologize to readers for getting it wrong on this one.
Some will inevitably misjudge our intent in publishing the post, but long-term readers will know that affiliate commissions are not and have never been what drive the content of this site. It is no accident that our posts do not include direct affiliate links within them but rather those links can be found only on the dedicated card pages on this site (which you can find via our Best Offers page). We make a conscientious effort to keep our Best Offers page updated with the best available public offers, even when it means not listing our affiliate link for a card. We don't have annoying pop-ups soliciting readers to sign up for our e-mail lists. We write about topics that interest us and that we hope will benefit readers. Greg built this site on topics about which he was passionate and that kind of dedication and integrity is a key pillar of Frequent Miler. It looks like we got it wrong on this one, but our intention was to help readers get what looked like a great deal. We promise that we'll get it right more often than wrong and that we'll continue to keep the best interests of our readers at the heart of what we do at Frequent Miler.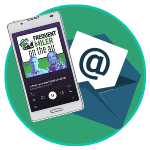 Want to learn more about miles and points?
Subscribe to email updates
 or check out 
our podcast
 on your favorite podcast platform.