On a recent Frequent Miler on the Air podcast, Nick and I discussed whether it made sense to speculatively transfer points from Chase to Air Canada's Aeroplan.  After all, the current 30% (or up to 40% with the Aeroplan card) transfer bonus is terrific.  Plus, if I was going to prospectively transfer points into any airline program it would be Aeroplan.  You can use Aeroplan miles to book far more partners than any other mileage program; you can mix and match partners on a single award; you can add a stopover to a one-way award for only 5,000 additional miles; and you won't pay carrier imposed surcharges.  True, Aeroplan doesn't have the cheapest award chart on the planet, but they still have an award chart, and a big transfer bonus is a great equalizer.  On the show I said that I was seriously considering prospectively transferring a bunch of miles.  I've since reconsidered…
I usually advise against prospectively transferring points to any program.  If you don't have a concrete plan for how you'll use the points after the transfer, then don't do it.  Once you transfer from a transferable points program, you're stuck.  You can't transfer back.  The power of transferable points programs is with the ability to pick and choose where to use your points at the time that you're ready to book.  Maybe you just found great award availability and pricing through Air France KLM Flying Blue, for example.  Great, transfer your points to Flying Blue and book the award.  Maybe you want to fly Emirates first class from New York to Milan.  Cool, transfer points to Emirates and do it.  Or maybe you want to book and incredible international trip that spans 3 continents with stops in many incredible destinations, then follow Nick's footsteps and transfer points to Aeroplan.
There are two exceptions in which I do think it's appropriate to prospectively transfer points:
If there's a transfer bonus to a rewards program that you use regularly, it makes sense to transfer prospectively even without a near term plan.  For example, if Chase were to offer a transfer bonus to Hyatt (this is extremely unlikely by the way), I would hop on that in a second even without knowing how I'd use the points.  I find that I book Hyatt awards so often that it would be crazy not to take advantage of a bonus.
If there's a trustworthy program that allows for a wide range of award bookings, then hopping on a transfer bonus may make sense.  A transfer bonus can indirectly make awards cheaper.  For example, Aeroplan charges 115,000 points for a one-way business class award to Australia or New Zealand or 120,000 points if you throw in a stop-over along the way.  With the Chase 30% transfer bonus, you could "pre-purchase" that one-way award with a stop-over for only 93,000 Chase points (or 86,000 Chase points if you have the Aeroplan card which gives you an extra 10% transfer bonus from Chase through the end of 2022).  I think that both Aeroplan and Avios programs are sensible targets for this type of prospective transfer.  I'd recommend against programs like Singapore or ANA where points expire after 3 years with no way to renew them.
For me, Aeroplan doesn't fall under exception 1 above, but it does fall under exception 2.  And that's why I was seriously considering it.  It's like pre-buying Aeroplan awards in advance at a very good discount.
The Amex Alternative
I've been redeeming Chase points at a far faster clip than I've been earning them.  I've used my Chase points almost exclusively for Hyatt stays since Chase transfers 1 to 1 to Hyatt.  And I stay in Hyatt hotels (and Small Luxury Hotels of the World, which can be booked with Hyatt points) often.  The only other program that transfers to Hyatt is Bilt and I don't yet have a Bilt card.  If I were to transfer points from Chase to Aeroplan, I'd risk running out of Chase points needed for future Hyatt stays.  That's not a situation I want to be in.
Fortunately, Chase isn't the only transferable points program that supports Aeroplan. In fact, Citi is the only major transferable points program that doesn't:
Rewards Program
Amex Transfer Ratio
(and transfer time)
Chase Transfer Ratio
(and transfer time)
Citi Transfer Ratio
(and transfer time)
Capital One Transfer Ratio
(and transfer time)
Bilt Transfer Ratio
(and transfer time)
Air Canada Aeroplan
1 to 1 (Instant)
1 to 1 (Instant)
1 to 1 (Instant)
1 to 1 (~1 Minute)
Amex is a particularly attractive option for me.  Over the past couple of years I've been earning Amex points at a far faster clip than I've been using them.  I'm in the happy position of having more Membership Rewards points than I know what to do with.  As a result, when it comes time to book an Aeroplan award, I'd much rather spend Amex points than Chase points even if it means missing out on a valuable transfer bonus.
Plus, with the Amex route, I could take advantage of a transfer bonus when it comes along.  In the past two years Amex has offered transfer bonuses to Aeroplan twice: once at 20% and then 15%.  These obviously fall short of Chase's current transfer bonus, but they're much better than no bonus at all.  When the next transfer bonus from Amex comes around, I might just pounce on it.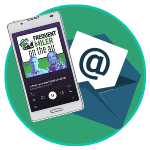 Want to learn more about miles and points?
Subscribe to email updates
 or check out 
our podcast
 on your favorite podcast platform.