This past month I've spent about three weeks in Europe: two weeks in Italy and then nearly a week in London.  Just as I do at home, when visiting Europe I tend to pay for everything by credit card.  Of course I make sure to use a card with no foreign transaction fee.
Today, almost all US credit cards have chips, but fewer have PINs.  Even those with PINs usually default to chip & signature.  Even the Barclaycard Arrival Plus card, which used to proudly advertise its chip & PIN capability, defaults to chip and signature.  This means that when you pay with a credit card you still have to sign for the purchase unless you're using a system that doesn't have signature capability (such as an unattended train ticket kiosk).
The whole chip & signature thing isn't really much of a problem.  Yes, it slows down the process by a few seconds (or more if the vendor has trouble finding a pen).  But when everyone else in Europe happily makes purchases with a PIN, or by simply waving their credit card over the terminal (Did you know that they have contactless payment capability?!), you may feel like an idiot abroad when the vendor sighs as the terminal spits out a signature slip.  I know I do.
I don't know why it took me so long to realize this, but there's an absurdly simply solution if you have a modern smartphone.  Simply use Apple Pay or Android Pay.  When you do so, the phone uses its fingerprint reader (or facial recognition reader in the case of the new iPhone X) to verify your identity.  There's no need for a signature or a PIN.
After realizing this simple solution while in Italy, I used Apple Pay for all purchases without a single issue.  At restaurants I used my Sapphire Reserve card which earns 3X for dining and travel (and actually earns 4X via mobile payments through November 4th).  Unlike in the US, restaurants do not abscond with your credit card when you pay.  Instead, they bring the credit card reader to the table, and it usually has contactless payment capability.  I used my US Bank Altitude Reserve card for all other purchases since that card earns 3X for all mobile payments, and travel payments too.
In London, I continued using Apple Pay everywhere.  Only a single store had a card reader without mobile payment capability.  It was awesome.
Preparation
Before traveling abroad, make sure you've learned how to use mobile payments on your smartphone.  It's super easy, but not necessarily intuitive.  Also, I highly recommend setting up a card with no foreign transaction fees as your default card for mobile payments.  Here's a post showing how to setup the Altitude Reserve as your default Apple Pay card.  Obviously you can follow the same instructions to setup any card of your choice.  I expect that Android Pay works similarly.
YMMV
Obviously I can't promise that mobile wallet payments will work everywhere you go.  I may have been lucky with getting very close to 100% acceptance on my recent trips.  But, hey, it can't hurt to try it.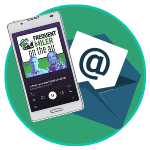 Want to learn more about miles and points?
Subscribe to email updates
 or check out 
our podcast
 on your favorite podcast platform.