Reminder that this event is this coming Saturday, May 6, 2023. If you are or will be in the DC area this weekend, consider attending the FTU Signature Event. If you do, please say hi — I always enjoy meeting readers and would love to see some of you there.
Are you a miles-and-points enthusiast in the Washington DC area and/or someone who is interested in meeting up with a group of miles and points fanatics for a day to talk tips and hopefully learn a few new tricks? If yes, I'll be speaking at the Frequent Traveler University Signature DC event on Saturday, May 6th, 2023 at the City Club of Washington in Washington, DC and I would love to see some readers there.
Tickets:
FTU members: $100 when you apply your annual member coupon. Not a member? Join now for $69 and also get access to a year of virtual events
General Admission: $149
Purchase tickets here
Ticket includes:
All educational sessions on Saturday
Coffee & tea Saturday morning
Lunch on Saturday
Complimentary Saturday night welcome party (requires separate RSVP, and is available to the first 75 people that purchase a ticket)
Venue:
City Club of Washington, 555 13th St NW, Washington, DC 20004.
Quick Thoughts:
Let's face it: a lot of what there is to know about miles and points is available on free Internet recourses (like this blog!). But the quantity of information can be overwhelming: it is difficult for any one person to master everything. As someone who is a much better visual and auditory learner, I really enjoy the chance to attend seminars not only to learn new tricks but the reinforce the things I thought I knew but had forgotten or didn't realize could be advantageous to me.
I recently mentioned in a post that one of the more memorable wedding gifts I received when I got married years ago was from a friend who was into miles and points and knew we were planning a big honeymoon: he gave us a stay at any Hyatt hotel in the world. That same guest had previously been responsible for turbocharging my miles-and-points journey when, about a year before our wedding, he told me about a conference with a bunch of speakers who would talk about how to use credit cards and miles and points to travel. I had no idea what I was in for, but that FTU conference I attended years ago completely changed things for me. I often say that I thought I knew all I needed to know before I attended — and when I left, I couldn't wait to sign up for the next event to soak up more information. Greg presented at that first conference I attended and his presentation on Extreme Stacking put me on the trajectory to eventually end up here at Frequent Miler years later (much to the surprise of both of us!).
In the years since, I have still enjoyed attending miles and points conferences because they represent an excuse to meet up with a crowd of miles and points enthusiasts and hopefully learn some new tips and tricks or at least reinforce what we've forgotten (because it's hard for anyone to remember everything).
This event has a great lineup of speakers, many of whom I've met before and I look forward to seeing again. Dia Adams from Forbes Advisor has provided a wealth of information on the 'net for family travelers (which has certainly helped me over the past few years). I really enjoy Ben Komenkul's Instagram reels / TikToks (Ben's Big Deal). When I say that Stefan from Rapid Travel Chai has been everywhere, recognize that I literally mean that he has been to every country in the world.  It's a good lineup.
See below for a full list of speakers and event agenda and above for tickets if you're interested in purchasing. Greg will not be able to attend this one, but I'll be speaking and as I said I look forward to hopefully meeting some readers there.
Speakers:
Dia Adams, Forbes Advisor
Derrick & Sarah Dye, Travel on Point(s)
Robert Gerl, MS-er
Marshall Jackson, MJ on Travel
Ben Komenkul, Ben's Big Deal
Stefan Krasowski, Rapid Travel Chai
James Larounis, Upgraded Points
Trevor Mountcastle, Tagging Miles
Rob Pegoraro, Technology Writer
Nick Reyes, Frequent Miler
Lauren Wolfe, Travelers United
Schedule:
| Time | Speaker | Topic |
| --- | --- | --- |
| 8:30 am – 8:45 am | Stefan Krasowski & Derrick Dye | Welcome! |
| 8:45 am – 09:30 am | Ben Komenkul & James Larounis | Hack Hyatt – A 2023 Update on How to Maximize the World of Hyatt Program |
| 09:40 am – 10:25 am | Nick Reyes | It Goes Without Saying: Tips You Were Supposed to Read Between the Lines |
| 10:35 am – 11:20 am | Derrick & Sarah Dye | Aeroplan Awesomeness: Why Zone-Based Awards are So Much Fun |
| 11:30 am – 12:15 pm | Panel moderated by Stefan Krasowski | DC Points Panel |
| 12:15 pm – 12:25 pm | Lauren Wolfe | Kill Resort Fees |
| 12:30 pm – 1:30 pm | | Lunch |
| 1:30 pm – 2:15 pm | Ben Komenkul, James Larounis & Marshall Jackson | How to Hack the Refreshed AAdvantage V2, an Updated Strategy |
| 2:25 pm – 3:10 pm | Robert Gerl & Stefan Krasowski | Finding and Scaling Opportunities, A Chat with a Local MS Whale |
| 3:20 pm – 3:45 pm | Rob Pegoraro & Stefan Krasowski | Will AI Eat Travel? (Clickbait Title for Session on Travel Tech) |
| 3:45 pm – 4:10 pm | TBA | |
| 4:15 pm – 5:00 pm | Panel moderated by Stefan Krasowski | The State of Miles and Points |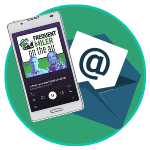 Want to learn more about miles and points?
Subscribe to email updates
 or check out 
our podcast
 on your favorite podcast platform.