This Saturday, May 22nd, 2021, I will be speaking at Frequent Traveler University's next virtual / online event. My session is being billed as Frequent Miler Solo Jams: The Fedora Sessions since Greg is away on vacation and thus I'll be flying solo. FTU Online membership is currently being offered for $69 for one year with promo code 60_OFF_FTU_ONLINE, which is actually a decent deal for those who would ordinarily attend an FTU event since the online membership comes with both a one-time $49 discount for an in-person FTU, free access to Travel & Adventure shows where there is an FTU stage, and free access to online events for the next year (including this weekend's session and the event on June 26th, which I will emcee and where Greg will join me for a session.
The Deal
The next FTU Online Virtual Conference event is set for this Saturday, April 10, 2021. I will be speaking about Gift Card resale with Shirley Lim.
Link to FTU online (our affiliate link)
Quick Thoughts
I enjoyed FTU events long before I worked here at Frequent Miler. In fact, I saw Greg speak at my first FTU event around 2014 and that totally changed things for me regarding rewards chasing. I became instantly hooked on Frequent Miler. I attended several live events before winning the employment lottery and beginning here back in 2017. FTU is an opportunity for those of us who enjoy immersing ourselves in loyalty programs, credit card rewards, and elite status to connect with other folks who have the same passions.
The online events this past year have brought a greater array of speakers into the fold and this weekend's lineup includes some faces that are new to the FTU realm. Saturday's speakers include:
A fun aspect of these online events is that there is a virtual happy hour at the end. It's basically like speed dating — the system pairs you up with someone for 4 or 5 minutes (I can't remember which it is) and then gives a countdown timer at the end so you can say goodbye and then re-matches you with someone else (you've got a minute or so in between each time to grab a drink or whatever). I've really enjoyed getting a chance to chat with some familiar faces with whom I've connected over the years as well as blog readers and podcast listeners I hadn't previously met. I always hang around for that portion at the end. At a recent event, I matched up with 16 different people, some of whom I've known for years through these events.
As noted at the top, FTU Online membership is currently being offered for $69. For that price, you get :
Free access to the online events for the next year, which are normally $25 each (I don't know the schedule beyond June, but I believe the intent after these next 3 monthly events is to do them quarterly, so you should get at least a handful of online events).
Access to FTU's online courses (they currently have 25)
Complimentary access to all Travel & Adventure Shows where FTU is presenting on-stage (these events have been subject to change over the past year, but there are several on the calendar for later this year).
A $49 discount code for any FTU in-person event.
Whether or not that's worth $69 to you is really a matter of personal preference. The Internet is obviously full of good resources (this blog and our multi-media platforms clearly being my favorite :-). Still, I learn something new each time I attend one of these events. For example, I know next to nothing about cruises, so this weekend's cruise session would likely be all-new material for me. While I feel like I know more about Las Vegas than the average person, I'll likely never scratch the surface of what Michael Trager knows about maximizing rewards in that city and I'd certainly turn to him for a question about Vegas or casinos in general as I would be surprised if he couldn't answer it.
My session will be at 12:00pm Eastern and rather than jamming in a fedora, I'll be talking about reading between the lines to find the hidden gems in the hobby. You can see the full schedule here. Hope to see some readers there!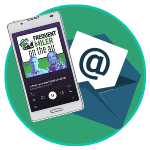 Want to learn more about miles and points?
Subscribe to email updates
 or check out 
our podcast
 on your favorite podcast platform.