Traveling with pets can be awesome, but it can add some hassles and potentially greatly increase your costs.
On January 1, 2018 my wife and I set off on what was meant to be a 5 year, 50 state road trip and has now been extended to 7 years (thanks COVID, international travel and liking some places so much that we stayed there longer!) We've done this the entire time with our small dog Truffles. In case you're wondering, she's a silky-poo – a silky-terrier/poodle mix (that's one of the most common questions we get).
All that time has been spent living in hotels and Airbnbs, so having Truffles with us has meant we've always had to seek out pet-friendly properties. That greatly reduces how many hotels we can stay at, although there are still a significant number of properties that accept pets.
On a recent post, GemGal asked me the following question:
Can you write a post on your experience traveling with pets at multiple hotel brands? Which chains have the best policies and lowest pet fees? Are there consistent pet fees across each brand? Do you seek out specific brands since you're traveling with a pet? Thanks
I therefore wanted to write this post to answer all those questions and share more tips about traveling with pets. This is actually going to be a mini-series, with this post focusing on hotel pet policies. Future posts will include information about flying with pets and a third will focus on pet-friendly activities and tips while traveling.
Something worth noting before continuing – all hotels allow service dogs with no pet fee charged. This post is therefore focusing on the policies when it comes to pets rather than service dogs.
Hotel pet policies & pet fees FAQs
Which hotel chains have the best pet policies?
I haven't been able to find much definitive information as to how many of each chain's properties are pet-friendly, with the exception of Hilton. Back in June 2022, Hilton announced that the majority of their hotels in the US and Canada would be pet-friendly, meaning more than 4,600 hotels will allow you to bring your pup.
Anecdotally, I'd also say that Hilton is the most pet-friendly of all the major hotel chains. I spend far too much time looking at our accommodation options in each place and I've always been impressed when filtering for pet-friendly hotels on Hilton's website how many properties remain. If Hilton has 50 hotels in a city, there's a good chance that only a couple of those won't accept dogs.
After that, it's hard to say. Anecdotally again, when considering the sheer number of pet-friendly properties available, Marriott would probably come second. Then it'd likely be IHG and then Hyatt. However, on a percentage basis, I've found a larger proportion of Hyatt properties are pet-friendly than IHG.
We stay far less frequently at Wyndham and Choice properties, but I've generally found Wyndham to be very pet-friendly while Choice allows pets at maybe 50% of their properties. Again, this is anecdotal as none of the brands have published information as far as I can tell and no non-incredibly-time-consuming way of gathering data to support my anecdotal observations.
Within chains, there are various brands that are more pet-friendly than others. Most extended stay brands are pet-friendly seeing as people staying there are less likely to want to find someone to look after their dog(s) and/or cat(s) while they're on an extended stay. Here's a list of brands where every one of their properties (perhaps with a few exceptions) are pet-friendly:
IHG

Kimpton
Candlewood Suites
Staybridge Suites

Marriott

TownePlace Suites
Residence Inn
Aloft
Element

Hilton

Home2 Suites
Homewood Suites
To be fair, pretty much all their brands are virtually all pet-friendly

Hyatt
Wyndham
Motel 6
Red Roof Inn
Drury Hotels
Graduate Hotels
Extended Stay America
Which hotel chains have no pet fee?
In the majority of cases pet fees vary from property to property, so there's not much consistency. There are a few chains and brands that never (or very rarely) charge a pet fee though:
Kimpton (IHG)
Motel 6
Red Roof Inn
Graduate Hotels
Thompson (Hyatt)
In the past Aloft (Marriott) and La Quinta (Wyndham) would've been added to that list. However, in recent years both of those brands have started charging pet fees at an increasing number of their properties.
How do hotel pet fees work?
There are two main ways that pet fees are charged by hotels – per stay or per night. When hotels charge a fee on a per stay basis, that means you pay a flat rate regardless of how many nights you stay. On a per night basis, you pay a fee for each night you stay.
Both of these methods have their pros and cons. If you're going to be staying at a hotel for an extended period of time, a 'per stay' fee will usually work out in your favor as that reduces the average cost on a nightly basis. 'Per night' fees can often be preferable when you're only staying one or two nights somewhere.
For example, Residence Inn (one of Marriott's brands) properties often charge a $100 pet fee per stay. If you're only staying one night, that's extortionate and will likely come close to doubling your room rate for the night. However, if you're staying for two weeks then that works out to be only $7.14 per night which is far more reasonable.
As an alternative example, some hotels charge a $20 pet fee per night. That's not bad if you're only staying somewhere for one night, perhaps as a quick stopover on a road trip somewhere. However, if the hotel charges that fee every night for a two week period, you're looking at a $280 total pet fee – far more than that $100 per stay fee in the previous example.
Within the 'per stay' and 'per night' policies there can be some nuance. For example, I've found that most Hyatt Place properties are pet-friendly. For those that are, they usually have the following pet fee policy:
1-6 nights = $75
7-30 nights = $75 + $100 cleaning fee (i.e. $175 total)
So even though they charge a fee per stay, the fee charged can vary based on how long your stay is. Hilton properties tend to do a similar thing. They often charge $xx for 1-4 nights and $xxx for 5+ nights. That can be a little frustrating if you're taking advantage of Hilton's 5th night free feature on award stays for those with status as it means you're stuck paying the higher fee.
There can be similar quirks with 'per night' fees. Some hotels charge $xx per night, but place a cap on how much you'll be charged per stay or per week. For example, they might charge $25 per night, but limit your fee per week or per stay to $125.
Just a quick additional note regarding pet fees – just because a hotel lists a pet fee, it doesn't necessarily mean they'll end up charging one. We've had many, many stays where the hotel has neglected to charge us a pet fee. Shae and I never hide the fact that we have Truffles with us; in fact, we lift her up to say hi to them to make sure they know we have a dog with us. It seems like some front desk agents simply forget to add the fee to our room when checking in and we don't correct them when getting our final bill when checking out.
For example, we recently had a one night stay at a Hilton Garden Inn which listed a $75 pet fee. We wouldn't normally book somewhere with a fee that high for one night, but it was around the corner from somewhere we wanted to visit that night and so we took a risk. Sure enough, there was no charge listed when checking out.
Do hotels have a limit for how many pets are allowed in a room?
Yes, most pet-friendly hotels will place a limit on how many pets you can have in your room. Even if a limit on the number of pets isn't stated on a hotel's website, if you're traveling with two or more pets it'd be worth contacting the hotel you want to book a stay at to ensure they allow more than one pet in the room.
Do hotels have size/weight restrictions for pets?
Yes, hotels often have size restrictions on the size of pets that they'll allow. As you might guess based on some of my answers above for other questions, this can vary from property to property, so you'll need to check a hotel's specific policy if you have larger pups.
Size restrictions aren't an issue for us because Truffles is only 10-11 lbs (depending on if she's carrying any holiday weight). Some hotels might restrict dog weights to 25 lbs, 50 lbs, etc.
As an example, most Hyatt Places that accept dogs seem to allow you to have up to two dogs per room. There's a weight limit per dog of 50 lbs, with a combined limit of 75 lbs.
Do pet-friendly hotels allow both cats & dogs?
No. If a hotel is pet-friendly then it seems to always allow dogs. I have however seen some hotels stating that cats aren't allowed to stay at their hotel. If you're planning on traveling with one or more cats, unless a hotel explicitly states that they accept cats, I'd personally want to play safe by contacting them to verify that cats are allowed in your room.
Is tax charged for hotel pet fees?
It varies by property. Sometimes when a hotel advertises a $75 pet fee that's the exact amount we're charged. Other times the $75 pet fee becomes closer to $85 due to hotel taxes and fees being applied. I've not noted any consistency as to when this happens.
How to find pet-friendly hotels & pet policies for each chain
The procedure for filtering for pet-friendly hotels differs from website to website. Here's a quick guide for how to find which properties accept pets as well as how to find specific pet policies. Note that these instructions are for when searching on their website on desktop. The procedure when viewing their website on a mobile device or in their app will be similar, but with a slightly different layout.
Hyatt pet policies
To find pet-friendly Hyatt hotels, do an initial search for a city and your dates. On the search results page click on 'Filter & Sort'.
Scroll down to 'Hotel Amenities' and select 'Pet Friendly', then click 'Apply'.
To view the specific pet policy for a property, click on the 'Hotel Website' button on the search results page.
On that property's home page, scroll down and you should come to a section listing the pet policy.
Hilton pet policies
To find pet-friendly Hilton hotels, do an initial search for a city and your dates. On the search results page, you'll likely see an option for 'Pet-Friendly' under 'Suggested Filters', so click on that.
If that suggested filter isn't listed, click on 'All Filters' at the top and scroll down to 'Hotel Features', then click on 'Pet-Friendly' and then 'Done'. Note that Hilton allows you to also filter for 'Pets not allowed', so make sure you don't accidentally click the incorrect one!
To view the specific pet policy for a Hilton property, click on 'Hotel Details' and then 'Visit Website'. On that page, scroll down to the 'Hotel policies' section and click on the 'Pets' tab.
There's another way to view pet policies on Hilton's website. If you click through to view room rates, in the top-right corner on desktop you'll see the hotel's name and address. Beneath that there'll be a link for 'Hotel details'.
Clicking on that will display a popup that shows a number of details including the pet policy, parking fees, check-in & check-out times, etc.
IHG pet policies
To find pet-friendly IHG hotels, do an initial search for a city and your dates. On the search results page, click on 'Filters' and then click 'Pet Friendly' in the 'Filter by Amenities' section and then click 'Apply'.
Unfortunately this is where IHG makes things far more complicated than other hotel chains. Most other chains have a consistent way of displaying pet policies, but IHG's method is to switch that up depending on which brand you're looking at.
For example, when clicking through to a Hotel Indigo property you might see the policy clearly displayed when scrolling down.
For Holiday Inn Express, you might need to scroll down to the 'Amenities & Services' section and click on 'View All Hotel Amenities'. On that page, you'll hopefully see the pet policy.
For Candlewood Suites, there are a couple of options. One is to scroll down and there'll be a 'Pets Welcome' section. Clicking on that will display the pet policy and fees.
Alternatively, towards the top of the property's page there's a link you can click to 'Print Fact Sheet'.
If you click on that link, it'll open a new printable window which contains all kinds of information about the property, one part of which is their pet policy and a list of any applicable fees.
IHG has a further way you can often ascertain what a hotel's pet fee and policy is. Scroll all the way down to the bottom of a property's home page and you'll come to an FAQs section. There's usually a question there relating to pet fees; you might need to click 'Read More FAQs' in some instances if it's not among the first few questions answered.
Marriott pet policies
To find pet-friendly Marriott hotels, do an initial search for a city and your dates. On the search results page, there'll sometimes be a quick filter at the top of the page where you can choose 'Pets Welcome'.
If that quick filter isn't there, click on 'All Filters' in the top-right corner, click the 'Amenities' dropdown box, select 'Pets Welcome' and then 'Apply'.
Once you have the list of pet-friendly properties, click through to a property's page (you'll need to click the hotel name and then click 'View Hotel Website') and scroll down to the 'Hotel Information' section which is where the pet policy is usually listed.
Wyndham pet policies
To find pet-friendly Wyndham hotels, do an initial search for a city and your dates. On the search results page, scroll down the page and on the left hand side there's an 'Amenities' section where you can filter for 'Pet-Friendly'.
To view a hotel's specific pet policy, click on the property name and then 'View Policies'
A popup will then appear which displays various policies, one of which is their pet policy.
If you happen to be on the actual page for a hotel, if you scroll down a little you'll also see a 'Hotel Policies' link beneath the TripAdvisor rating and check-in/check-out times.
Choice pet policies
To find pet-friendly Choice hotels, do an initial search for a city and your dates. On the search results page, there'll often be a quick filter at the top where you can select 'Pet Friendly'.
If that quick filter isn't there, click on the blue 'All Filters' button and choose the 'Pet Friendly' option and 'View Results'.
To view an individual hotel's specific pet policy, click on the name of the property and scroll all the way down to 'Hotel Information' where you'll see the pet fee and any restrictions.
Something important to note with Choice is that many of their hotels have a limited number of pet-friendly rooms. When looking at room types, you'll often see room types listed a 'No Pets Allowed' or 'Pet-Friendly Room'.
This can be a frustrating situation because it usually results in you having to spend even more beyond just the pet fee. For example, I've sometimes found that non-refundable rates don't have any pet-friendly room types available, instead only being available when booking a flexible rate which means you have to pay more in addition to the pet fee.
Second, even if there are pet-friendly rooms bookable with the lowest rate type, the pet-friendly rooms might still cost more. For example, in the screenshot above a pet-friendly king room costs $18 (including tax) more per night than its non-pet-friendly counterpart, while a 2 queen bed room costs $19 (including tax) more per night if you want your pup in the room with you. Again, that premium is in addition to whatever pet fee the hotel is charging.
Radisson pet policies
To find pet-friendly Radisson hotels, do an initial search for a city and your dates. On the search results page, click the dropdown for 'Amenities' on the left and scroll all the way down to select the 'Pet friendly' option.
At this point, good luck to you. Radisson's website is awful when it comes to trying to find out what a hotel's pet policy is and how much their pet fee is. It's not that it's hidden away – it's that they seemingly rarely disclose this anywhere. I've spent much wasted time clicking on menu items and tabs and links and every possible thing I can think of and not find anything to do with pets other than a vague reference to the hotel having pet-friendly rooms.
What I usually do is look for that particular property on Hotels.com and scroll down to see the pet fees listed there. It's very rare though that a Radisson property will be our best accommodation choice based on location, price, reviews, etc. If there is one that I'm definitely interested in, I usually call the hotel itself to confirm how much they charge for pets. Anecdotally, it seems like many pet-friendly Country Inn & Suites properties only charge $25 per stay which is awesome for the occasions when we have stayed with them.
Will I spend far too much time searching Radisson's website for a pet policy that simply isn't listed there?
The good thing is that this frustration will hopefully only last a little longer. Following Choice's purchase of Radisson Hotels Americas, I imagine that once that's complete that Radisson's properties will all be listed on Choice's website with a similar layout to existing Choice brands. If so, that'll make it much easier to find out the pet policy for current Radisson brands.
Best Western pet policies
To find pet-friendly Best Western hotels, do an initial search for a city and your dates. On the search results page, select the 'Pet Friendly' option from the 'Amenities' menu on the left hand side.
To view a hotel's specific pet policy, click on the hotel name. On the next page, scroll down to (or click the menu item for) 'Hotel Policies'.
Airbnb pet policies
OK, so Airbnb isn't a hotel chain, but we do book a large number of stays on the platform and so I figured it'd be helpful to include it here as well.
Airbnb has made a couple of recent improvements to the booking process when you're traveling with a pet. In the past, you'd have to do a search and then filter for pet-friendly properties. They've removed that extra step because you can now include your pet(s) during your initial search when inputting who'll will be staying.
Another positive change is that Airbnb has recently given hosts the ability to include a pet fee that gets rolled into the nightly price. In the past, hosts would sometimes send you a separate invoice through the platform or ask you to Venmo them the money, so having the fee automatically included during the initial booking makes it a much more streamlined process.
As with hotels though, pet policies can vary from Airbnb to Airbnb and sadly there's not much consistency with how that information is displayed. Some properties don't have any particular requirements, others have rules like 'no dogs on the bed or couch', etc.
To try to find any particular rules, one place to look is in the listing description.
Other times pet policies will be listed in the 'House Rules' section which can be found when you scroll to the bottom of the page.
Traveling with pets – hotel tips
After 5.5 years of living in hotels and Airbnbs with our dog, here are some tips that'll make your stays more pleasant and hopefully save you money.
Split longer stays into two, with a shorter stay initially
This can be helpful when staying at a property that has a 'per stay' pet fee but which charges different amounts based on the length of your stay.
For example, let's say you want to stay for a fortnight at a Hyatt Place where their pet policy is $75 for 1-6 nights and $175 for stays for 7-30 nights. Staying 14 nights would mean you would – in theory – be liable for a $175 pet fee. If you book a stay of fewer than 7 nights initially and a second stay for the remaining nights, if a pet fee does get applied then it'd hopefully be at the lower $75 rate.
Check out without your pet
When leaving a hotel, my wife usually goes back into the hotel to check out while I load the car. She leaves Truffles in the car with me; that way if a pet fee hasn't been added to our folio, the front desk agent isn't going to think anything of it.
Pets sensitive to noise? Leave them in the bathroom
Hotels often have rules stating that pets can't be left unattended in rooms. That's not something that gets policed, although if you leave your dog in your room all day barking then it'll become an issue for you.
We don't worry too much about leaving Truffles unattended, so we'll go down to breakfast together and leave her in the bathroom. By having her in that separate room with the door closed, she'll be less likely to hear housekeeping vacuuming in the hallway (a bugbear of hers). We actually have a bit of a routine where we'll say 'breakfast time' and she'll hop off the bed and run to the bathroom. It probably helps that she usually gets some bacon or breakfast sausage when we get back up to the room.
If we're in a one bedroom suite, we'll just leave her in the bedroom as it's having that separate door that helps make things quieter.
Pets sensitive to noise? Try white noise
Truffles has spent about 2/3 of her life living in hotels, so she's used to hearing people out in the hallway at hotels. Despite that though, she doesn't like it when people are particularly loud at night or when she can hear people walking in a room above us.
To help counteract that, it can help to use white noise of some variety. We travel with pretty much everything we own which means our car is tightly packed, so we need another item like a white noise machine like a hole in the head. Instead, we play this ocean waves soundtrack on repeat throughout the night using Spotify.
Ask for a room on the top floor
Hotels will often put guests with pets on the first floor to make it easier to take them outside. We always prefer to be on the top floor though – that way there's no one stomping around in the room above us.
That's less of an issue at certain hotel chains though. For example, most Hyatt Places seem to be pretty sturdily built and so we rarely hear people above us when not on the top floor at their hotels. Candlewood Suites on the other hands might as well have cardboard floors for how thin they seem to be and their ability to let you hear footsteps.
Bring a portable dog crate
This is more doable when going on a road trip than when flying, but we love Truffles' crate for when we're staying in hotels and will be going out for several hours to somewhere that's not pet-friendly.
We have the EveryYay Going Places Stow & Go Portable Canvas Dog Crate which you can find on Petco's website here. It folds up and comes in a handy carrier, so it's easy to fit in the backseat of our car. In the photo below, you can see a phone at its base so you can see how thin it gets when folded.
It's nice and spacious for her when put together too. There's an opening at the front and another on the side, with a third opening on top so that you can put your pup in from the top too.
We've been using her crate for the last 5.5 years and it's still in great condition considering it's been getting opened and collapsed pretty much every single week during that time given how frequently we move.
Unrealistic pet fee? Contact the hotel
Pet fee policies are usually straightforwardly listed. However, there are times when it seems like there's some kind of error. For example, one time a Hyatt hotel listed a pet fee as $100 per night. That seemed absurdly expensive, so I dropped an email to my concierge (I have Globalist status) to ascertain if that was indeed correct. Sure enough, it was a mistake on the website – the correct fee was $100 per stay.
There have been other occasional situations like this, so calling the hotel has always clarified the fee. I always make a note of the person I've spoken to just in case there's some kind of dispute when checking out.
Take screenshots
When booking a stay, I always take screenshots of the pet fee when booking in case the hotel tries charging something different.
Check hotels on Google Street View
If you have any concerns about grassy areas, access to sidewalks, etc. when researching hotel options, using Google Street View can help. It's often possible to see several sides of the hotel in order to see if there's much grass, plus it enables you to see what the sidewalk situation is if you want to be able to take your dog on a longer walk.
Reader Tips
Use BringFido.com if you have larger dogs
Becky has shared the following useful tip in the comments:
Pro Tip from a large breed owner: Use bringfido.com to run your initial hotel search. They have a filter for "big dogs" allowed, or other things like multiple pets, low fees, etc. And then once you click through from the main results page to the individual hotel listings, the specific policy is consistently and prominently displayed toward the top of the page. This makes it MUCH faster to narrow down which hotels may work for your needs.

I still have to confirm everything since "big dogs allowed" frequently tops out at 50lbs (I have a ~70lb golden retriever), but it's a huge time saver to only click through 3-4 hotels to read policies rather than 25.
Question
Do you have any tips you can give other readers when traveling with pets and staying in hotels and Airbnbs? Please share them in the comments below.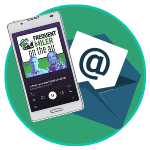 Want to learn more about miles and points?
Subscribe to email updates
 or check out 
our podcast
 on your favorite podcast platform.