We had confirmation this week of some things we have long suspected: the United Mileage Plus Lots of Fees prepaid debit card is launching and isn't terribly useful (though maybe not useless), FlexPerks are going to move to a flat 1.5 cents per point across the board, and the fastest way to find hot deals might make you go cross-eyed, but it's worth a look at times like Prime Day and Black Friday. But we also had some surprise news — If you missed the update, a representative confirmed that the transfer ratio from Membership Rewards to British Airways or Iberia Avios has changed to 1:1. That's a nice and unexpected change — we can only hope to continue to see transfer bonuses in the future that bump the value up even further. And that's just a piece of our week — read on for more of our Frequent Miler week in the review.
---
In most chains, you can book a "standard" room at the lowest-level of points. However, the number of people allowed to stay in that standard room varies by region. Whereas here in the US, you may easily get away with 4 people in a room with 2 double beds for no extra charge, European hotels are notoriously quick to charge for each extra person in the room. In fact, one of the benefits of Hilton Gold Status and above is that there is no charge for a second adult. If you mostly stay domestically, that benefit might give you a chuckle. What hotel charges more for a second adult? Answer: a European one. Due to that common policy, most chains won't let you book a room for more than two people on your points. But Greg lays out how Marriott handles this situation and how he still managed to score a great deal at what looks like a fantastic hotel. I look forward to hearing about his butler service upon his return.
---
I need a new set of wheels, so I've found myself contemplating how to A) earn miles on the purchase and B) pay the least net cost on whatever the negotiated price may be. This post isn't about how to negotiate, but rather about my thought process in how to pay for a purchase like this. I really appreciated the discussion in the comments — many readers chimed in with feedback and corrections on my logic. While some may accuse me of overthinking it, the truth is that the analysis can be fun. I encourage you to read the comments if this post is on your radar.
---
Many of us who hold some flavor of Amex Platinum card and who also recently opened up a Blue Business Plus card have received a letter from Amex alerting us to the fact that our Blue Business Plus points have automatically been enrolled in Membership Rewards First. If you're a reader, you probably like that word — first. But what are Membership Rewards First? Are there some exciting new developments in the Membership Rewards world? Does Amex have some sneak-attack benefits up its sleeve? Read on to find out more.
---
If at first you don't succeed, try try again, right? Here, Greg outlines his latest attempts to circumvent 5/24 and open a Chase Ink Business Preferred card. With a Business Relationship Manager, it has been rumored that one can get around the dreaded limitation of approvals only for those who have opened fewer than 5 new accounts over the past 24 months. Hear Greg's story — but also see the comments as some readers had interesting feedback about their own experiences with this process and their analysis of Greg's results.
---
Spoiler alert: Greg doesn't yet have a Chase Ink Business Plus in his wallet. I say yet, because maybe hope is not lost. Several people have reported on a new development with Chase business cards that is slowly rolling out. If your personal cards are tied to a business login ID, you'll be particularly excited to hear that you may soon have a way to break free of the confines of 5/24. We don't yet know for sure…but there is hope.
---
If you signed up for the 2 Free Night version of the Hyatt Credit Card, there is a new option for you to get amazing value out of those certificates right here in the US. I did not sign up for that offer and am already regretting it a little bit. That said, The Reward Boss points out a very interesting phenomenon that I had missed in the comments over at Doctor of Credit. If you did not sign up for the 2 Free Nights offer before it ended and regret it like I do, you should check out the comments for a link to a possible way to still get that offer. I'm personally a few weeks from being under 5/24 and holding off on any Chase moves until that happens, otherwise I would test this method for science….and 2 free nights at this resort.
---
I recently took an (unplanned) trip to Vermont and stumbled on a Fine Hotels & Resorts location there that was reasonably priced considering the generous benefits of FHR. In this review of my stay at the Stowe Mountain Resort, I explain how we took advantage of full FHR benefits for two nights and enjoyed Stowe and what features make this a great spot for a family getaway in the Northweast, but also why we probably won't be in a hurry to stay here again.
---
That's it for this week in review — check by soon for our week in review around the web and this week's last chance deals.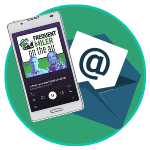 Want to learn more about miles and points?
Subscribe to email updates
 or check out 
our podcast
 on your favorite podcast platform.