Following the widespread shutdowns Amex inflicted on Bluebird and Serve cardholders, people are rushing to find alternatives.  There are many manufactured spend opportunities that do not involve prepaid cards, but for those who prefer to stick with what they know, I developed a couple of resources:
The two posts shown above provide key information, but they don't directly answer the question people keep asking: Which cards allow debit reloads?
Background
Signing up for great credit card offers is, I believe, the single best way to earn points & miles quickly.  The problem is that most offers have substantial minimum spend requirements.  To meet those requirements, some people turn to "manufactured spend" techniques.  One popular technique involves prepaid reloadable cards – especially those with bill pay functionality.
With prepaid reloadable cards, the manufacturing spend cycle looks like this:
Use a credit card to buy Visa or MasterCard debit gift cards (find best options here).
Use those gift cards as debit cards, in-store, to reload a prepaid reloadable card.
Use the prepaid card's bill pay feature to pay bills that can't usually be paid by credit card: mortgage, rent, or even your credit card bill.
The wrong question
The question, "which cards allow debit reloads?" is tough to answer because it's the wrong question.  The questions that need to be answered are:
Which stores in my area accept debit cards as payment for "cash reloads"?
Of the stores identified in question 1, which accept debit gift cards for payment?
Of the stores identified in question 2, which prepaid cards can be reloaded there?
The answers to these questions will vary from one location to another.  So, rather than give a single answer, I'll show how I recommend finding the answers…
Start with the reload networks
Each reloadable prepaid card can be reloaded through one or more reload networks: Green Dot, MoneyGram, Visa ReadyLink, etc.  In the resource post "Reload Cards with Free Bill Pay," I've listed the networks that each prepaid card belongs to.  Each network provides merchant lookup pages for your area, and I included links to those pages in that resource page too.  For convenience, here are the links:
Find likely stores
Click through some or all of the links above, input your zip code, and examine the list of stores that pops up.  You can immediately cross off the national brands that are known not to accept debit for cash reload payments.  7-11, CVS, and Home Depot, for example, can be crossed off your list.  Things can change, though, so keep them in mind for future tests.
You can ask, but…
Don't ask a merchant if they accept gift cards for payment.  You're likely to be told no, regardless of whether or not its true.  It is perfectly fine, though, to ask a merchant if they accept debit cards for payment.  Here's the problem: there's a great chance that you'll get the wrong answer.  Many store employees, including store managers, don't fully understand their store's reload policies.  And, many do not understand the difference between credit and debit payments.  Most employees know (correctly) that credit payments aren't accepted for reloads so they assume that debit payments are not accepted either.
Arm yourself with a few prepaid cards
In order to test out merchants, you will need a few prepaid cards to test with.  Several cards are available for free online (there's usually a charge to buy these in-store).  Some of these have monthly fees, but they won't assess those fees if you keep the account empty of funds:
Try it
Test out likely stores by bringing your prepaid card to the register and asking to reload your prepaid card.  Typically the cashier will have you swipe your prepaid card, then they'll ask how much you want to load.  Finally, you can pay.  In some cases, the register will then clearly show that cash is the only option for payment.  In other cases, the register will let you attempt to pay however you want (even with a credit card) and will complain afterwards if it doesn't like that form of payment.  Try a debit card and see what happens.
If you're unlucky enough to be at a store where employees have been taught not to allow debit gift card payments, you may encounter one or more of these situations:
The cashier might closely watch as you swipe your debit card to make sure that it looks like a real debit card rather than a gift card.
The cashier may insist on examining your debit card and may reject it if it is clearly a gift card
The cashier may insist on comparing the name on your debit card to the name on your ID
If any of those things happen, then you might have luck with personalized Visa gift cards (find best options here).
Find the best prepaid cards
Once you've found a few stores in your area that accept debit card payments for reloads, then you can see if there are better prepaid card choices than the ones you already have:
Identify the reload networks that list the stores you found
Find the prepaid cards that support one or more of those networks
Identify which prepaid cards are best for your needs.  You'll want to examine the cardmember agreements and fee schedules.

Look to minimize fees based on your expected usage.
Note card limits (some do not allow more than $999 to be loaded per day, for example).
Keep in mind that stated card limits are not always enforced.
Observe best practices
Please read "Best practices for prepaid card manufactured spend."  I realize that some of the advice there is controversial, but I do believe it to be solid advice.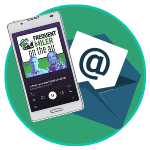 Want to learn more about miles and points?
Subscribe to email updates
 or check out 
our podcast
 on your favorite podcast platform.