Lately I've been raving about great opportunities to save money through Amex Sync Offers. For example, please see these recent posts:
The hard part about maximizing savings from these offers is that, usually, each Amex card you have can only receive the discount once. So, if you want to maximize savings, it's a good idea to enroll multiple Amex cards in each offer. You can enroll your own primary cards, authorized user cards, and even Serve cards in these offers (gift cards, Bluebird cards, and other prepaid cards besides Serve are not eligible).
I've written before about ways to enroll multiple cards in these offers, but most options can be a nuisance to do with every new offer. A better approach takes some up front work, but then makes it very easy to do going forward. The idea is to create a separate Twitter account for each Amex card you have (including authorized user cards and Serve cards), sync each of these Twitter IDs with Amex, and add each one to TweetDeck. Once you've done all of that, enrolling in Amex Sync Twitter Offers becomes insanely easy.
Setting up the machine
Follow these steps to prepare each Amex card:
Create a Twitter Account here: twitter.com/signup. Each Twitter account requires a separate email address. One good way to accomplish this is to start with a base Gmail email address and tack on "+something" (where "something" is a unique identifier for your credit card). For example, my email address is frequentmiler@gmail.com, but I can create a new Twitter account by tacking on additional stuff like this: frequentmiler+SPG@gmail.com. Any emails sent to this address will automatically go to my normal email address.
Confirm your email address. Twitter will send you an email with a link to confirm that this is really your email address. Open the email and click the link.
Enroll your new Twitter ID with Amex Offers, here: amex.co/1fqSpyA.
Sign in to TweetDeck.Twitter.com if you haven't already. If this is your first time using TweetDeck, whichever Twitter account you sign in with first will be your primary TweetDeck account, and you should use that account from then on to sign in.
Add your new Twitter ID to TweetDeck (not necessary if you signed into TweetDeck with this account). Click the cog icon, then "Settings". Then click "Accounts" then "Add Twitter account".
If you have a lot of Amex cards, the above steps can be a real pain, but I think its worth it going forward. I highly recommend keeping a spreadsheet with each Amex card listed along with the Twitter ID and associated email address. Use the spreadsheet to keep track of how far along in this process you are.
Using the machine
Once you've setup your Amex Sync Machine as described above, enrolling in Amex Twitter Sync Offers is amazingly easy. You can find eligible Sync Offers in the following places:
Once you have one or more Sync Offers in mind, open TweetDeck, click on the New Tweet icon, select all of your Twitter IDs (the egg icons), and type in all of the Sync promos you want to register for. This image shows an example:
Press "Tweet" and your done!
Note: Some promotions are not available through Twitter, but rather through FourSquare, TripAdvisor, Facebook, or the "Offers for You" section when you log into your Amex account. So, the above machine won't set you up for all possible promotions, but you should be good to go for most of them.
Hat Tip to commenters Murtuza and Haley for suggesting the TweetDeck approach.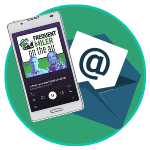 Want to learn more about miles and points?
Subscribe to email updates
 or check out 
our podcast
 on your favorite podcast platform.