The Daily Getaways are a set of travel deals available in limited quantities. Each day, for the next several weeks, a new deal becomes available at exactly 1 pm ET. The most popular deals will be sold out before you can finish saying "where's my wallet?" The best way to grab these deals is to be at your computer minutes before the deal goes live and refresh your browser continuously like your life depends on it until the option to "Buy" appears. Then, click the button and hope not to see the dreaded sold out message. There are often multiple deals available on the same day. To increase your chance of getting one you can try first for the deal that you think will be less popular than the rest.
Are any of these deals worth this craziness? In general the answer is… it depends. For most deals, you can save money by buying them if you were planning to spend more money on similar travel anyway. Many deals, though, will only encourage you to pre-pay for things you might never actually want to use.
To save you time, I've summarized each deal for the next two weeks below and rated the ones I consider particularly deal-worthy with a thumbs up icon.  I'll follow up soon with recommendations for weeks 3, 4, and 5.
NOTE: With any deal that you're interested in, please read the deal's terms carefully. Some have severe restrictions that are not obvious in the summary description.
Date Available
Deal
Frequent Miler's Review
Monday April 10

Save 50% on your Next Alamo Car Rental

SOLD OUT

Certificates can be combined with Alamo Insiders 5% discount (sign up for free). Up to 3 certificates can be applied to one rental (but you'll have to call to use more than one). Can maximize this deal and get nearly half off by using on rentals costing just over $50, $100, or $150. Savings can actually be even better than advertised since taxes and fees will be proportionally lower as well.

Tuesday April 11
Vegas package deals ranging from $475 to $1750
These may be good deals if you were planning to pay for the rooms, shows, and meals anyway, but keep in mind that each package expires either at the end of this year or by the end of January 2018.  Personally, I hate the idea of plunking down a lot of money for something like this that may or may not get used before it completely expires.
Wednesday April 12
Buy IHG points for around .58 cents each
The current Reasonable Redemption Value for IHG points is .54 cents, so this isn't really much of a deal. There's no guarantee that IHG points will be worth .58 cents or more when redeeming them. So, go for this deal only if you have immediate plans for their use and know you'll save money. If you need IHG points in the future, it's always possible to buy IHG points cheaply by booking and cancelling Points & Cash stays as long as you have at least 5,000 points available.  We recently described how it is sometimes possible to buy points for as little as 0.506 cents each this way!  That's much better and easier than competing for Daily Getaways.
Thursday April 13
Busch Gardens Tickets for $45 or Sea World Tickets for $50

If you know you'll use the tickets before they expire, this looks like a good deal to me.

Friday April 14
15,000 Wyndham points for $175
I almost gave this one a thumbs-up.  15,000 Wyndham points can be used for a one night stay at any Wyndham property worldwide.  While most Wyndham properties are low-end, there are properties that routinely go for $300 or more per night.  If you know you'll use the points for a property like that, then this is a good deal to go for.  Or, you can buy the points and hope for another outrageous opportunity, such as when Wyndham offered Cottages.com mansions for just 15,000 points per night.  I really doubt we'll see that again though!
Monday April 17
10,000 Best Western Rewards points for $55 (.55 cents per point)
The current Reasonable Redemption Value for Best Western points is .57 cents, so this isn't really much of a deal. That said, I don't know of any other cheap ways to buy Best Western points so this deal is probably worth pursuing if you are planning Best Western stays where you'll get significantly more than .55 cents value for your points.
Tuesday April 18
One to two night stay at various Omni Hotels for $160 to $335
As with all of these deals, only buy if you know you'll use those nights and that you'll save a lot of money over booking directly.
Wednesday April 19
Universal Studios Hollywood Front of Line w/1-Day Admission for $139

Front of Line ticket prices usually range from $179 to $254 (found here).  If you know that you'll go before these tickets expire on April 30, 2018, then this one is worth pursuing, especially if you plan to visit during peak dates.

Thursday April 20
Las Vegas and Atlantic City packages ranging from $315 to $1400
As with all of these deals, only buy if you know you'll use those nights and that you'll save a lot of money over booking directly.
Friday April 21
Loews Hotels & Resorts packages ranging from $275 to $1300
Only buy if you know you'll use those nights and that you'll save a lot of money over booking directly.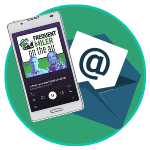 Want to learn more about miles and points?
Subscribe to email updates
 or check out 
our podcast
 on your favorite podcast platform.