Last week's storms in the US southeast, potentially mixed with IT issues, led to massive flight cancellations and delays.  And, it wasn't just the areas hit by bad weather that were affected.  The hub cancellations caused a domino effect across the country.  And problems persist even today, nearly a week later.
I was with my family in Austin when the news about the Delta debacle broke.  And, on Friday, a friend who was also visiting Austin contacted me. She was in trouble.  Her flight home had been cancelled and Delta was completely unresponsive.  But she had to get home that day.  She was scheduled to fly to Costa Rica with her kids a day later.  Was there any way I could help?
My first step was to check Google Flights to see what options were available.  Same day flights from Austin to Madison were available via both United and AA, but they started at over $600.  Flights to Milwaukee were more reasonable, but I kept that as a backup plan.
Next I searched for award availability on United.com.  Happily, saver level awards were wide open:
12.5K miles is a cheap price to pay, but I wasn't enthusiastic about the quoted $86.20 in fees.  Those fees reduced to $61.20 when I logged in, thanks to my United Silver status (which, in turn, is thanks to my Marriott Platinum status).  But I knew I could do better.
I found a similar flight with saver level award availability more than a month away.  That flight had much more reasonable $5.60 in fees, so I booked that one.  I knew that within 24 hours I could change the flight for free.
Once booked, I tried to change the flight online, but got an error saying to call.  So, I called.  After a short wait a friendly agent answered and quickly changed the award flight to the date and time we really wanted.  Since it was within 24 hours of booking, there was no additional charge for the change.
A few hours later, my friend was at the airport and learned that the award flight hadn't actually ticketed.  I called United again.  Fortunately, the phone agent was able to push it through to ticketing, and my friend was on her way!  Thanks to United (and airline miles!), she arrived home just a short time later than Delta originally planned to deliver her.  Awesome.
Returning to Detroit
We were scheduled to return from Austin at 7:15 am Sunday morning on… you guessed it… Delta.  Saturday evening, though, we received an email and text stating that our flight wouldn't leave until 9:35 am.  Then, another message came.  The new departure time would be 10:46 am.
The new departure time was great for us (we could actually sleep in), but it didn't leave us with a lot of confidence that our flight would actually happen.  I tried to use miles to book flights on another airline, just in case, but no awards were available on any airline to get us home same-day.  How about to Chicago?  Nope, nothing.  We decided to chance it.
We were extremely lucky.  Our flight left as re-re-scheduled at 10:46.  And, even though it was closer to lunchtime, they catered breakfast in first class.  It was actually really good!
Even though we were lucky and avoided trouble, thousands of people were not so lucky. I feel awful for the passengers and crews who have been stranded for days due to Delta's poor handling of this situation.  Hopefully Delta will learn from their mistakes and handle things better next time.
How about you? Did you survive this Delta debacle?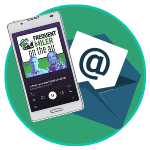 Want to learn more about miles and points?
Subscribe to email updates
 or check out 
our podcast
 on your favorite podcast platform.