In April, 2015, I decided that it would be cool to use miles to book a week on Sir Richard Branson's private Island.  Virgin Atlantic lists this award on their website under Partner Offers… Virgin Group.  This award isn't exactly cheap.  The cost: 1,200,000 miles.  In exchange, they offer 7 nights for 2 people including all food, drinks, and activities.  But the alternative, to pay cash, isn't exactly cheap either: approximately $30,000.
When I started the quest, I didn't have 1.2 million Virgin Atlantic miles.  I had a balance of 1,079 miles.  I needed 1,198,921 more miles in order to book the award.  It took me 7 months, but I did it… without flying.  In fact, I have yet to ever fly Virgin Atlantic.  I like to think that I'm the first person to book this 1.2 million mile Necker Island award without ever having flown Virgin Atlantic.  But, who knows? The award has been available for years.  Others could have done it.  Of course I would like to fly Virgin Atlantic, but due to flight schedules and other factors, it just hasn't happened yet.
Wondering how I earned the miles?  Mostly through credit card signup bonuses.  Fortunately, Virgin Atlantic is one of the most promiscuous airlines when it comes to partnering with banks.  Every transferable points currency can be transferred to Virgin Atlantic.  That meant that I could earn Amex points, Citi points, Chase points, Starwood points, or even Diners Club points in order to build my Virgin Atlantic balance.  Better yet, Citi and Amex frequently offer bonuses when transferring to Virgin Atlantic, and I was able to take advantage of those offers.  And, of course, I was able to sign-up for the 90K-ish Virgin Atlantic card offer to earn even more miles.
For those who haven't been following along from the beginning, the following posts will get you up to speed:
Getting There
Necker Island guests are responsible for getting themselves to nearby Beef Island.  For most of us, that means flying into the Terrance B. Lettsome International Airport (EIS).  From there, we were told that there would be a taxi waiting take us to the dock where "Necker boats will be waiting" to bring us over to Necker Island.
From the Detroit airport, our route will require 2 segments to get to San Juan, Puerto Rico, and then one small hop from there to Beef Island.  If all goes according to plan, we'll fly a number of different airlines to get there:
Delta to Florida (Friday Evening): Confirmed first class upgrades
JetBlue to San Juan (Saturday Morning): Confirmed extra legroom seating
Air Sunshine from San Juan to Beef Island (Saturday afternoon):  Confirmed tiny little cabin
At the end of the week we're scheduled to return all in one day:
InterCaribbean Airways to San Juan:  Another little tiny cabin
Delta all the way home: Confirmed first class
Except for the short flights between San Juan and Beef Island, all of the other flights were booked with points one way or another.  Our outbound Delta flights were booked in economy with CNB points. We then used soon-to-expire Platinum upgrade certificates to move into first class.  The JetBlue flight was booked with JetBlue points earned from the big JetBlue Points Match deal.  And our return Delta flight was booked with Delta miles.  Our Air Sunshine tickets cost $175 per person, and InterCaribbean cost $158.50.
Blogging and Vlogging the trip
Is Necker Island really worth all of the hype?  I don't know, but I'll find out soon!  Along the way I plan to record as much video as possible while respecting the privacy of other guests.  I plan to post photos, videos, and comments regularly on Twitter and Facebook.  And, Monday through Friday I'll publish my impressions via blog posts.  If you haven't already subscribed to my emails, please do so now!  Also, of course, please "Like" my Facebook page, and follow me on Twitter.
Hurricane Season
My understanding is that Hurricane Matthew left Necker Island alone, and it looks like Hurricane Nicole is likely to do the same.  Of course, there's always a chance that another storm will come along and ruin our trip.  The weatherhq forecast for Necker Island at the time of this writing is mixed:
What will happen if we get really bad weather?  I don't know, but I imagine it will make for interesting posts!
What's included?
The Necker Island website lists the following as included in the room rate:
All meals and drinks (including all alcoholic beverages) in a variety of locations
Return launch transfer from Virgin Gorda or Beef Island airports
All your activities including a team of watersports professionals and tennis instructor – we have just about every type of watersports equipment you can imagine
Fully stocked bars throughout the island
Two freshwater pools and a large Jacuzzi on the beach
Two floodlit tennis courts
DJ entertainment on one night
Wireless internet throughout the island
Laundry service (dry cleaning not available)
7% local tax
I'm excited!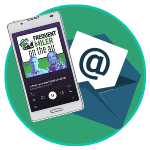 Want to learn more about miles and points?
Subscribe to email updates
 or check out 
our podcast
 on your favorite podcast platform.