Update 7/28/23: A friend doing business with the Virgin rewards team recently reached out to me because they told him that it was no longer possible to book Necker Island entirely with points.  And, sure enough, neither the Virgin Red website nor the Virgin Atlantic website show a 100% points option anymore.  Instead, the current deal is to get 4 nights (not a week!) for 540,000 points plus $5,400 in cash.  If you want additional nights, that will cost 180,000 points plus $1,800 per night.  The new pricing is terrible for those looking to get a free trip with points, but it's an excellent discount for those who planned to pay cash from the get-go (without points you would have to pay $5,400 per night).  I suspect that Virgin will try out different price points over time (just as they've been doing with Virgin cruises), so it will be interesting to see if they re-introduce points-only bookings in the future.  You can find the Virgin Red offer here and the identical Virgin Atlantic offer here (under "How to spend").
The original post (when Necker cost 1.7 million points for 7 nights) follows…
Necker Island is Sir Richard Branson's private island in the British Virgin Islands.  Each year, Necker Island is available for guest bookings during a set number of "Celebration Weeks".  During these weeks only, it's possible to book individual rooms on the island.  While transportation to nearby Beef Island isn't included, everything else is: food, alcohol, watersports, and other activities.  And Richard Branson really does live, work, and play on the island.  He interacts with all of the guests regularly.  For example, when I was there, he attended parties, played tennis with guests, and showed up for a number of meals.  While the option had disappeared for a while, it is now possible once again to book a Celebration Week with Virgin points.
Award Details
Award Price
It used to be possible to book a Celebration Week on Necker Island for 1 million Virgin Atlantic miles.  The price then increased to 1.2 million miles.  That was the price I paid when my wife and I stayed there in 2016.  Then the price increased to 1.5 million miles.  Then a hurricane came and award bookings were suspended.  Now, Celebration Week award bookings are back at a new and bigger price: 1.7 million Virgin Red points.  Alternatively, you can pay 1.25 million points plus USD $12,000 (which is like buying Virgin points for 2.7 cents each which is not a great deal).
For those with Virgin Atlantic miles, Virgin Red points are basically the same thing.  Create a Virgin Red account and connect it to your Virgin Atlantic account in order to give both programs access to the same points & miles.
What's Included
7 nights for two in a private room on Necker Island
All meals and drinks (including all alcoholic beverages) – served in a variety of locations
Return boat transfer from Virgin Gorda or Beef Island airports
Water sports equipment so you can go kite-surfing, wakeboarding, paddle boarding, sailing, snorkeling and much more
While not specifically listed above, in my experience you can also count on the following inclusions:
Access to a tennis pro to help you up your game
Water sports instruction.  For example, I learned kite surfing.
Scuba diving (I can't promise that this is still included)
Select off-site excursions
Evening parties with entertainment
Various activities (e.g. we took a sushi making class)
2023 Celebration Weeks
Bookings are permitted during 2023 Celebration Weeks only for a seven night stay:
19.05.23 to 26.05.23 (adults only)
22.07.23 to 29.07.23
19.08.23 to 26.08.23
26.08.23 to 02.09.23
16.09.23 to 23.09.23 (adults only)
23.09.23 to 30.09.23 (adults only)
14.10.23 to 25.10.23 (seven night stay between these dates)
18.11.23 to 25.11.23 (Thanksgiving)
Limitations
There is an annual limit of 15 bookings for Necker Island which is managed by Virgin Limited Edition. (this means that you should book early in order to get your booking in before 15 other people do so!)
Cancellations received less than 42 days before the proposed arrival date will incur cancellation charges.
Flights are not included.
Points cannot be earned on the extra spend accrued during the redemption e.g. spend not included in the basic accommodation cost such as additional paid activities and spa treatments.
How to Book
The landing page for this award can be found on Virgin Red's website here.  At the time of this writing, that page lists the following steps for booking the award:
Contact Virgin Limited Edition on +44 (0) 208 600 0430 or via email at enquiries@virginlimitededition.com to check availability at the property and secure your booking.
Ensure you advise Virgin Limited Edition of your Virgin Red ID or Flying Club number at the time of booking.
Virgin Red will contact you to reconfirm all passenger details, booking details and redeem your Virgin Points.
Virgin Limited Edition will send you booking confirmation for your stay at Necker Island.
FAQ
Will I meet Richard Branson on Necker Island?
You will probably meet Richard Branson during your stay, but there is no guarantee.  When I stayed there for a week in 2016, Richard introduced himself to guests as we arrived, he stopped playing tennis to talk with my wife and I when we were walking by the tennis court, he talked with us at various meals, and he played in the guest tennis tournament at the end of the week.  For three days that week he was off island in the U.S. in order to attend the opening of one of the first Virgin Hotels.  Based on my experience I think it's safe to say that you will meet Richard Branson if he's in the British Virgin Islands during your stay, but that there's always the chance that he'll be away during that time and so there's no guarantee.
Is Necker Island a good value for your points?
Compared to the cash price for a Celebration Week on Necker Island, you can get very good value from your Virgin points.  At the time of this writing, the cash rate for a week is $37,800 plus 5.5% in taxes and fees for a total of $39,879.  At that rate, paying 1.7 million Virgin points gives you an excellent value of 2.67 cents per point.
Also at the time of this writing, Necker Island has a promotion offering a free night on cash stays of 4 nights or more.  So, with this promotion, a seven night stay would cost $32,400 plus 5.5% in taxes and fees for a total of $34,182.  If we assume that promotions like this are common, then we can calculate the value of booking with points: 1.7 million points compared to $34,182 = 2.01 cents per point.  Compared to most other uses of Virgin points, that's very good.
Is it worth paying 1.25 million points plus $12,000 instead of 1.7 million points?
No.  This option is akin to paying $12,000 for 450,000 Virgin points.  That's the same as buying points for 2.7 cents each.  I don't think that's a good deal.  A better option if you don't have enough points is to buy up to 500,000 Amex Membership Rewards points for 2.5 cents each.  You can then transfer these 1 to 1 to Virgin and book a Celebration Week for 1.7 million points.  Better yet, wait for Amex to offer a transfer bonus to Virgin in order to get even more points for your money.
Is Necker Island worth 1.7 million points?
Yes?  The answer to this question is obviously extremely subjective.  Personally, the thing I love most about the points and miles game is that it gives me a chance to experience things that I would never be willing to pay cash for.  This includes things like hotel suites that would otherwise have cost well over two thousand dollars per night, first class airplane suites that would have cost around $6,000 per flight, and yes, Necker Island.  Not only did my wife and I have an amazing time on Necker Island, but we also made friends from around the world who we've seen multiple times since that trip.  So, for me, Necker Island was definitely worth the 1.2 million points that we paid at the time.  And I'm sure that if we had paid 1.7 million points, I'd say the same.  For more, see this post: Is Necker Island really worth 1.2 million miles?
What is the best way to earn 1.7 million Virgin points?
For those in the U.S., the best way to earn 1.7 million Virgin points is through credit card welcome bonuses.  Many, many cards earn points that transfer to Virgin.  This includes cards that earn Amex Membership Rewards, Chase Ultimate Rewards, Citi ThankYou Rewards, Capital One Miles, and Bilt Rewards.  See our Best Credit Card Offers page for a nearly endless list of great offers for those cards.
Once you've earned a lot of transferable points through welcome bonuses, wait for transfer bonuses to Virgin.  30% bonuses are common.  See: Current point transfer bonuses for both current and expired bonuses.  You'll "only" need around 1.3 million transferable points to book Necker Island if you entirely take advantage of 30% transfer bonuses.
Another way to earn Virgin points is with spend on the Virgin Atlantic credit card.  See this post for details: Virgin Atlantic World Elite Mastercard Deep Dive: Maximize Earnings and Status.
Which bank points transfer to Virgin?
This display shows all of the major points programs that allow one to one transfers to Virgin:
Rewards Program
Amex Transfer Ratio
(and transfer time)
Chase Transfer Ratio
(and transfer time)
Citi Transfer Ratio
(and transfer time)
Marriott Transfer Ratio
(and transfer time)
Capital One Transfer Ratio
(and transfer time)
Bilt Transfer Ratio
(and transfer time)
Virgin Atlantic Flying Club
1 to 1 (Instant)
1 to 1 (Instant)
1 to 1 (Instant)
60K to 25K (1 to 2 days)
1 to 1 (Unknown)
1 to 1 (~1 Minute)
And this display shows current transfer bonuses, if any:
Is it hard to book Necker Island with points?
The process for booking the island is very easy, but it's important to note a restriction: There is an annual limit of 15 points bookings.  That's not 15 bookings per person, but rather 15 bookings altogether.  So, if you wait until mid-year to book, there's a good chance that they won't offer any more points bookings for that year.  If that happens you can of course look to book for the following year.  If the Celebration Weeks for the following year haven't yet posted, you'll probably have to wait until they are posted to make your booking.
Do I need elite status to book Necker Island?
No.  Award bookings for Necker Island used to go through Virgin Atlantic rather than Virgin Red.  And for a couple of years, Necker Island required having Virgin Atlantic elite status in order to book with points.  That requirement no longer exists.
How often do people book Necker Island with points?
Before my stay, I thought that I might be the first person ever to cough up over a million points for a stay.  As it turned out, though, it was very common.  During my stay, two other couples had booked the stay with Virgin points, and a staff member on the island told me that usually there were more than 3 rooms booked with points.  They now limit points bookings to 15 per year, though, so there won't be as many point bookings going forward as there used to be.
What does Richard Branson think about people who use points to book the island?
During our stay, I had the chance to ask Richard Branson how he felt about people staying for "free" using points.  He said that it was great.  He believed it was a "win-win".  Then he asked if I'd like photos for my article.  The photos above were his humorous answer to the question.
Tell me more about your experience on Necker Island
Here is a collection of videos from my experience:
For more, see these posts:
Hat Tip to Yisrael on Frequent Miler Insiders for letting us know that Necker Island award bookings were back!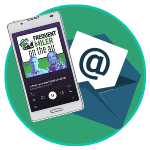 Want to learn more about miles and points?
Subscribe to email updates
 or check out 
our podcast
 on your favorite podcast platform.