When planning international trips, I imagine that most people search for a round trip route: from Point A (home airport) to Point B (destination) and back. Because my wife and I have worked online since 2009, we have often enjoyed the flexibility to plan trips differently. When traveling internationally, we often look to string together at least two foreign countries. That has in turn has led me to appreciate international sweet spots that connect different points around the world. This post includes a number of examples that stand out to me as great values for the miles at least in terms of distance flown in premium cabins compared to miles required. Hopefully I'm not giving Stephen and Greg too much help planning their #3Cards3Continents trips — but then again, with so many sweet spots to be found, there should be plenty to go around.
When I look at a new award chart, I am frequently searching through all of the regions for low prices rather than only at options between the US or North America and foreign regions. I have personally booked a number of the sweet spots in this post after finding availability from the US to one region or another and deciding to extend the trip to visit two foreign regions — often taking advantage of a separate sweet spot for the return flight to the US. Sweet spots like these are probably of limited to use to the average person planning a one-week vacation, but for those with more flexibility (like retirees or those who can work remotely), international sweet spots that connect regions outside of the US can make a trip more epic for fewer miles than expected. They also may come in handy if you're planning a trip to 3 continents using 3 credit card bonuses. Just sayin'.
This is by no means an exhaustive list of international sweet spots. I encourage readers to chime in with your own finds in the comments. Some of my favorites in ascending order from fewest miles include:
27.5K miles: Fly Singapore Airlines first class
This flight is almost laughably low on flight time and high on ridiculousness, but if you really just want to fly fancy, you can fly from Singapore to Jakarta in first class for just 27,500 Singapore Krisflyer miles (transferable from most major transferable points). Unfortunately, I don't think they fly the new first class on this route. Fortunately, I think they do serve Krug champagne and a full meal (including being able to order from Book the Cook). For those on a (points) budget, business class at 19K miles feels 30% less ridiculous. Note that this isn't the shortest Singapore first class route — they start as short as 70 minutes long.
Transfer to Singapore Krisflyer from Amex Membership Rewards, Chase Ultimate Rewards, Citi ThankYou Rewards or Capital One miles.
30K miles from Far East to Far East — even connecting in Istanbul! (i.e. how to fly 22 hours in business class for 30K miles)
This sweet spot is one I stumbled upon during my research for #3CardCards3Continents: Turkish Miles & Smiles charges just 30K miles one-way for business class from the Far East to the Far East. That can be a decent enough price if you're flying within Asia on Star Alliance partners like EVA, ANA, Asiana, Air China, or Thai Airways (Star Alliance has a lot of options in this region). But much to my surprise, Turkish allows these awards to connect in Istanbul if you fly Turkish. I was pretty intrigued when I saw awards like the one above from Jakarta to Taipei – connecting for 20 hours in Istanbul and yielding more than 22 hours in business class for just 30K miles.
The problem in my case is those pesky award surcharges. As ridiculous as it is to connect in Istanbul on that route, I know I'd probably have fun getting the extra business class flight time. But with surcharges in the vicinity of $320-$375 one way, I just couldn't fit it in the budget for this trip.
Transfer to Turkish Miles & Smiles from Bilt Rewards, Citi ThankYou Rewards or Capital One miles.
From 34K miles: Fly Oman Air with Etihad Guest miles on long-haul routes 
Etihad Guest maintains separate award charts for each of its partners and there are some nice deals to be found, including on a number of long-haul Oman Air routes. Each route is priced separately with Oman Air, but some highlights include business class from Muscat to Bangkok (a 6hr flight) for 34K miles as well as business class for 39K miles between Muscat and Kuala Lumpur, Zurich, or Frankfurt (7hr+ flights) or 42K miles in business class to Singapore (9hrs+). First class awards are also a deal at around 20-25K miles more. See the full chart for Oman Air flights here.
Transfer to Etihad Guest from Amex Membership Rewards, Citi ThankYou Rewards or Capital One miles.
40K miles: South Pacific to/from Asia for in business class
An American Airlines sweet spot connects the South Pacific to Asia 1 or Asia 2: pay just 40K American AAdvantage miles each way in business class to either region of Asia in business class. This makes possible itineraries like the ones above from Sydney to Tokyo (with stops of 18 or 21 hours respectively in Fiji or Manila).
Transfer to American Airlines AAdvantage from Bilt Rewards.
40K miles: Middle East to/from Asia for 40K AA miles in business or 50K miles in first class
I suspect that part of the reason Stephen was after American Airlines miles and stole my Aviator Red pick in the draft may have been because of this incredible sweet spot: you can fly between Asia 1 (Japan and Korea) or Asia 2 (most of the rest of southeast Asia) and the Middle East (which stretches as far west as Egypt) for fewer miles than you'll pay to get from the US to Europe — and your airline options are generally more luxurious. That's notable since some of these flights can be quite long (and it can be cheap to get between Cairo and Europe). My lone experience with Etihad First Class was to take advantage of this sweet spot (which was actually a hair cheaper at 45K one-way in first class when I flew it years ago). One of the frustrating things about AA awards is the inability to add a stopover, but you could combine this sweet spot with the next one to sort of create your own stopover.
Transfer to American Airlines AAdvantage from Bilt Rewards.
42.5K miles: Middle East to/from Europe in business class
While not quite as much of a screaming deal as the previous sweet spot, getting a 6-8 hour flight from Europe to Qatar on Qatar Airways or connecting to/from the United Arab Emirates on Etihad or between Jordan and Europe in business class on Royal Jordanian for 42.5K American Airlines miles is a solid deal nonetheless. First class at 62.5K isn't too shabby either — Greg flew Etihad first class apartments using that sweet spot a couple of years ago (and rumor has it Etihad is bringing back its A380s!).
An interesting aside here for those piecing together a larger trip: Awards from Asia 1 or Asia 2 to Europe in business class cost 75K American Airlines miles. American Airlines doesn't allow a stopover on a one-way award. However, you can sort of build your own stopover by combining the two sweet spots above: pay 40K miles for a one-way business class award from Asia to the Middle East and then book a separate one-way business class award from the Middle East to Europe for 42.5K miles and you'll have a paid a total of 82.5K miles for a lot of luxury flying with a stop as long as you like in the Middle East since you're booking separate awards. You could consider the extra 7.5K miles you'll pay to book two separate award tickets as the cost of adding a stopover in the Middle East.
Keep in mind that those flights don't necessarily need to be nonstop. For instance, you could fly from Singapore to Abu Dhabi to Egypt on Etihad and then book a separate award on Qatar Airways from Cairo to Doha to London or Paris or your city of choice in Europe.
Those who wondered why two American Airlines credit cards were selected in our draft for 3Cards3Continents should wonder no longer — there are quite a few great sweet spots with AA miles.
Transfer to American Airlines AAdvantage from Bilt Rewards.
49K miles (or less): Singapore Airlines business class from Singapore to South Africa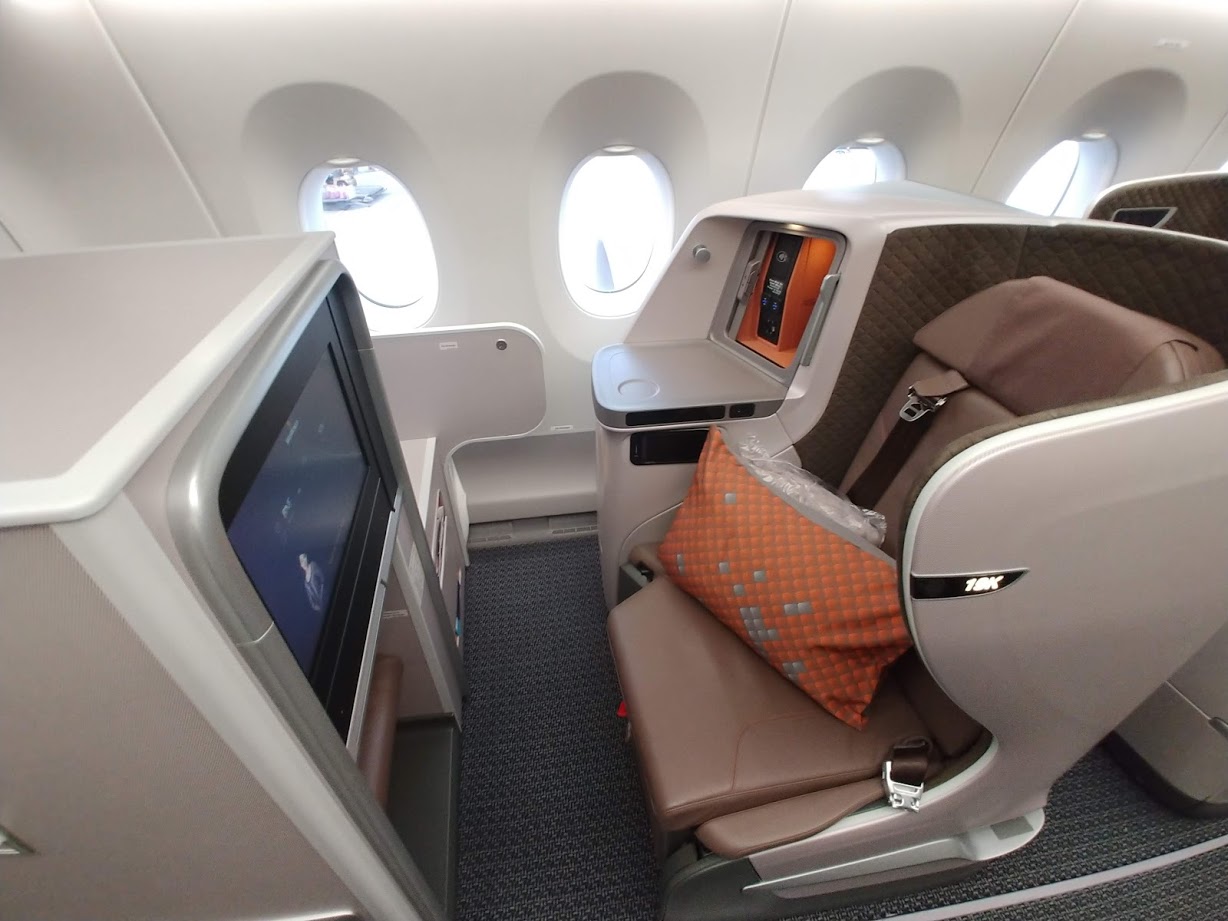 Singapore Airlines is renowned for fantastic service and a solid product until the debut of the "new" first class seats, I had often heard people question whether Singapore First Class were worth the premium over business class (which says a lot about how good their business class is). The route from Singapore to Johannesburg feels like a very good deal at 49K Singapore Krisflyer miles one way for the 10hr+ flight. However, I include this sweet spot because it often pops up in Singapore's Spontaneous Escapes list (the Singapore equivalent of Flying Blue's Promo Rewards) and when it does it is usually possible to book this route for a price in the 30K's one way, which feels like a steal.
Transfer to Singapore Krisflyer from Amex Membership Rewards, Chase Ultimate Rewards, Citi ThankYou Rewards or Capital One miles.
52.5K miles: Europe to Oceania in business class
This is an incredible sweet spot in that it could yield a lot of flying for just 52.5K miles through Turkish Miles & Smiles. At least in theory, you could fly (for example) from Frankfurt to Bangkok to Auckland in Thai Airways business class (with a complimentary 30-minute massage in the Thai lounge in Bangkok!) for just 52.5K miles one way. Keep in mind that Turkish does pass on fuel surcharges, so the value of this sweet spot will vary a bit depending on which airline you fly.
The bigger issue with this sweet spot is finding availability. Turkish only allows mixed-cabin awards when one of your flights doesn't physically have the same higher cabin. For instance, you can (at least in theory) book a mixed-cabin business class award as long as any segments in economy class occur on planes that only feature an economy class cabin. In other words, only segments on the smallest of planes will qualify for mixed-cabin awards. Unfortunately, Air New Zealand releases very little award space, so your options could be limited. Still, if you find this available, it is quite a score.
Transfer to Turkish Miles & Smiles from from Bilt Rewards, Citi ThankYou Rewards or Capital One miles.
55K miles: Fly within Africa or between Africa and the Middle East with ANA miles
ANA has a number of great sweet spots in its program, but one that could make for a great deal in terms of distance flown would be round trip flights within Africa (or between Africa and the Middle East). At 30K miles round trip in economy class or 55K miles round trip in business class for trips of comparable distance to the US to/from Europe, these can be a great way to cover a lot of ground without a lot of points. Unfortunately, you'll get with with high surcharges on some (but not all) airlines. Keep in mind that ANA allows a stopover and an open jaw on a round trip, so you have a lot of options.
Transfer to ANA from from Amex Membership Rewards.
Bottom line
This post is far from being an exhaustive list of the best premium cabin sweet spots in the world, but it includes enough to get the juices flowing on what may be possible to piece together with the right combination of cards. I very much look forward to our 3Cards3Continents challenge and seeing what else we come up with or how we leverage the sweet spots above to connect at least 3 continents with 3 credit card bonuses.
What are your favorite sweet spots that connect regions outside of North America?