The Frequent Miler team is ready for our next challenge!  While Carrie and Tim can't join us in the field this time, Nick, Stephen and I are ready to compete.  The challenge goal?  Book an amazing 3-continent dream-trip using 3 welcome bonuses.  As we've done before, we'll have a strict budget, we'll have strict rules, and readers will pick the winner once we've completed our trips.  Next Wednesday we'll hold a livestreamed draft where each of us will pick 3 credit card welcome offers that will make up our travel budget.  No bonus can be picked twice.  We'll then use those welcome bonus points to book our September adventures (exact dates to be revealed later).  Buckle up, the challenge begins soon!
What is 3 Cards, 3 Continents?
Frequent Miler loves creating fun and competitive team challenges. This year Greg, Nick, and Stephen are competing to
book the most amazing 3-continent dream-trip using 3 credit card welcome bonuses.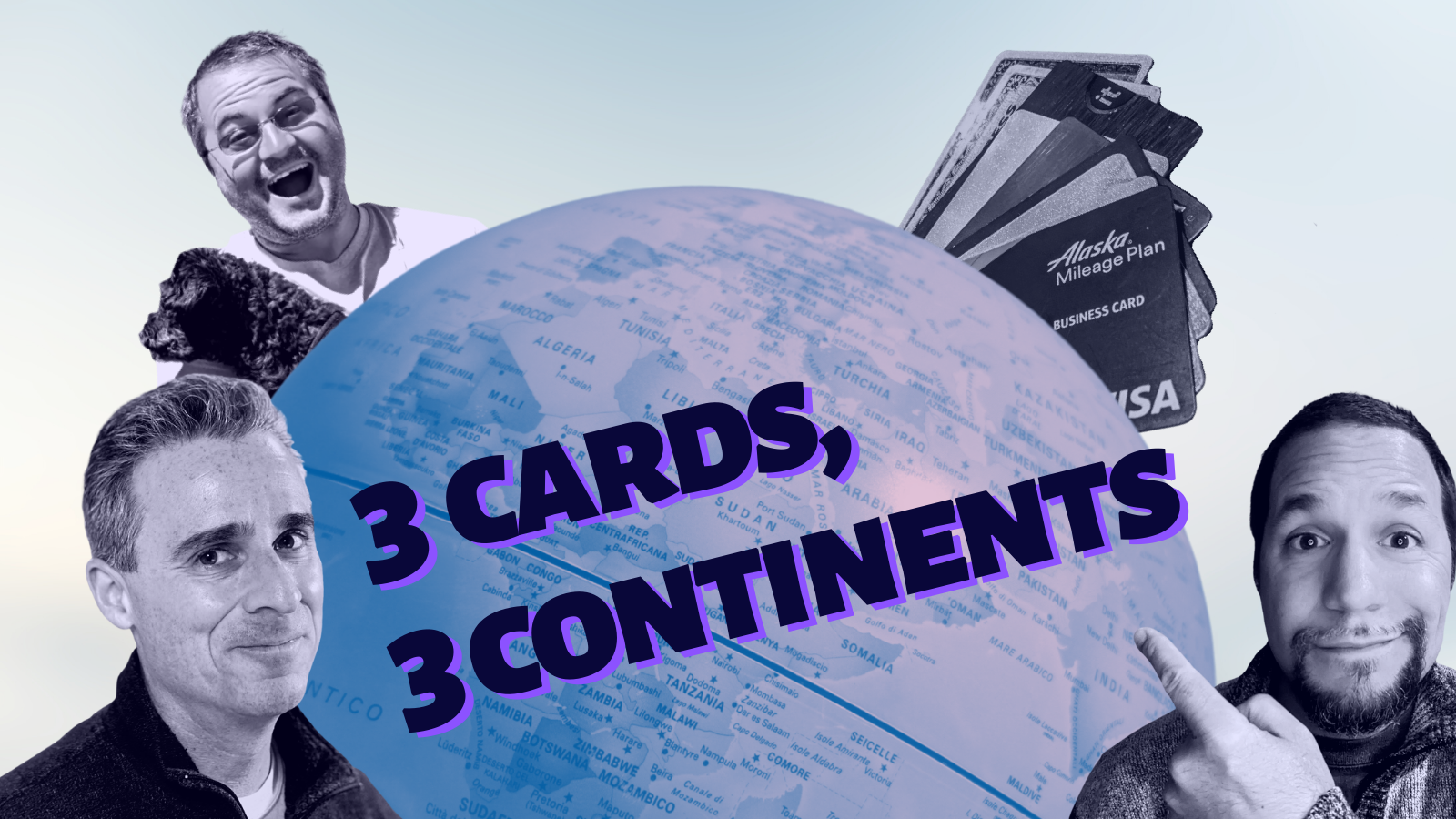 What went before
In our 2019 40K to Far Away Challenge, we each had a budget of 40,000 points and $400 to travel as far as possible.  And we traveled incredibly far.  Nick visited Hawaii, Japan, and New Zealand before making his way to a tiny island country named Niue in the South Pacific.  Stephen went to Europe and back and managed to visit 6 countries and 9 cities along the way.  After visiting Madrid, Spain, I toured Africa from Senegal to South Africa to the Seychelles.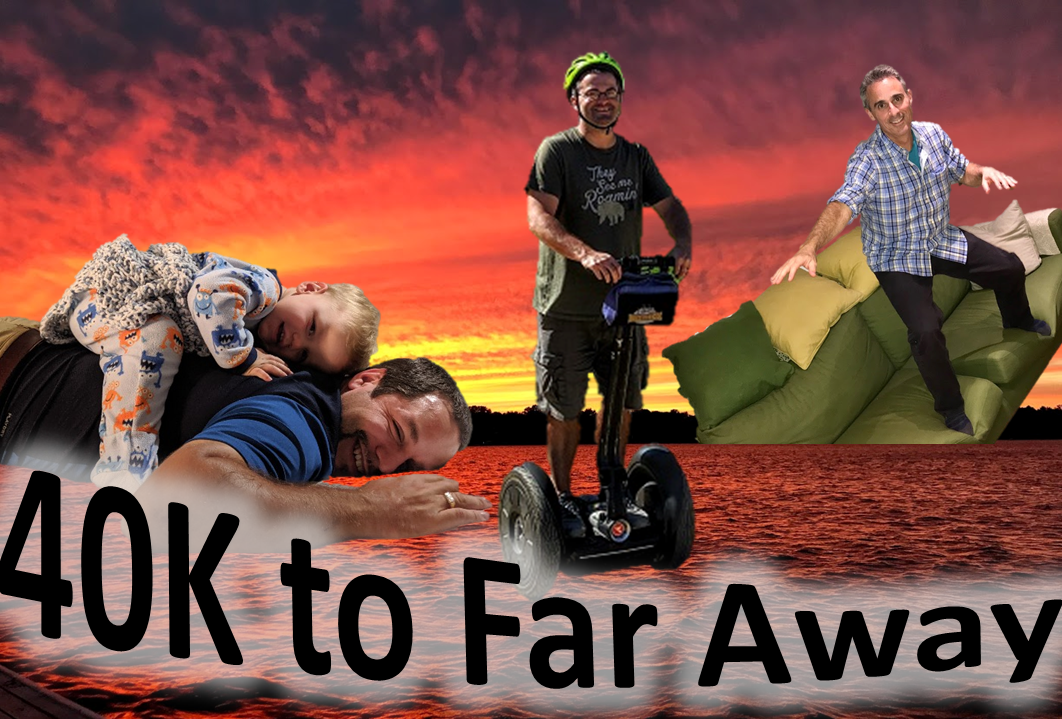 COVID obviously put a damper on our travel challenges in 2020 and 2021, but we did what we could.  In Spring 2020, when travel was virtually impossible, we did our StayCay to Far Away challenge where we competed to create the best from-home travel videos.  Carrie was voted the overall winner, with Stephen second, and Nick and I tied for 3rd.   In 2021, Nick and I did our GUC Trip.  I offered Nick my Delta Global Upgrades (GUCs) but with strings attached.  He had to plan the trip and meet a bunch of challenges: travel safely and without getting cancelled during COVID; travel far; earn elite status from the trip; get outsized point value when booking hotels and activities; etc.  Click here to read all about the fantastic trip Nick planned.
At the end of the 40K to Far Away contest (which I won handily… but I won't rub it in) we asked readers for suggestions for the next challenge.  And readers came through with awesome ideas.  The ideas that made their way into this year's challenge include:
Require round-trip travel (40K to Far Away was defined as a one-way challenge)
Make it a luxury trip
Don't design a contest where people sleep in airports or on buses
Keep the food and activity budgets separate: the purpose of the challenge should be centered around booking travel.
"Incorporate a fantasy draft style for the next time around." (submitted by Jarrod)
Drafting the Dream
We loved Jarrod's idea of a fantasy draft for selecting who gets which points and we've taken it a step further: we'll be picking from real current welcome bonuses.  Whatever welcome bonuses are on our Best Offers page when the draft begins will be fair game.  Once a card bonus is selected, it's gone.  The next players cannot pick it.  We won't really be signing up for cards.  Instead, the cards we pick will define our points & miles budget for the challenge.
Our budget begins at draft time.  We each have a $1,000 budget for our travels, including first year annual fees.  So when the first player picks the Platinum 150,000 point offer, for example, that card's $695 annual fee will count against the player's $1,000 budget and leave him with only $305 left.  He'll have to pick the next two cards very carefully!
We will also be limited to $15,000 credit card spend.  Most credit card welcome bonuses require lots of spend in order to earn the bonus.  In our made-up scenario, we have exactly $15,000 of unbonused spend available.  We can't go above that.  So, for example, if someone picks the Chase Ink Business Preferred 100K offer which requires $15K spend, their next two picks will have to offer bonuses with no spend requirement (a bonus after first purchase is allowed) since the spend budget will be gone.
Using the leftover spend:  There's a good chance that some contestants will spend less than $15,000 towards minimum spend requirements.  In that case, they can virtually spend the rest on whichever of the 3 cards they chose in the draft.  None of that spend will be in bonus categories, though.  For example, if I had $3,000 spend leftover and I had chosen the Capital One Venture card, that would be a good choice for my final $3K spend since it earns 2X everywhere and I'd end up with 6,000 additional points.
Challenge Goal
The goal of this challenge is to book the most amazing trip possible.  We originally thought of this as a luxury trip, but then realized that could be overly confining.  I expect that we'll each try to fly in flat-bed luxury and stay in awesome places, but if an awesome option doesn't fit that definition of luxury it shouldn't be ruled out.  Ultimately, readers will decide who's trip was the most awesome.
Challenge Rules
Round trip: This year's challenge will be round-trip.  Each player must start and end in the lower 48 United States.  Players do not need to return to the same airport that they departed from (but readers are free to give their votes to the players who do).
3 Continents: Our trips must include stops in at least 3 continents.  North America counts only if the stop is outside of the lower 48 states.  The purpose of this rule is to make sure that this is a big dream tip.  As a result, I think we should hold more to the intent than the letter of this rule.  For example, if someone gets Santa Clause to accept Wyndham points and wants to claim the North Pole as a continent, they have my blessing (and my vote).
Travel Budget = $1,000 – Annual Fees + Welcome Bonuses: We start with $1,000, but then subtract out the first year annual fees of any cards we virtually sign up for.  After signing up for cards, we might have as little as $0 or as much as $1,000 left which can be used towards travel.  Also, of course, points, miles, and cash back virtually earned from welcome bonuses will make up our budget.

Example – Suppose a person picks the following cards in the draft: Amex Platinum Card 150K Points, $695 Fee; Citi Premier Card 80K Points, $95 Fee; and Marriott Boundless 5 Free Nights, $95 Fee.  In that case, they would have a total travel budget of $115 ($1K – $695 – $95 – $95), 150K Amex points, 80K Citi points, and 5 Marriott Free Nights.  In reality they would have a slightly higher budget because the minimum spend on each card also earns points so they would also have 6K additional Amex points, 4K additional Citi points, and 10K Marriott points ($5K spend x 2x earnings).

Travel budget inclusions.  We must account for each of the following within our budget of $1,000 – annual fees + welcome bonuses: lodging, flights, trains, buses, airport transfers, transportation of any kind for the purpose of getting from one place to another, award taxes & fees, visa entry fees, etc.
Budget includes credit card perks.  The benefits of cards picked in the draft aren't limited to welcome bonuses.  Contestants can also make use of perks offered by each card they chose.  For example, a person with the Sapphire Reserve card gets $300 of additional travel spend thanks to that card's annual travel reimbursement.  Similarly, someone with the VentureX card gets $300 in travel booked through the Capital One portal.  Someone with a consumer Amex Platinum card would get $200 in airline incidental fees, $15 in Uber credit (which unfortunately only works in the U.S. and so it can only be spent here), and $200 towards Fine Hotels & Resorts or The Hotel Collection.
Separate budget for food & activities: We don't want to encourage contestants to stretch their travel budgets by doing only free activities and/or by eating ramen noodles for every meal.  Instead, we plan to enforce a separate budget for food & activities.  The exact dollar amount of this separate budget hasn't yet been set.
Covid costs don't count: Covid testing fees, mandatory Covid insurance, and any other costs related to Covid will not count against either budget.
Start from scratch: In the 40K to Far Away challenge, we allowed each contestant to use things they already had: elite status, credit card perks, lounge membership, upgrade certificates, etc.  In this case, we're assuming the opposite: everyone must start from scratch.  A contestant can rely on credit card perks only if one of the 3 cards he signed up for includes that perk.  During travel a contestant may accept an upgrade due to previously held elite status, but then he must show what the experience would have been like if he hadn't accepted it.  In other words, we will ask readers to vote on how fantastic the trip is based on photos and descriptions of un-upgraded travel (except where the contestant used their travel budget to upgrade).
Points or miles must be used: It would be possible to earn only cash back welcome bonuses, or to cash out welcome bonus points and then to book travel entirely based on cash deals.  That's not allowed.  Challenges like these are useful because they force us to find outsized value opportunities and to push the limits of what's possible.  It's fine to take advantage of some cash deals, but the bulk of travel should be based on using points to either book travel altogether or to upgrade paid travel.
Deals are allowed: Public deals that are available while the contestant is booking travel are allowed.  For example, through August 19th, Chase has a 50% transfer bonus to Marriott.  If a contestant had earned Chase points from the credit card draft, then they could virtually convert their Chase points to Marriott points with this bonus in place.  They must announce the intent and the number of points transferred by or before August 19th (because we don't want people taking advantage of a deal after its over).  With hard to get deals like some of the Daily Getaway Deals, the contestant must record the final check-out screen in order to use that purchase in this challenge.
Purchase flexibility: Each contestant must account for all costs as if they used the points earned with their welcome bonuses, but in reality they may use other points, free night certificates, or even cash to book their travel.  Here are some examples:

A contestant may assert that they transferred points to British Airways Avios in order to book Qatar Q-Suites.  In reality, they may prefer to pay with their own big stash of American Airlines miles.  That's fine, but they must snapshot award availability through BA and account for the number of Avios that BA would have charged as well as the award taxes and fees that BA would have charged.  The prices charged by AA are immaterial to the contest.
A contestant may assert that they booked a Marriott hotel with points transferred from Chase.  In reality they might have a free night certificate they would prefer to use.  That's fine, but they must account for the number of points that they would have spent if they hadn't used the certificate.
A contestant may assert that they used Virgin Atlantic points to book Delta One Business class.  In reality they might have a Delta Global Upgrade certificate and prefer to buy a Premium Select ticket and use the upgrade certificate to get into Delta One.  That's fine but they must show Delta One availability through Virgin Atlantic and account for both the number of points and the taxes and fees that Virgin Atlantic would have charged.
What about award-scarcity?
With travel skyrocketing, award travel has become more difficult than ever before.  One Mile at a Time has declared this The Summer Of Non-Existent Airline Award Seats.  And Live and Let's Fly says "Saver award space has all but dried up lately, with even last-minute seats no longer available… Even in late September, the traditional shoulder season, it is virtually impossible to find saver space."
So, are we doomed?  September was the only month this year in which the three of us could travel at once.  Should we put this off for another year?
These are questions the FM team has bounced around.  We decided to move forward with our challenge plans.  Sure, we might not be able to assemble the trips we could have during normal times, but we feel confident that we can still cobble together amazing journeys.  Award scarcity will force us to work harder, be more creative, and to look under rocks (so to speak) that others have passed.  The hope is that this will lead us to discoveries that will benefit everyone following along.  Need I remind the reader that it was because Nick was "stuck" with what we thought were suboptimal Citi points in the 40K to Far Away challenge that he found the incredible ability to fly to Hawaii for only 7,500 miles?
Where will we go?  Where will we stay?  What will we do?
We don't know and we're not telling.  Yet.  While we may seek advice from readers, each of us will book our travel secretly and reveal our plans as we go.  We'll post early and often to social media and at least daily to the blog.
I imagine that one of us might focus mostly on incredible flights, while another shows off incredible lodgings, while another finds incredible destinations and activities.  In reality, we'll each try to do some of all 3, but I'm sure the focus will differ.
Stay Tuned
Stay tuned for many more posts about the contest.  Specifically, Nick will soon post details about the upcoming livestream draft.  Following that, we'll each post about our strategies, great new findings, abandoned plans, etc.  Finally, in September (specific dates TBD), our journeys will begin.  During that time we will post to the blog at least daily, but the best way to follow along is through Instagram.  Please follow us there!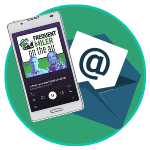 Want to learn more about miles and points?
Subscribe to email updates
 or check out 
our podcast
 on your favorite podcast platform.