Discover has just unveiled a new credit card: Discover It Miles.
While this card earns "miles" it appears to really be indistinguishable from a cash back card.  Points are redeemable for travel expenses or for cash back at a rate of 1 cent per point.
Overall, this card is very similar to the Bank of America Travel Rewards card.  Both cards earn 1.5 "miles" per dollar.  Both have no annual fee.  And, both have no foreign transaction fees.  Where they differ greatly is in the way consumers can do better than 1.5 miles (AKA 1.5% cash back) per dollar.  For details about maximizing the BOA Travel Rewards card, please see this post.
The Discover It Miles card distinguishes itself in a couple of ways.  For one, the card will reimburse cardholders up to $30 for in-flight wifi per year.  That's a nice little perk for a no-fee card.  Secondly, the first year bonus is potentially incredible…
The Discover It Miles card offers to double your miles earned at the end of your first year.  That means you'll average 3 points per dollar, or 3% cash back, for all spend.  That will easily catapult this card to the top of my "Best rewards for everyday spend" page.  But it gets better…
Let's look at the terms of the double miles offer:
After the first 12 consecutive billing periods that your new account is open, we will double all the Miles you've earned and apply them to your account in the next billing cycle. You will not receive Double Miles if your account is closed or is no longer in the Miles reward program as of the award date. This promotional offer may end. This promotional offer may not be offered in the future. See Rewards Terms and Conditions for additional details on earning and redeeming Miles.
The key term is that they "will double all the Miles you've earned…"  I haven't received confirmation from Discover about this yet, but I believe that means that points earned through Discover Deals will also be doubled!  Discover Deals is already my go to portal / savings engine for a vast number of opportunities.  Can you imagine how lucrative it could become if all points earned were doubled at the end of the year?
How do we know that Discover Deals will be available for this product?  Click here for the "Miles rewards terms & conditions".  There, you'll find the following paragraph:
Discover DealsSM Purchases

With Discover DealsSM you can shop at top merchants and earn additional Miles, a statement credit on your Discover account or instant savings at checkout both online and in stores. Miles will take approximately 8 weeks to show up on your account, statement credits will take approximately 14 days, and instant savings immediately reduce your amount due at the merchants point of sale.
More information about the Discover It Miles card can be found here.
Questions remaining to be answered:
Will Discover really double all points earned including those earned through Discover Deals?  Note: Please see an update here: Discover It Miles not as lucrative as I had hoped.
What about current Discover It cardholders? Can they sign up for this card too or do they have to choose one or another?
Will customers have the ability to redeem points for merchant gift cards the way they can currently with Discover It cash back?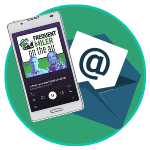 Want to learn more about miles and points?
Subscribe to email updates
 or check out 
our podcast
 on your favorite podcast platform.