I recently got my first ever Discover card, the Discover More card. I didn't really want a Discover card, but I did want access to the ShopDiscover portal which often has higher cash back rates than any other portal.
5% Cash Back Bonus
Like the Chase Freedom card, the Discover card offers 5% cash back in various categories that change each quarter. And, like the Freedom card, 5% is capped at $1500 in spend each quarter. This quarter the Discover categories are Department Stores and Online Shopping. The latter is a wonderfully broad category that literally includes almost every online purchase.
ShopDiscover
The ShopDiscover portal is where things get interesting. Here are some impressive cash back examples (at the time of this writing):
20% cash back at Vision Direct
15% cash back at Drugstore.com
15% cash back at Groupon
10% cash back at Crate & Barrel
10% cash back at Home Depot
10% cash back at Kohl's
10% cash back at Sears & Kmart
10% cash back at Walgreens
5% cash back at Apple Store
5% cash back at Best Buy
5% cash back at Buy.com
5% cash back at Staples
The great thing is that these cash back amounts are in addition to the quarterly bonus categories. So, since "Online Shopping" is one of the categories this quarter, I would earn an extra 5% on top of the percentages shown above. For example, I would earn a total of 25% cash back at Vision Direct and 15% back at Sears.
Experiments
In order to take full advantage of the Discover portal, I want to learn the following:
Do gift card purchases result in cash back? The answer will probably depend on the merchant. So far, it appears that physical Sears gift cards do result in cash back, but e-gift cards do not. I need to do further experiments to verify this.
Do purchases made with gift cards result in cash back? What if part of the purchase is paid for with a Discover card? I have yet to test this question at all.
Do purchases made with other credit cards result in cash back? Posts on FatWallet and SlickDeals are contradictory on this point. I ordered another physical gift card in order to test this one out.
One frustrating finding so far is that there is no way to see pending cash back online. Most other cash back portals provide a way to see purchases that were tracked, even when they are not yet payable. When I contacted Discover to ask about this I was told that the only way to know if a purchase tracked appropriately is to wait to see if you get an email saying "You've Earned Additional Cashback Bonus Through ShopDiscover." In my experience so far, these emails take anywhere from 2 days to 2 weeks to arrive. As a result, ShopDiscover experiments are taking quite a while to run.
Once I have concrete results from my tests, I'll report back.
Cash & Points
Depending on how the ShopDiscover experiments turn out, there may be some interesting opportunities to earn cash & points. Here are a few examples:
Buy Sears gift cards through ShopDiscover to earn 15% cash back. Then, spend the gift cards through a points earning portal to get points as well.
Buy Sears gift cards through a point earning portal. Then, spend the gift cards through the ShopDiscover portal.
Go through ShopDiscover to Staples, but pay with a Chase Ink card which offers 5 points per dollar at office supply stores. Hopefully earn 5% back and 5 points per dollar.
A variation of the above is to go through ShopDiscover to OfficeMax and pay with the American Express SimplyCash card. This card offers 5% cash back at office supply stores and, through the Amex OPEN Savings program, it offers 5% to 10% back for online OfficeMax purchases. Altogether you could earn as much as 20% cash back at OfficeMax.
The ideas above are just a few examples of what might be possible.
Reader Findings
Do you carry a Discover card? If so, what have you learned about leveraging its cash back categories and/or the ShopDiscover portal?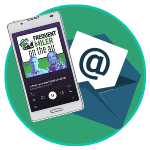 Want to learn more about miles and points?
Subscribe to email updates
 or check out 
our podcast
 on your favorite podcast platform.