Citi is sending targeted emails to cardholders offering bonus points when adding an authorized user and they spend a certain amount by February 29, 2020.
The Deal
Add an authorized user to a Citi Premier card and earn 2,500 points when they spend $2,000 on purchases.
Key Terms
Expires February 29, 2020.
Balance transfers, cash advances, checks that access your Card Account, items returned for credit, unauthorized charges, interest and account fees, traveler's checks, foreign currency purchases, money orders, wire transfers (and similar cash-like transactions), lottery tickets, gaming chips (and similar betting transactions), Citi Flex Loans and the creation of Citi Flex Pays, are not purchases. All purchases must be made during the promotional period.
Quick Thoughts
This offer is likely targeted, although Citi might be sending out similar offers on other cards that they issue. I received it on my Citi Premier card and initially wondered if they'd sent it to try to encourage me to renew the card. After checking my records though, I still have ~6 months until it's due to renew, so apparently Citi just wanted to show me some love.
With 2,500 bonus points being on offer when spending $2,000, it's effectively a 1.25x ThankYou bonus. That's not bad as it makes it a de facto 2.25x card for the first $2,000 in purchases before February 29 on the authorized user card, or 3.25x / 4.25x if spending in the bonus categories.
Despite that, I'm unlikely to take them up on the offer, mainly due to the potential hassle this might introduce. Meeting the $2,000 spend shouldn't be difficult, but my wife is currently under 5/24 (I know, shameful yet awesome). If authorized user cards push you over 5/24, you can call Chase to have them reconsider the application, but I try to minimize how many calls she has to make to credit card issuers and I'm not sure that 2,500 ThankYou points is worth that hassle. If Citi were to have offered 10,000+ ThankYou points, that'd be a different matter.
Like I said earlier, Citi might be sending out similar offers to holders of their other cards, so keep an eye on your emails in case you get targeted. The subject line of the email I received was a fairly nondescript 'Message from Citi: Stephen, we're contacting you to UNLOCK more points from your card'. I almost deleted the email without opening it as I figured it was just going to be a bog standard invitation to add an authorized user, so it could be easy to overlook.
Let us know in the comments below if you get a similar offer and on which card.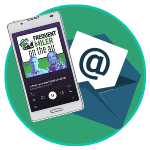 Want to learn more about miles and points?
Subscribe to email updates
 or check out 
our podcast
 on your favorite podcast platform.