A couple of days ago, Monkey Miles reported on an unannounced devaluation of Emirates Skywards, with business and first class redemptions on many routes increasing by 20% over historical levels. One Mile at a Time followed up on that with an update from Emirates today saying that more routes will increase by the end of January. If you had your eye on an award ticket booked through Emirates Skywards and your desired route has not yet devalued, now is the time to book it.
Monkey Miles first noted increases like from Dubai to Europe, which used to be 108K round trip at "saver" business or 72.5K one-way in business or 85K one-way in first, but are now pricing at 87K for one-way Business from Dubai to Europe or 102K one-way for first class (exactly 20% higher than before).
One Mile at a Time notes a similar increase on some routes out of the United States, like Washington, DC to Dubai, which used to cost 136,250 miles one-way in first class but now costs 163,500 miles. Again, that's an increase of 20% (or 27,250 miles). That's quite a tough pill to swallow.
Emirates followed up on devaluation reports with a statement not only confirming the accuracy but announcing further devaluation to come. Here was the statement provided to One Mile at a Time, Monkey Miles, and others:
In line with current market conditions, Emirates Skywards is introducing an increase on Skywards Miles required for Upgrade Rewards and Classic Rewards booked in Business Class and First Class. The increase will be gradually introduced on reward tickets across the Emirates network between 22 December 2022 and 31 January 2023.

To reduce the impact of this change on our most loyal customers, we will be increasing the bonus Skywards Miles earning opportunities for all Platinum, Gold and Silver members travelling with Emirates.

On all Emirates flights booked from 31 January 2023 onwards, Skywards Platinum members will earn a further 100% of the Economy Flex+ Miles earned on a given route (increasing from 75%); Skywards Gold members will earn 75% of the Economy Flex+ Miles earned on a given route (increasing from 50%); and Skywards Silver Members will earn 30% of the Economy Flex+ Miles earned on a given route (increasing from 25%).
While increasing earnings for paid customers is nice, View from the Wing makes the point that even if you're a frequent paying customer, this still means that your existing miles are worth less than they were just a few days ago.
And that's the key disappointment here: an overnight, unannounced devaluation at the end of a week immediately preceding a major holiday is about as customer-unfriendly as one could get. As Baz Luhrman taught me in the Sunscreen Song during my youth, I can accept certain inalienable truths — like that prices will rise (really Mary Schmich's words, but they've stuck with me for 25 years thanks to the song). But recognizing that customers accumulate miles over the course of years, it is extremely poor form to then devalue those miles without any advance warning. I can't imagine that it is a terribly expensive move to give customers 3 or 6 or 8 months warning that changes are coming.
I certainly wouldn't want to be collecting Emirates miles on paid flights knowing that they may move the goalpost further away yet again without any advance warning. Emirates Skywards is best used for transferring and booking when you've found an award you like.
And on that note, I hesitated on booking an award recently and maybe I'm glad that I did. While I see that the Milan-New York route has not yet devalued (it's still pricing at 72,500 miles one-way in business class), I had been eyeing four seats on a specific date that would have been very convenient for my needs. However, when Aeroplan announced that we would be able to book Emirates flights with Aeroplan miles and at current award chart pricing for a limited time, I held out hoping that the seats I wanted might become available to Aeroplan. While Aeroplan was only charging 2,500 fewer miles per passenger than Emirates (and a tiny bit less in fees), my thinking here was that if the trip got cancelled, I'd rather be stuck with Aeroplan miles. That only feels truer today — while Aeroplan did devalue their new program more quickly than I'd have liked, at least they gave some advance warning and they have so many partners that the range of possible uses for Aeroplan miles is far greater. I'd really not like to be stuck with a pile of Emirates miles, particularly now that actually rebooking an award (should my intended trip get cancelled) would cost far more for a family of four should rates increase 20% across the board. Unfortunately, in my case, the seats never showed up via Aeroplan and are now gone on the date I needed.
I'm not particularly excited about Aeroplan's award chart for Emirates flights, which is scheduled to take effect in early 2023, but I'm more excited about the breadth of use of Aeroplan miles and the fact that I expect the program would give us some advance notice of a huge change like this.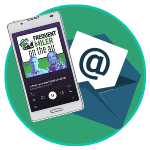 Want to learn more about miles and points?
Subscribe to email updates
 or check out 
our podcast
 on your favorite podcast platform.