This week at Frequent Miler, we have discussed some great benefits of various programs, but the question some would ask is this: how long will they last? There was definitely a time when companies would under-promise and over-deliver. Has the pendulum swung in the opposite direction, or is the next big thing right around the corner? Read on for this week in review.
There's no doubt about it: the big story of the week is the death of a generous benefit: The Amex Business Platinum will no longer offer a 50% pay-with-points rebate, but will instead offer only a
35%
rebate. With the rebate scheduled to change on June 1st and processing times increased to 6-10 weeks, Amex has certainly preventing a run-on-the-bank style rash of bookings from existing cardholders. The good news is that
those with Business Platinum account opening dates between October 2016 and May 31st, 2017 will keep the 50% rebate
, uncapped, for one year from the date of account opening. This kind of pours salt in the wound for existing cardholders: those who don't yet even have the card could apply next week and have the benefit for much longer than established customers. Citi gave a year's notice when they made changes to the benefits of the Prestige card. It seems that a more customer-friendly move for Amex would have been to change the rebate for new sign ups and allow existing cardholders to use the benefit for longer — whether for another year or perhaps at least until their next anniversary date after June 1st. It's surprising that Amex promised something a new and exciting benefit — and more of the same to follow — only to cut that benefit before delivering on the promise for even one full year.
---
There's no doubt, US Bank is making a big promise with 3X mobile wallet payments. I'd take 3X mobile wallet all day long. But if Amex introduced a benefit yielding 2 cents per point in value (that was valid in a much more restricted set of circumstances) and had to axe that benefit in just 6 months, how long will it be before US Bank drops the hammer on big time mobile payment earnings? Time will well. However, what I find most interesting about this card is the separation between what it promises and what it delivers: US Bank is marketing this as a travel card, but they seem to delivering more of a cash back card. That's not necessarily a problem — but it does effect what type of person would apply, as Greg explains here. I've gone back and forth on whether or not to apply for it when the application goes live in the coming week. Greg's summary here has me excited about the possibilities, but still on the fence.
---
Last night, I checked in to to a room at a Hyatt property. About 30 minutes later, someone else checked in to the same property. The problem? They checked into the
same
room
.
At least it wasn't 3am
. Nonetheless, as I went to prepare this week in review, I had to wonder whether mobile check in would have increased or decreased the probability of that happening :).  In seriousness, I have always been curious about mobile check in — the promise of a faster & smoother process and an upgrade sounds nice. Choosing my own room would be great! But I've always suspected that they wouldn't have the Presidential Suite that I want on the list of my choices….Was I wrong about that? Read on to find out why. In the comments, some users pointed to the real utility of a mobile check-in tool: bypassing the line at check-in. If you aren't looking for an upgrade but want to speed past the line at check-in, this tool might be for you.
---
As miles and points enthusiasts, we get attached to the promise of outsized value that we see in our points. I know I have a very hard time accepting a redemption at less than the highest possible value per point. But rather than comparing each currency in terms of its relation to the retail price or some other cash number, Greg argues that we should consider the value of the redemption based upon factors such as the maximum value of that particular currency and the flexibility of the points. The key is maximal use of a particular currency and maintaining flexibility rather than simply getting the most pennies per point. Read on for more detail.
---
Perhaps the promise that attracted me most in becoming involved with miles and points was the ability to travel in a level of luxury and comfort beyond that which I would be willing to pay for at the retail price. I have to say that miles and points have delivered strongly in that regard again and again. However, as I've become attached to those optimal uses of miles and points, I've come to accept that it sometimes makes sense to pay for a flight rather than redeeming miles. In this post, I provided an example of a recent trip where a paid fare in Emirates First Class was not only
much
cheaper than fares departing the United States — but turned out to be a pretty solid deal overall. With recent cheap business class fares like the ones we've posted from
Oslo
,
Berlin, and Brussels
, there are regular opportunities to put together interesting itineraries using similar tactics.
---
And that's it for this week here at Frequent Miler. Check back soon for our week in review around the web and this week's last chance deals.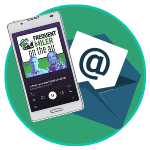 Want to learn more about miles and points?
Subscribe to email updates
 or check out 
our podcast
 on your favorite podcast platform.