There's a new offer out this morning to earn an extra Membership Rewards point per dollar at Walmart.com through 12/31/17. This would be in addition to your normal earnings. My wife and I found this on almost all of our cards that earn Membership Rewards, so this one looks to be widely available. Additionally, previously-targeted offers for an extra 1x at places like Exxon-Mobile, Toys R Us, etc now appear on the "Earn more points all year long" site — see more on that below.
The Deal
Ean 1 additional Membership Rewards point per dollar at Walmart.com through 12/31/17 by adding this offer to your eligible card
Direct link to add other offers for an extra 1x (Walmart.com is not yet shown on this page — see your Amex Offers to add Walmart.com)
Key Terms
Only valid at Walmart.com (not in-store)
Terms exclude gift card reloads and corporate gift card purchases
Quick Thoughts
While this offer certainly isn't as strong as the current offer to earn 10x at Walmart.com with Chase Pay, it's still great to add an additional point on your purchases if you have exhausted the caps on the Chase Pay promo.
This adds another store to the growing list of places where you can earn an extra 1x with your Membership Rewards-earning cards. In fact, I noticed today that some merchants that were previously targeted-only (such as Toys R Us and Exxon-Mobil) are now publicly available to add. Click this link to see the list of stores. Then click on a store logo to add the offer to your eligible cards. Open multiple tabs to add the offer to multiple cards. You can add the following stores at that link:
Again, when you click on a store logo, it will bring you to add the offer to your card. If you have more than one eligible card, it will prompt you to choose. Just click the logo more than once and choose a different card in each tab if you need to add it to multiple cards.
Once you have added the offer to one of the cards in your login, you will be unable to add it to others unless you use multiple tabs.
An extra 1x at Walmart would bring your earnings to 2x on most Membership Rewards cards, though you could earn a total of 2.5x with an Everyday Preferred if you complete at least 30 transactions per month (1x + 50% bonus + this bonus 1x offer). Additionally, the stores in the picture above (not yet including Walmart.com) can be added to a Blue Business Plus for a total of up to 3x (2x everywhere on the first $50K in purchases + 1x bonus when adding the offers above). Both are pretty solid deals if you value Membership Rewards at any more than 1 cent each.
For more information on adding Amex Offers to your cards, see our Complete Guide to Amex Offers.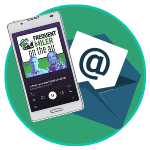 Want to learn more about miles and points?
Subscribe to email updates
 or check out 
our podcast
 on your favorite podcast platform.